Retrospective 250 COVID-19 patients in Iran, showing lower risk of severe disease with greater adherence to a Mediterranean diet.
risk of severe case,

77.0% lower

, OR 0.23, p < 0.001
, higher quality diet 89, lower quality diet 80, adjusted per study, top tertile vs. lowest tertile, MD score, model 3, multivariable, RR approximated with OR.
Effect extraction follows pre-specified rules prioritizing more serious outcomes. Submit updates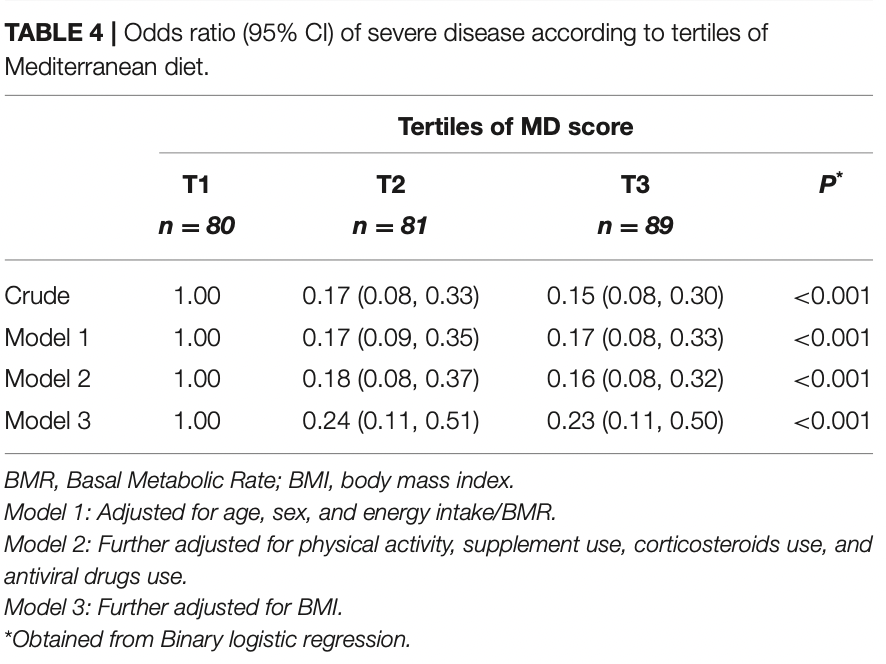 Zargarzadeh et al., 19 Jul 2022, retrospective, Iran, peer-reviewed, mean age 44.1, 11 authors, study period June 2021 - September 2021.
Contact: amkhv@yahoo.com.
Higher Adherence to the Mediterranean Dietary Pattern Is Inversely Associated With Severity of COVID-19 and Related Symptoms: A Cross-Sectional Study
Frontiers in Medicine, doi:10.3389/fmed.2022.911273
Background and Aims: Adherence to the Mediterranean diet (MD) has been associated with a decreased risk of developing a variety of chronic diseases that are comorbidities in COVID-19 patients. However, its association to the severity and symptoms of COVID-19 are still unknown. This study aimed to examine the association between adherence to the MD pattern and COVID-19 severity and symptoms in Iranian hospitalized patients. Methods: In this cross-sectional study, 250 COVID-19 patients aged 18 to 65 were examined. We employed a food frequency questionnaire (FFQ) to obtain data on dietary intake of participants in the year prior to their COVID-19 diagnosis. COVID-19 severity was determined using the National Institutes of Health's Coronavirus Disease 2019 report. Additionally, symptoms associated with COVID-19, inflammatory markers, and other variables were evaluated. The scoring method proposed by Trichopoulou et al. was used to assess adherence to the MD. Results: The participants' mean age was 44.1 ± 12.1 years, and 46% of them had severe COVID-19. Patients who adhered more closely to the MD had lower serum C-reactive protein levels (7.80 vs. 37.36 mg/l) and erythrocyte sedimentation rate (14.08 vs. 42.65 mm/h). Those with the highest MD score were 77% less likely to have severe COVID-19 after controlling for confounding variables. The MD score was also found to be inversely associated with COVID-19 symptoms, including dyspnea, cough, fever, chills, weakness, myalgia, nausea and vomiting, and sore throat. Conclusion: Higher adherence to the MD was associated with a decreased likelihood of COVID-19 severity and symptoms, as well as a shorter duration of hospitalization and convalescence, and inflammatory biomarkers.
ETHICS STATEMENT The studies involving human participants were reviewed and approved by Kashan University of Medical Sciences, IR.KAUMS.MEDNT.REC.1400.048. The patients/participants provided their written informed consent to participate in this study. AUTHOR CONTRIBUTIONS NZ and SM: conceptualization, formal analysis, writing original draft, and writing review and editing. AE, MT, HK, and CA: data collection. AM: supervision, conceptualization, methodology, investigation, funding acquisition, formal analysis, writing original draft, and writing review and editing. HS, FT, HC, and KV: writing review and editing. All authors contributed to the article and approved the submitted version. SUPPLEMENTARY MATERIAL The Supplementary Material for this article can be found online at: https://www.frontiersin.org/articles/10.3389/fmed. 2022.911273/full#supplementary-material Conflict of Interest: The authors declare that the research was conducted in the absence of any commercial or financial relationships that could be construed as a potential conflict of interest. Publisher's Note: All claims expressed in this article are solely those of the authors and do not necessarily represent those of their affiliated organizations, or those of the publisher, the editors and the reviewers. Any product that may be evaluated in this article, or claim that may be made by its manufacturer, is not guaranteed or endorsed by the publisher.
References
Bray, Bell, Liang, Haykal, Kaiksow et al., Erythrocyte sedimentation rate and C-reactive protein measurements and their relevance in clinical medicine, WMJ
Cascella, Rajnik, Aleem, Dulebohn, Napoli, Features, Evaluation, and Treatment of Coronavirus (COVID-19)
Santos, Genario, Gomes, Schoenfeld, Cherry intake as a dietary strategy in sport and diseases: a review of clinical applicability and mechanisms of action, Crit Rev Food Sci Nutr
Schofield, Predicting basal metabolic rate, new standards and review of previous work, Hum Nutr Clin Nutr
Wang, Zhang, Hou, Liu, Wang et al., The effects of pomegranate supplementation on biomarkers of inflammation and endothelial dysfunction: A meta-analysis and systematic review, Complement Ther Med