Retrospective 509 COVID-19 patients in Taiwan, showing higher risk of critical COVID-19 cases with non-vegetarian diets.
risk of critical case,

71.6% lower

, RR 0.28, p = 0.23
, higher quality diet 1 of 22 (4.5%), lower quality diet 78 of 487 (16.0%), NNT 8.7, excluded in exclusion analyses: unadjusted results with no group details.
risk of moderate to critical case,

10.8% lower

, RR 0.89, p = 0.66
, higher quality diet 11 of 22 (50.0%), lower quality diet 273 of 487 (56.1%), NNT 17, excluded in exclusion analyses: unadjusted results with no group details.
risk of critical case,

73.6% lower

, RR 0.26, p = 0.005
, higher quality diet 0 of 9 (0.0%), lower quality diet 47 of 127 (37.0%), NNT 2.7, adjusted per study, inverted to make RR<1 favor higher quality diet, odds ratio converted to relative risk, multivariable, age >65.
risk of moderate to critical case,

34.7% lower

, RR 0.65, p = 0.04
, higher quality diet 5 of 9 (55.6%), lower quality diet 108 of 127 (85.0%), NNT 3.4, age >65, excluded in exclusion analyses: unadjusted results with no group details.
Effect extraction follows pre-specified rules prioritizing more serious outcomes. Submit updates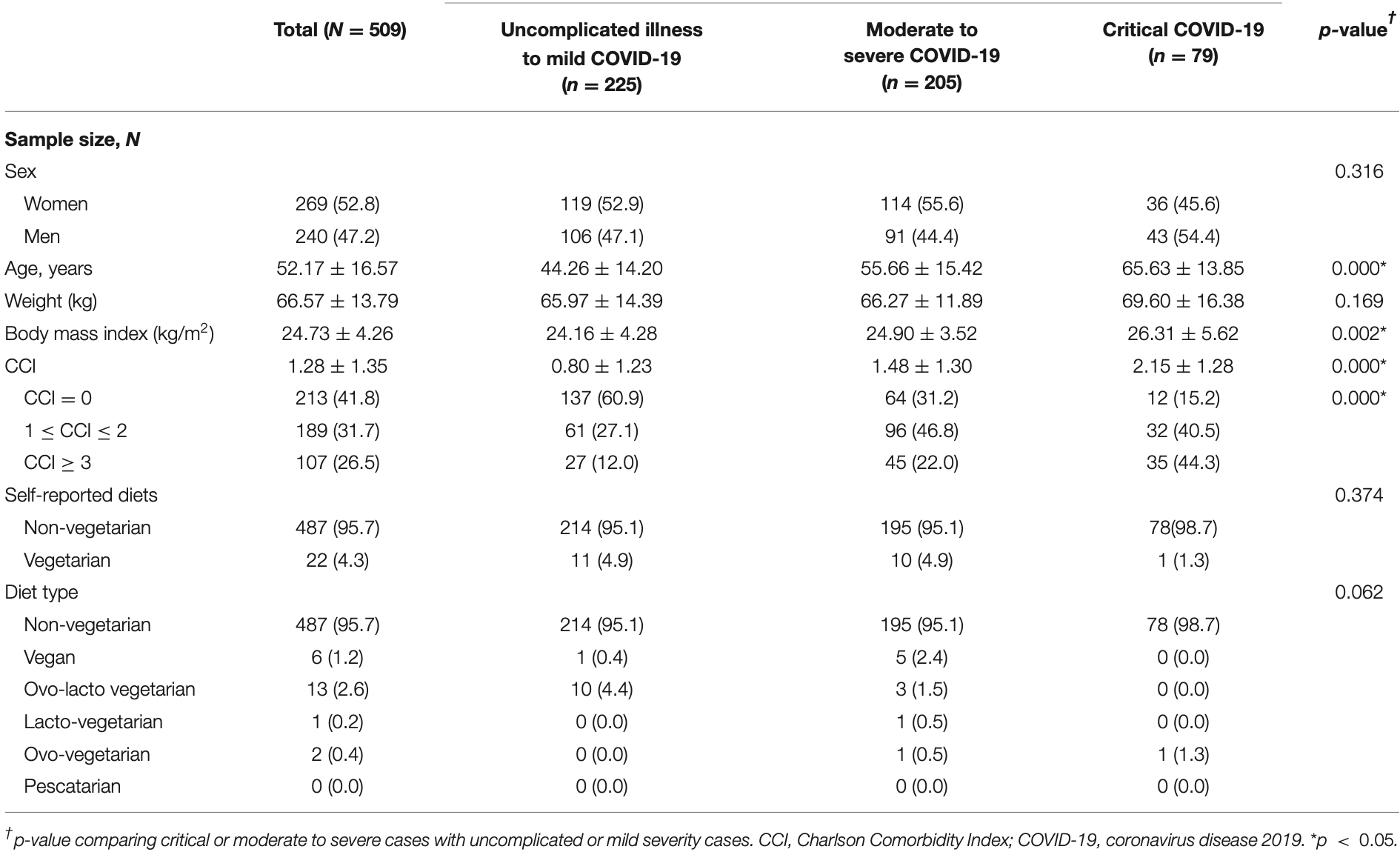 Hou et al., 29 Apr 2022, retrospective, Taiwan, peer-reviewed, survey, 3 authors, study period May 2021 - August 2021.
Contact: chaoycmd@yahoo.com.tw, williamsu2007@gmail.com.
COVID-19 Illness Severity in the Elderly in Relation to Vegetarian and Non-vegetarian Diets: A Single-Center Experience
Frontiers in Nutrition, doi:10.3389/fnut.2022.837458
The first wave of the coronavirus disease 2019 (COVID-19) outbreak in Taiwan occurred in May 2021. The risk for and severity of this disease vary and are highly dependent on personal habits and comorbidities. Moreover, the gut microbiome, which may be affected by diet, is highly susceptible with regard to the risk and severity of infectious diseases such as COVID-19. The relationship between dietary habits, nutritional status, and the effects of these factors on the immune system in the context of a global pandemic is an extremely important topic of immediate concern. Hence, the aim of this study was to explore the effect of vegetarian and non-vegetarian diets on COVID-19 severity during the pandemic. We conducted a retrospective evaluation of 509 patients who had been diagnosed with COVID-19 at a single medical center between May 2021 and August 2021. Patients were divided into three groups according to disease severity. For patients aged ≥65 years, COVID-19 symptom severity was statistically significantly and inversely associated with the adherence to a vegetarian diet (p = 0.013). Moreover, subgroup analysis results showed that older COVID-19 patients and those with a non-vegetarian diet had a higher risk of contracting critically severe COVID-19 [adjusted odds ratio (OR) = 5.434, p = 0.005]. Further research is needed to determine the effects of dietary habits on COVID-19 risk and severity during the global pandemic.
ETHICS STATEMENT For this retrospective study, informed consent was waived by the IRB, and the privacy rights of patients, which cover any individual's data in any form (including individual details, images, or videos), were upheld. This study was approved by the Institutional Review Board of Taipei Tzu Chi Hospital, Buddhist Tzu Chi Medical Foundation (approval number 10-X-141) and conducted according to the amended Declaration of Helsinki. Written informed consent for participation was not required for this study in accordance with the national legislation and the institutional requirements. AUTHOR CONTRIBUTIONS Y-CH and Y-CC conceived the study, designed the trial, obtained the research funding, analyzed and interpreted the data, and contributed to manuscript preparation. Y-CH and W-LS supervised the conduct of the trial, as well as data collection, and revised the manuscript for critical content. W-LS provided statistical advice with regard to the study design, and analyzed the data. Y-CH drafted the manuscript, and all authors contributed substantially to its revision. All authors take responsibility for the article as a whole. All authors contributed to the article and approved the submitted version. SUPPLEMENTARY MATERIAL The Supplementary Material for this article can be found online at: https://www.frontiersin.org/articles/10.3389/fnut.2022. 837458/full#supplementary-material Conflict of Interest: The authors declare that the research was conducted in the..
References