Retrospective 433 patients in the UK, 52 positive for COVID-19, showing no significant difference in mortality based on vitamin D levels. Authors also include results for all 433 patients, however given the expected test false negative rate compared with the very high number of COVID- patients, and the large difference in outcomes, it is likely that many of those patients did not have COVID-19. The adjusted results are only provided for vitamin D as a continuous value, where the most adjusted model for COVID+ patients shows lower mortality for higher vitamin D levels (not statistically significant).This is the
93rd of 175 COVID-19 sufficiency studies
for vitamin D, which collectively show higher levels reduce risk with
p<0.0000000001 (1 in 18 vigintillion)
.
risk of death,

42.9% higher

, RR 1.43, p = 0.71
, high D levels (≥25nmol/L) 12 of 42 (28.6%), low D levels (<25nmol/L) 2 of 10 (20.0%), COVID+ patients.
risk of death,

6.0% lower

, OR 0.94, p = 0.68
, high D levels 42, low D levels 10, COVID+ patients, RR approximated with OR.
Effect extraction follows pre-specified rules prioritizing more serious outcomes. Submit updates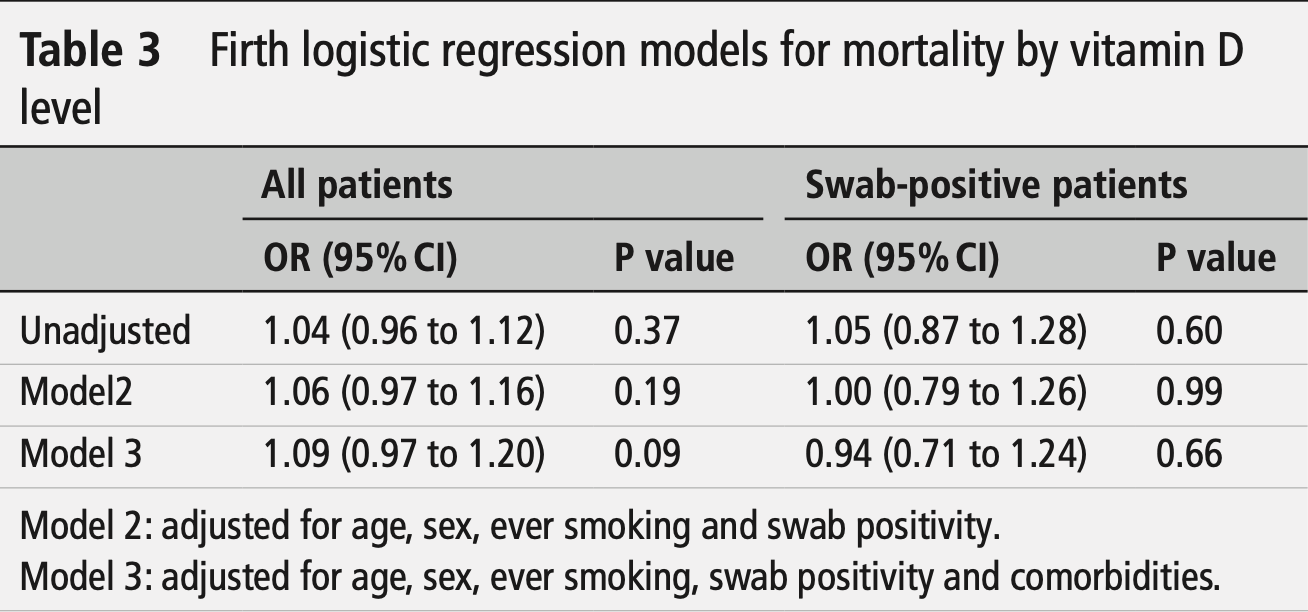 Zafar et al., 6 Sep 2021, retrospective, United Kingdom, peer-reviewed, median age 68.0, 37 authors.
Contact: 1mansoorzafar@gmail.com.
Vitamin D levels and mortality with SARS-COV-2 infection: a retrospective two-centre cohort study
Postgraduate Medical Journal, doi:10.1136/postgradmedj-2021-140564
Background The role of vitamin D in increased mortality with SARS-COV-2 virus, namely, COVID-19, remains uncertain. We analysed all the patients who were treated as COVID-19-positive with or without a positive swab and were tested for vitamin D levels. Methods This was a retrospective, study involving 1226 patients swabbed for SARS-CoV-2 between the 10 February 2020 and 1 May 2020 at two hospitals of East Sussex Healthcare NHS Trust. Patients who were swabpositive for COVID-19 or treated as COVID-19-positive on clinical grounds even though swab results were negative were included in this study. We analysed the association of vitamin D levels and mortality, assessing linear and non-linear associations. Results A total of 1226 patients had SARS-CoV-2 RNA swabs in this period with age range from 1 year to 101 years. A cohort of 433 of these patients had swabs and recent vitamin D levels anytime in the previous 3 months. Mortality rates were not found to be associated with vitamin D levels (OR=1.04, 95% CI 0.96 to 1.12). Conclusion Our findings suggest similar mortality risk from COVID-19 irrespective of the levels of vitamin D. Larger prospective studies will be needed to confirm these findings.
Collaborators Information is entered in the paper as coauthors in the main paper as previously advised by the journal. Contributors MZ designed the study and formed the steering group, which was responsible for ongoing evaluation for study design development, and led the methodological data collection from hospital electronic system towards comorbidities and access to blood test results. SM and WO assisted with electronic record for COVID-19 swab results for all patients from Conquest Hospital and Eastbourne District General Hospital. MZ, MK, MS, AK, LB, SA, KL, BP, RE, OM, DS, MF, HN, FC, KS, RSR, JH, OO, AE, BA, MP, MA, ZM, BK, AEM, GC, MJZ, NZ, MP, RG, AH and TM contributed with data acquisition and data entry. MZ, MK, MS, RSR, RE, SA and BP were responsible for the ongoing evaluation for study design development. SA, JH, DS, BP, ZM, BK, MK, JH and MP assisted with data assimilation, assisted by all other contributors. MJZ and NZ proofread the entire data for any errors. MZ and SA verified the data. MZ acted as guarantor. Statistical analysis was led by MZ, with intellectual review and support by Ms Jackie Cooper. MZ wrote the manuscript, which was reviewed by UD, MW and PM. All authors and UD approved the final version of the manuscript. Funding The authors have not declared a specific grant for this research from any funding agency in the public, commercial or not-for-profit sectors. Competing interests None declared. Patient consent for publication Not required...
References
Diagnostics, Elecsys® vitamin D total II
Laird, Rhodes, Kenny, Vitamin D and inflammation: potential implications for severity of Covid-19, Ir Med J
Webmd, Vitamin, overview, uses, side effects, precautions, interactions, dosing and reviews
Zafar, Randhawa, Hegner, Can HbA1c levels be used as an independent marker of mortality and morbidity risk in patients with COVID19 positive swabs? -a retrospective observational study, University of Toronto Medical Journal