COVID-19 in Parkinson's Disease Patients Living in Lombardy, Italy
COVID-19 in Parkinson's Disease Patients Living in Lombardy, Italy
,
Movement Disorders, doi:10.1002/mds.28176
,
Retrospective phone survey of 1,486 Parkinson's disease patients in Italy, showing lower risk of COVID-19 cases with vitamin D supplementation. This paper also presents a case control study of PD patients and family member control patients.
risk of case,

42.0% lower

, RR 0.58, p = 0.048
, treatment 13 of 329 (4.0%), control 92 of 1,157 (8.0%), NNT 25, odds ratio converted to relative risk.
Effect extraction follows pre-specified rules prioritizing more serious outcomes. Submit updates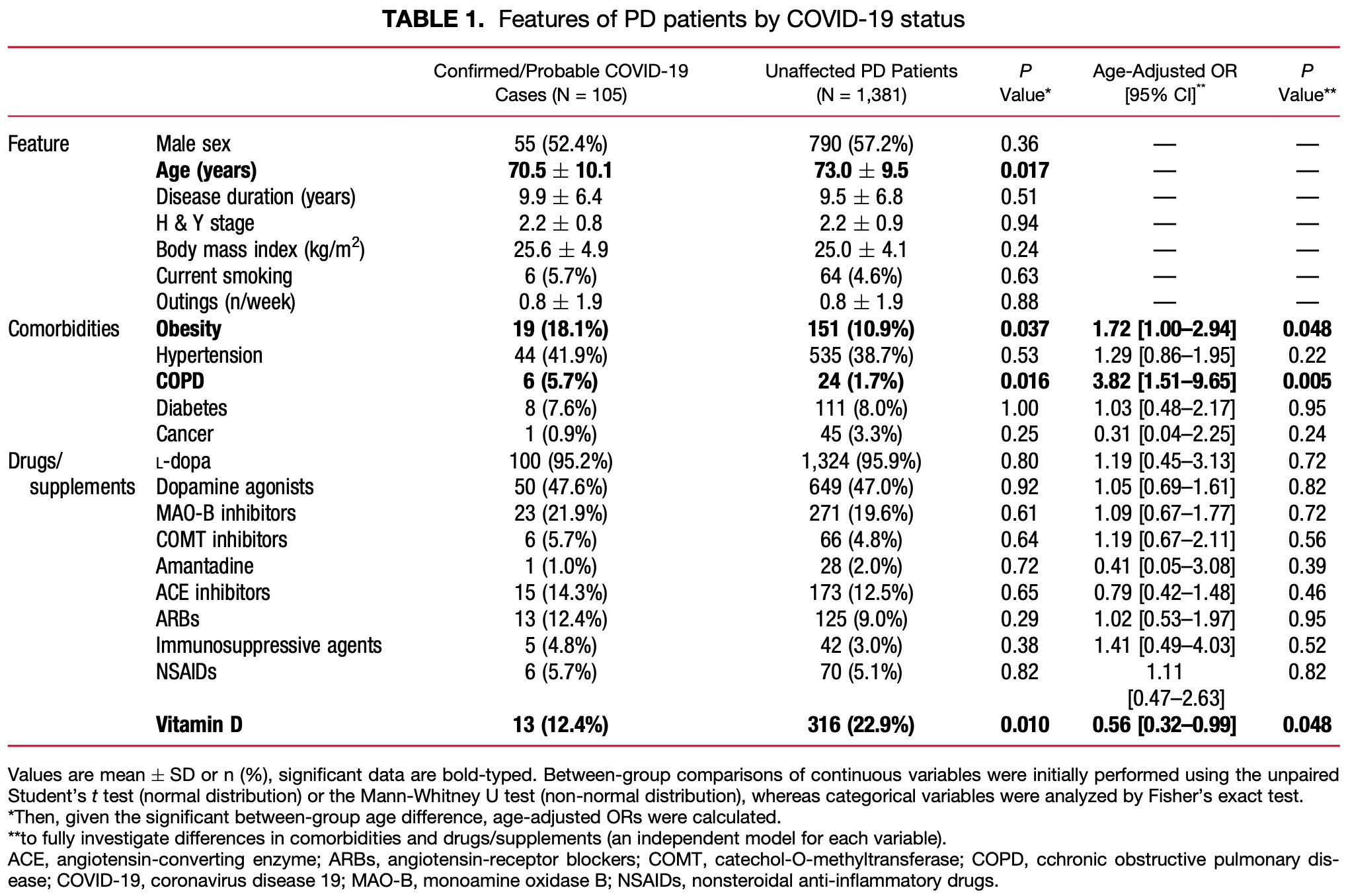 Fasano et al., 2 Jun 2021, retrospective, Italy, peer-reviewed, 7 authors, dosage not specified.
Abstract: BRIEF REPORT COVID-19 in Parkinson's Disease Patients Living in Lombardy, Italy Alfonso Fasano, MD PhD,1,2 Emanuele Cereda, MD PhD,3* Michela Barichella, MD,4,5 Erica Cassani, MD,5,6 Valentina Ferri, MD,5,6 Anna Lena Zecchinelli, MD,6 and Gianni Pezzoli, MD5,6 1 Edmond J. Safra Program in Parkinson's Disease and the Morton and Gloria Shulman Movement Disorders Centre, Toronto Western Hospital, UHN, Division of Neurology, University of Toronto, Toronto, Ontario, Canada 2Krembil Brain Institute, Toronto, Ontario, Canada 3Fondazione IRCCS Policlinico San Matteo, Pavia, Italy 4 UOS Clinical Nutrition, Pini-CTO, Milan, Italy 5Fondazione Grigioni per il Morbo di Parkinson, Italy 6Parkinson Institute, Pini-CTO, Milan, Italy A B S T R A C T : Background: It is unknown whether patients with PD are at greater risk of COVID-19, what their risk factors are, and whether their clinical manifestations differ from the general population. Objectives: The study aimed to address all these issues. Methods: In a case-controlled survey, we interviewed 1,486 PD patients attending a single tertiary center in Lombardy, Italy and 1,207 family members (controls). Results: One hundred five (7.1%) and 92 controls (7.6%) were identified as COVID-19 cases. COVID-19 patients were younger, more likely to suffer from chronic obstructive pulmonary disease, to be obese, and vitamin D nonsupplemented than unaffected patients. Six patients (5.7%) and 7 family members (7.6%) died from COVID-19. Patients were less likely to report shortness of breath and require hospitalization. Conclusions: In an unselected large cohort of nonadvanced PD patients, COVID-19 risk and mortality did not differ from the general population, but symptoms appeared to be milder. The possible protective role of vitamin D supplementation warrants future studies. © 2020 International Parkinson and Movement Disorder Society -*Correspondence - - - - - - - - - - - - - - -to:- - Dr. - - - Emanuele - - - - - - - - -Cereda, - - - - - - Clinical - - - - - - -Nutrition - - - - - - -and ------Dietetics Unit, Fondazione IRCCS Policlinico San Matteo, Viale Golgi 19, 27100 Pavia, Italy; E-mail: e.cereda@smatteo.pv.it Relevant conflicts of interest/financial disclosures: Nothing to report. Full financial disclosures and author roles may be found in the online version of this article. Funding agencies: This work was supported by "Fondazione Grigioni per il Morbo di Parkinson." Received: 12 May 2020; Revised: 25 May 2020; Accepted: 27 May 2020 Published online 26 June 2020 in Wiley Online Library (wileyonlinelibrary.com). DOI: 10.1002/mds.28176 Severe acute respiratory syndrome coronavirus 2 (SARS Co-V2) emerged in the region of Wuhan in China around December last year and spread so rapidly that the World Health Organization declared coronavirus disease 2019 (COVID-19) a pandemic on 11 March 2020.1 Specific pre-existing medical conditions and advanced age appear to be linked to more severe manifestations of the infection,1,2 thus raising the question of whether Parkinson's disease (PD) poses an increased risk of morbidity and mortality in COVID-19 patients.3 The first reported case of COVID-19 in a 74-year-old PD patient complicated by encephalopathy has recently been described.4 A series of 10 PD patients collected in Padua, Italy and London, United Kingdom reported a high mortality rate (40%), and worsening of anxiety and other nonmotor features,5 in keeping with a recent survey among patients and caregivers.6 We..
Please send us corrections, updates, or comments. Vaccines and treatments are complementary. All practical, effective, and safe means should be used based on risk/benefit analysis. No treatment, vaccine, or intervention is 100% available and effective for all current and future variants. We do not provide medical advice. Before taking any medication, consult a qualified physician who can provide personalized advice and details of risks and benefits based on your medical history and situation.
FLCCC
and
WCH
provide treatment protocols.
Submit