Analysis of serum metal levels in 150 COVID-19 patients and 44 controls, finding that COVID-19 severity was associated with lower serum Ca, Fe, Se, Zn levels when compared to controls.
This study includes selenium and
zinc
.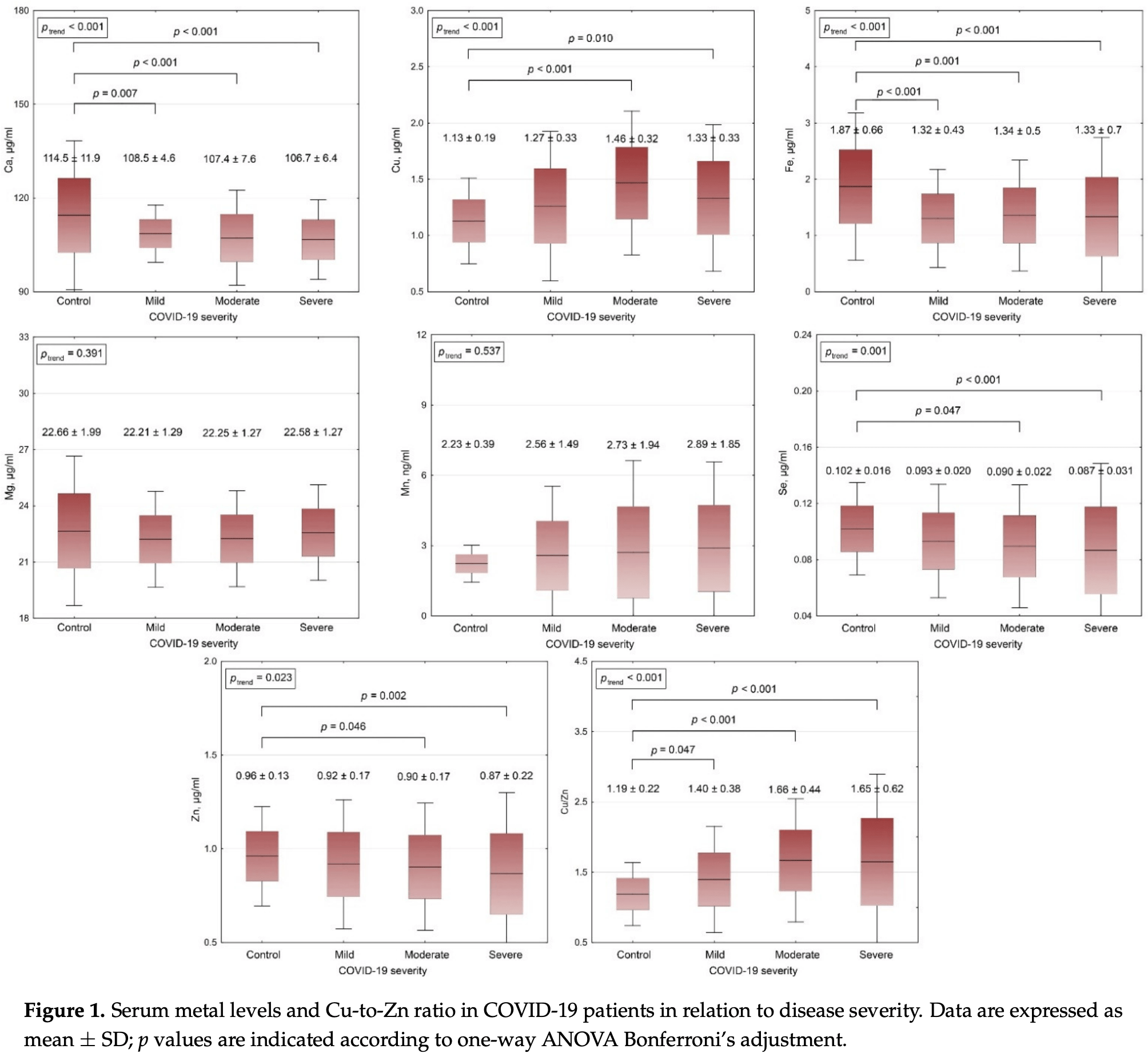 Skalny et al., 15 Apr 2021, prospective, peer-reviewed, 14 authors.
Serum Zinc, Copper, and Other Biometals Are Associated with COVID-19 Severity Markers
Metabolites, doi:10.3390/metabo11040244
The objective of the present study was to evaluate of serum metal levels in COVID-19 patients with different disease severity, and to investigate the independent association between serum metal profile and markers of lung damage. The cohort of COVID-19 patients consisted of groups of subjects with mild, moderate, and severe illness, 50 examinees each. Forty-four healthy subjects of the respective age were involved in the current study as the control group. Serum metal levels were evaluated using inductively-coupled plasma mass-spectrometry. Examination of COVID-19 patients demonstrated that heart rate, respiratory rate, body temperature, C-reactive protein levels, as well as lung damage increased significantly with COVID-19 severity, whereas SpO 2 decreased gradually. Increasing COVID-19 severity was also associated with a significant gradual decrease in serum Ca, Fe, Se, Zn levels as compared to controls, whereas serum Cu and especially Cu/Zn ratio were elevated. No significant group differences in serum Mg and Mn levels were observed. Serum Ca, Fe, Se, Zn correlated positively with SpO 2 , being inversely associated with fever, lung damage, and C-reactive protein concentrations. Opposite correlations were observed for Cu and Cu/Zn ratio. In regression models, serum Se levels were inversely associated with lung damage independently of other markers of disease severity, anthropometric, biochemical, and hemostatic parameters. Cu/Zn ratio was also considered as a significant predictor of lower SpO 2 in adjusted regression models. Taken together, these findings demonstrated that metal metabolism significantly interferes with COVID-19 pathogenesis, although the causal relations as well as precise mechanisms are yet to be characterized.
Author Contributions: Conceptualization: A.V.S., P.S.T., A.A.T.; methodology: A.V.S., R.L.; validation: J.A., M.A., R.L., A.T.; formal analysis: L.N.C., J.A., A.R.G., S.V.N.; investigation: L.N.C., V.E.B., S.V.N.; resources: A.A.S., V.V.F., P.V.G.; data curation: A.T., A.A.T.; writing-original draft preparation: P.S.T., L.N.C., V.E.B., A.R.G., S.V.N., A.A.S., V.V.F., A.A.T.; writing-review & editing: A.V.S., P.V.G., M.A., J.A., R.L., A.T.; visualization: A.A.T.; supervision: A.V.S., P.S.T.; project administration: A.V.S., P.S.T., A.A.T. All authors have read and agreed to the published version of the manuscript. Conflicts of Interest: The authors declare no conflict of interest.
References
Heller, Sun, Hackler, Seelig, Seibert et al., Prediction of survival odds in COVID-19 by zinc, age and selenoprotein P as composite biomarker, Redox Biol
Skalny, Rink, Ajsuvakova, Aschner, Gritsenko et al., Zinc and respiratory tract infections: Perspectives for COVID-19 (Review), Int. J. Mol. Med