Association Between Androgen Deprivation Therapy and Mortality Among Patients With Prostate Cancer and COVID-19
Retrospective 1,106 prostate cancer patients, showing no significant differences in COVID-19 outcomes with ADT.
risk of death,

20.4% lower

, RR 0.80, p = 0.41
, treatment 25 of 169 (14.8%), control 44 of 308 (14.3%), adjusted per study, odds ratio converted to relative risk, propensity score matching, multivariable.
risk of severe case,

2.0% lower

, OR 0.98, p = 0.94
, treatment 169, control 308, adjusted per study, propensity score matching, multivariable, RR approximated with OR.
Effect extraction follows pre-specified rules prioritizing more serious outcomes. Submit updates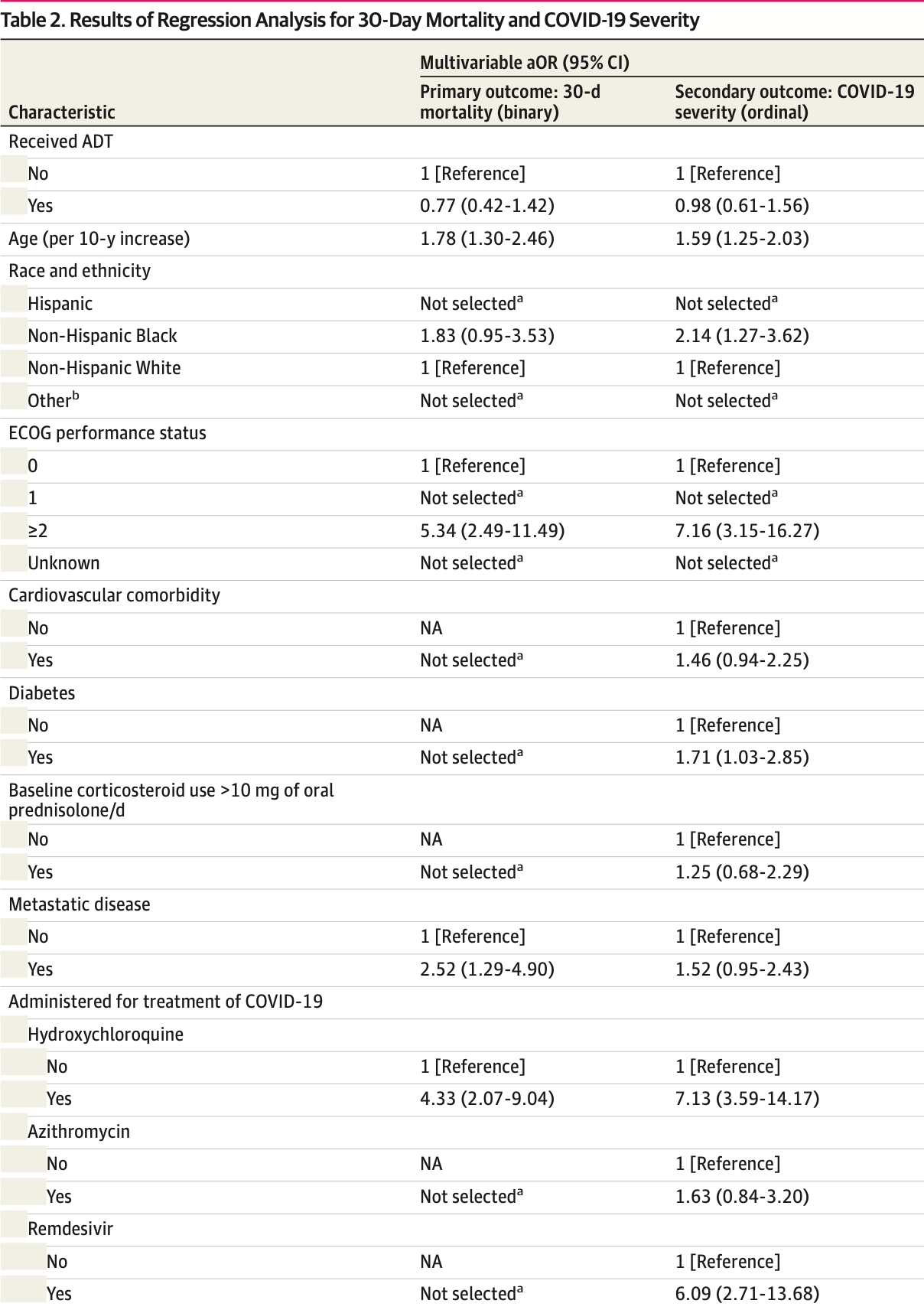 Schmidt et al., 12 Nov 2021, retrospective, USA, peer-reviewed, 42 authors, study period 17 March, 2020 - 11 February, 2021.
Abstract: Original Investigation | Urology Association Between Androgen Deprivation Therapy and Mortality Among Patients With Prostate Cancer and COVID-19 Andrew L. Schmidt, MD; Matthew D. Tucker, MD; Ziad Bakouny, MD; Chris Labaki, MD; Chih-Yuan Hsu, PhD; Yu Shyr, PhD; Andrew J. Armstrong, MD; Tomasz M. Beer, MD; Ragneel R. Bijjula, MD; Mehmet A. Bilen, MD; Cindy F. Connell, MD, PhD; Scott Joseph Dawsey, MD; Bryan Faller, MD; Xin Gao, MD; Benjamin A. Gartrell, MD; David Gill, MD; Shuchi Gulati, MD; Susan Halabi, PhD; Clara Hwang, MD; Monika Joshi, MD; Ali Raza Khaki, MD; Harry Menon, MD; Michael J. Morris, MD; Matthew Puc, MD; Karen B. Russell, MD; Dimpy P. Shah, MD, PhD; Neil J. Shah, MD; Nima Sharifi, MD; Justin Shaya, MD; Michael T. Schweizer, MD; John Steinharter, MD; Elizabeth M. Wulff-Burchfield, MD; Wenxin Xu, MD; Jay Zhu, PhD; Sanjay Mishra, PhD; Petros Grivas, PhD; Brian I. Rini, MD; Jeremy Lyle Warner, MD; Tian Zhang, MD; Toni K. Choueiri, MD; Shilpa Gupta, MD; Rana R. McKay, MD; for the COVID-19 and Cancer Consortium Abstract Key Points IMPORTANCE Androgen deprivation therapy (ADT) has been theorized to decrease the severity of SARS-CoV-2 infection in patients with prostate cancer owing to a potential decrease in the tissuebased expression of the SARS-CoV-2 coreceptor transmembrane protease, serine 2 (TMPRSS2). OBJECTIVE To examine whether ADT is associated with a decreased rate of 30-day mortality from SARS-CoV-2 infection among patients with prostate cancer. Question Given the higher COVID-19– related mortality rate observed among men than among women, is androgen deprivation therapy associated with decreased rate of 30-day mortality from COVID-19 among patients with prostate cancer? DESIGN, SETTING, AND PARTICIPANTS This cohort study analyzed patient data recorded in the Findings In this cohort study of 1106 COVID-19 and Cancer Consortium registry between March 17, 2020, and February 11, 2021. The patients, no statistically significant consortium maintains a centralized multi-institution registry of patients with a current or past difference was found in the rates of all diagnosis of cancer who developed COVID-19. Data were collected and managed using REDCap cause 30-day mortality following software hosted at Vanderbilt University Medical Center in Nashville, Tennessee. Initially, 1228 COVID-19 infection among men with patients aged 18 years or older with prostate cancer listed as their primary malignant neoplasm were prostate cancer receiving androgen included; 122 patients with a second malignant neoplasm, insufficient follow-up, or low-quality data deprivation therapy (15%) vs those not were excluded. Propensity matching was performed using the nearest-neighbor method with a 1:3 receiving androgen deprivation ratio of treated units to control units, adjusted for age, body mass index, race and ethnicity, Eastern therapy (14%). Cooperative Oncology Group performance status score, smoking status, comorbidities Meaning The findings of this cohort (cardiovascular, pulmonary, kidney disease, and diabetes), cancer status, baseline steroid use, COVID-19 treatment, and presence of metastatic disease. study do not support an association between androgen deprivation therapy and 30-day mortality among patients EXPOSURES Androgen deprivation therapy use was defined as prior bilateral orchiectomy or with COVID-19 infection. pharmacologic ADT administered within the prior 3 months of presentation with..
Please send us corrections, updates, or comments. Vaccines and treatments are complementary. All practical, effective, and safe means should be used based on risk/benefit analysis. No treatment, vaccine, or intervention is 100% available and effective for all current and future variants. We do not provide medical advice. Before taking any medication, consult a qualified physician who can provide personalized advice and details of risks and benefits based on your medical history and situation.
FLCCC
and
WCH
provide treatment protocols.
Submit