Retrospective 58 hospitalized patients, 24 receiving probiotics during hospitalization, showing significantly lower fatigue six months post discharge with treatment.The immune effects of probiotics are strain-specific.
risk of no recovery,

54.3% lower

, RR 0.46, p < 0.001
, treatment 10 of 24 (41.7%), control 31 of 34 (91.2%), NNT 2.0, 6 months post discharge.
risk of no recovery,

54.0% lower

, RR 0.46, p < 0.001
, treatment 9 of 22 (40.9%), control 24 of 27 (88.9%), NNT 2.1, 6 months post discharge, excluding ICU patients.
Effect extraction follows pre-specified rules prioritizing more serious outcomes. Submit updates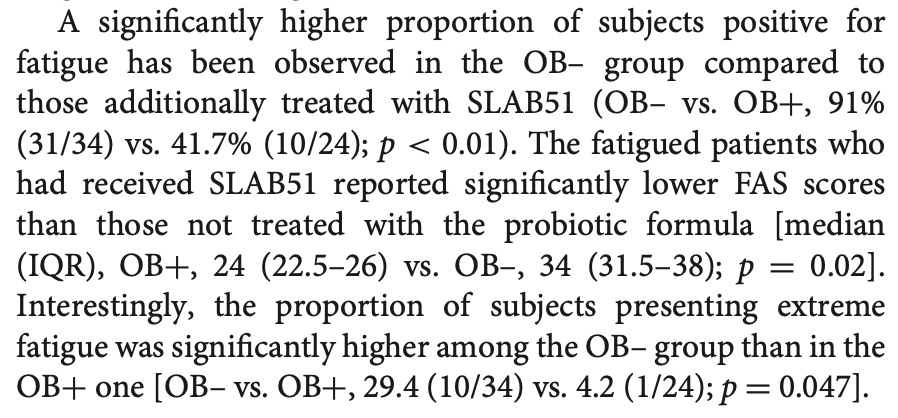 Santinelli et al., 12 Jan 2022, retrospective, Italy, peer-reviewed, survey, 14 authors.
Contact: giancarlo.ceccarelli@uniroma1.it.
Oral Bacteriotherapy Reduces the Occurrence of Chronic Fatigue in COVID-19 Patients
doi:10.3389/fnut.2021.756177
Long COVID refers to patients with symptoms as fatigue, "brain fog," pain, suggesting the chronic involvement of the central nervous system (CNS) in COVID-19. The supplementation with probiotic (OB) would have a positive effect on metabolic homeostasis, negatively impacting the occurrence of symptoms related to the CNS after hospital discharge. On a total of 58 patients hospitalized for COVID-19, 24 (41.4%) received OB during hospitalization (OB+) while 34 (58.6%) taken only the standard treatment (OB-). Serum metabolomic profiling of patients has been performed at both hospital acceptance (T0) and discharge (T1). Six months after discharge, fatigue perceived by participants was assessed by administrating the Fatigue Assessment Scale. 70.7% of participants reported fatigue while 29.3% were negative for such condition. The OB+ group showed a significantly lower proportion of subjects reporting fatigue than the OB-one (p < 0.01). Furthermore, OB+ subjects were characterized by significantly increased concentrations of serum Arginine, Asparagine, Lactate opposite to lower levels of 3-Hydroxyisobutirate than those not treated with probiotics. Our results strongly suggest that in COVID-19, the administration of probiotics during hospitalization may prevent the development of chronic fatigue by impacting key metabolites involved in the utilization of glucose as well as in energy pathways.
ETHICS STATEMENT The studies involving human participants were reviewed and approved by Ethics Committee of Policlinico Umberto I-Sapienza University (approval number: Rif. 109/2020). The patients/participants provided their written informed consent to participate in this study. AUTHOR CONTRIBUTIONS Gd'E and GC: conceptualization and validation. LS, LL, GI, CP, and GC: methodology. LS, GI, CP, PV, AL, and CB: formal analysis. LS, LL, GI, CP, LC, LT, and AK: investigation. LS, LL, GI, CP, LC, and MM: data curation. LS, GI, CP, PV, MM, Gd'E, and GC: writing-original draft preparation. LS and Gd'E: writingreview and editing. CM, Gd'E, and GC: visualization. Gd'E: supervision, project administration, and funding acquisition. All authors have read and agreed to the published version of the manuscript. ACKNOWLEDGMENTS Authors wish to thank Prof. Claudio De Simone for contributing to the rationale of the study and suggesting the dosage of administered oral bacteriotherapy. SUPPLEMENTARY MATERIAL The Supplementary Material for this article can be found online at: https://www.frontiersin.org/articles/10.3389/fnut.2021. 756177/full#supplementary-material Conflict of Interest: The authors declare that the research was conducted in the absence of any commercial or financial relationships that could be construed as a potential conflict of interest. Publisher's Note: All claims expressed in this article are solely those of the authors and do not necessarily represent those of their..
References
Gallagher, What is Long Covid? Three Quarters of People Hospitalised Suffer Symptoms for Three Months or More
Gardner, Shoback, Greenspan's Basic and Clinical Endocrinology