Retrospective 200 severe condition hospitalized patients in Italy, 88 treated with probiotic Sivomixx, showing lower mortality with treatment.The immune effects of probiotics are strain-specific.
risk of death,

64.2% lower

, RR 0.36, p = 0.003
, treatment 10 of 88 (11.4%), control 34 of 112 (30.4%), NNT 5.3, adjusted per study, odds ratio converted to relative risk.
risk of ICU admission,

15.2% lower

, RR 0.85, p = 0.60
, treatment 16 of 88 (18.2%), control 24 of 112 (21.4%), NNT 31.
Effect extraction follows pre-specified rules prioritizing more serious outcomes. Submit updates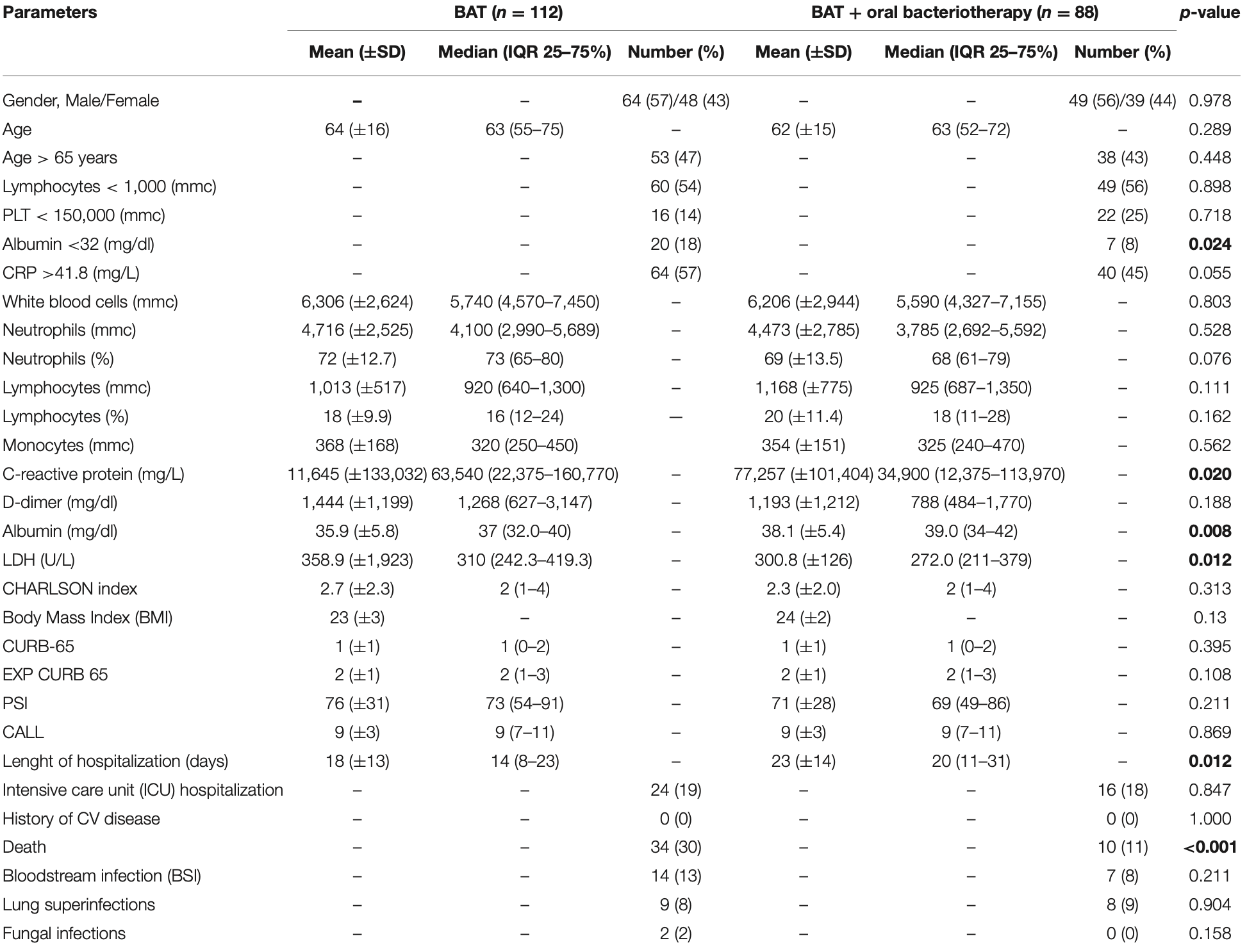 Ceccarelli et al., 11 Jan 2021, retrospective, Italy, peer-reviewed, 14 authors.
Oral Bacteriotherapy in Patients With COVID-19: A Retrospective Cohort Study
Frontiers in Nutrition, doi:10.3389/fnut.2020.613928
Background: Mounting evidence suggests SARS-CoV-2 may impact on host microbiota and gut inflammation, infecting intestinal epithelial cells. This possible link and its implications can be investigated by observing the effects of modulation of the microbial flora in patients with COVID-19. The aim of this study was to compare the rate of mortality, the need of ICU hospitalization and the length of hospitalization in patients with severe COVID-19 pneumonia who received the best available therapy (BAT) vs. patients treated with BAT and supplemented with oral bacteriotherapy. Methods: This retrospective, observational cohort study included 200 adults with severe COVID-19 pneumonia. All patients received therapeutic regimens including low molecular weight heparin plus one or more between hydroxychloroquine, azithromycin, antivirals, and Tocilizumab. Oral bacteriotherapy was used as complementary treatment. Results: Out of the 200 patients, 112 received BAT without oral bacteriotherapy, and 88 BAT with oral bacteriotherapy. Crude mortality was 22%. Eleven percent died in the group of patients treated with BAT plus oral bacteriotherapy vs. 30% subjects in the group of patients managed only with BAT (p < 0.001). By multivariate analysis, the age >65 years, CRP >41.8 mg/L, Platelets <150.000 mmc, and cardiovascular events were associated with the increased risk of mortality. Oral bacteriotherapy was an independent variable associated with a reduced risk for death. Despite large prospective trials are needed, this study highlights a possible role for oral bacteriotherapy in the management of patients hospitalized for COVID-19 pneumonia.
Hydroxycloroquine, Lopinavir/r, Azithromycin 9 ( 8 ) Hydroxycloroquine, Tocilizumab, Azithromycin 8 (7) 2.5 (0-5) Combination of the 4 drugs 8 ( 7 ) BAT plus oral bacteriotherapy (n = 88) Bacteriotherapy and 1 drug 13 ( 15 ) Bacteriotherapy and the 4 drugs The values in bold highlight statistically significant differences. transferable to different bacterial preparations (24) (25) (26) . The two groups of patients enrolled were substantially comparable for clinical characteristics, but not for CRP, LDH, and albumin levels; anyway, the increased levels of the CRP and LDH (observed in the group treated with BAT and bacteriotherapy) suggest a more severe disease-connected with lung injury-and a worse prognosis but are not considered a main prognostic factor (27) . Finally, the albumin levels were lower in the subjects treated only with BAT than in the other group, anyway, according to previous studies, only when albumin is below a specific range-i.e., <35g/L-the risks of venous and arterial thrombosis increase (28) (29) (30) (31) (32) . CONCLUSION Mounting evidence suggests SARS-CoV-2 may impact on host microbial flora and gut inflammation in patients CONSENT FOR PUBLICATION The participants provided their written consent for publication. DATA AVAILABILITY STATEMENT The original contributions presented in the study are included in the article/supplementary materials, further inquiries can be directed to the corresponding author/s. ETHICS STATEMENT The studies..
References
Ji, Zhang, Xu, Chen, Yang et al., Prediction for progression risk in patients with COVID-19 pneumonia: the CALL score
Liu, Xu, Zhou, Wu, -J et al., Expanded CURB-65: a new score system predicts severity of community-acquired pneumonia with superior efficiency, Sci Rep