RCT 23 patients in Colombia, showing improved viral clearance with cetylpyridinium chloride plus chlorhexidine mouthwash.
Targeted administration to the respiratory tract provides treatment directly to the typical source of initial SARS-CoV-2 infection and replication, and allows for rapid onset of action, higher local drug concentration, and reduced systemic side effects (early treatment may be more beneficial).
risk of hospitalization,

67.6% lower

, RR 0.32, p = 0.48
, treatment 0 of 12 (0.0%), control 1 of 11 (9.1%), NNT 11, relative risk is not 0 because of continuity correction due to zero events (with reciprocal of the contrasting arm).
risk of no viral clearance,

83.3% lower

, RR 0.17, p = 0.06
, treatment 1 of 12 (8.3%), control 5 of 10 (50.0%), NNT 2.4, day 5.
Effect extraction follows pre-specified rules prioritizing more serious outcomes. Submit updates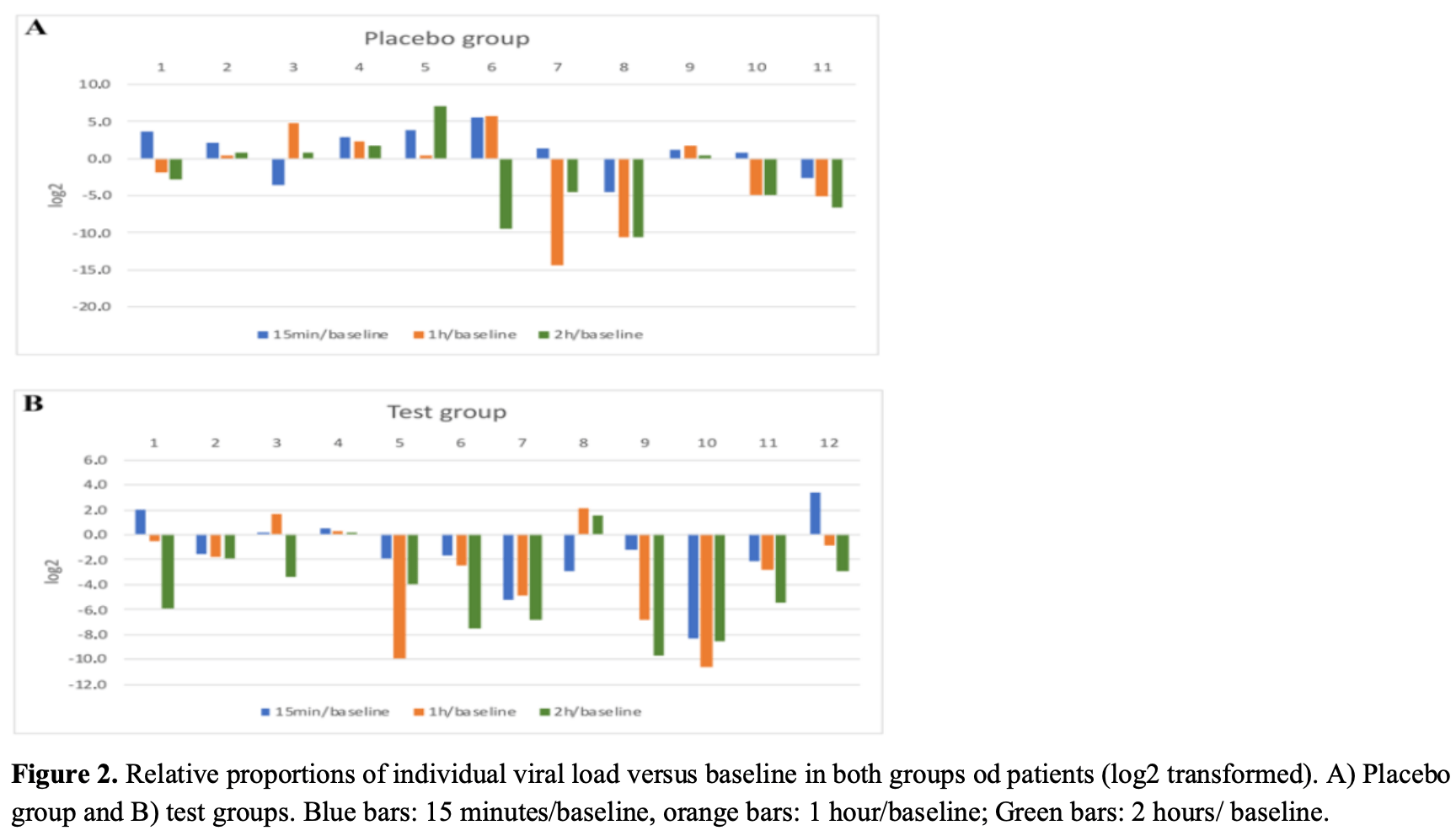 Rengifo et al., 22 May 2023, Double Blind Randomized Controlled Trial, placebo-controlled, Colombia, peer-reviewed, 13 authors, study period July 2020 - September 2020, this trial uses multiple treatments in the treatment arm (combined with chlorhexidine) - results of individual treatments may vary, trial
NCT04563689
(history)
.
A Mouthwash with Cetylpyridinium Chloride is reducing salivary SARS-CoV-2 viral load in +COVID-19. Un enjuague con Cloruro de Cetilpiridinio redujo la carga salival del virus SARS CoV-2 en pacientes con Covid-19
doi:10.25100/re.v31i1.12669
Aim: The aim of this randomised, double-blind, placebo-controlled pilot clinical trial is to evaluate the capacity of a mouthwash to reduce SARS-CoV-2 viral load in the saliva of patients with COVID-19. Methods: Twenty-three symptomatic SARS-CoV-2-positive outpatients were selected and randomised into two groups and registered at NTC 04563689. Both groups rinsed and gargled for one minute with either distilled water (Placebo) or with 0.05% Cetylpyridinium chloride (CPC) plus 0.12% Chlorhexidine (CHX) mouthwash (PERIOAID Intensive Care  ). Saliva samples were collected before the use of placebo or mouthwash and after 15 minutes and 1 and 2 hours of either of the above treatment. A saliva sample was also taken five days after regular use of placebo or mouthwash twice daily. The virus was detected by qRT-PCR. Results: A great heterogeneity in the viral load values was observed at baseline in both groups for nasopharyngeal and saliva samples. Most of the patients who used the mouthwash (8/12) had a significant decrease in baseline viral load after 15 min (greater than 99% reduction). This inhibitory effect was maintained for up to two hours in 10 of the 12 patients. At five days, SARS-CoV-2 RNA was detected in only 1 patient from the mouthwash group and in 5 from the placebo group. Conclusions: This study points out that a CPC mouthwash can reduce the viral load in saliva of COVID-positive patients. This finding may be important in transmission control of SARS-CoV-2. Nevertheless, the clinical relevance of CPC mouthwash-reduction on SARS-CoV-2 shedding in saliva requires further study. KEY WORDS Antiviral mouthwash; SARS COV-2; Covid-19 patients; salivary viral load. RESMÚMEN Objetivo: El objetivo de este ensayo clínico piloto aleatorizado, doble ciego y controlado con placebo es evaluar la capacidad de un enjuague bucal para reducir la carga viral del SARS-CoV-2 en la saliva de pacientes con COVID-19. Materiales y métodos: Veintitrés pacientes ambulatorios positivos para SARS-CoV-2 sintomáticos fueron seleccionados y aleatorizados en dos grupos y registrados en el NTC 04563689. Ambos grupos se enjuagaron y hicieron gárgaras durante un minuto con agua destilada (placebo) o con cloruro de cetilpiridinio al 0 ,05 % (CPC). ) más enjuague bucal con Clorhexidina (CHX) al 0,12% (PERIOAID Intensive Care ). Se recolectaron muestras de saliva antes del uso de placebo o enjuague bucal y después de 15 minutos y 1 y 2 horas de cualquiera de los tratamientos anteriores. También se tomó una muestra de saliva cinco días después del uso regular de placebo o enjuague bucal dos veces al día. El virus fue detectado por qRT-PCR. Resultados: Se demostró una gran heterogeneidad en los valores de carga viral al inicio del estudio en grupos ambos para muestras de nasofaringe y saliva. La mayoría de los pacientes que usaron el enjuague bucal (8/12) tuvieron una disminución significativa en la carga viral inicial después de 15 minutos (reducción superior al 99 %). Este..
CONFLICT OF INTEREST Authors from Universidad del Valle and from ESE Centro do not have any interest conflict to declare however, the authors associated to Dentaid Research Centre worked within the company that provided the mouthwashes used in this study. SOURCE OF FUNDING The study was funded by investigators of Universidad del Valle, but mouthwashes and oral hygiene kits for patients were donated by Dentaid company.
References
Burton, Clarkson, Goulao, Glenny, Mcbain et al., Antimicrobial mouthwashes (gargling) and nasal sprays administered to patients with suspected or confirmed COVID-19 infection to improve patient outcomes and to protect healthcare workers treating them, Cochrane Database Syst Rev
Chau, Lam, Dung, Yen, Minh et al., The natural history and transmission potential of asymptomatic SARS-CoV-2 infection, Clin Infect Dis
He, Zhao, Dong, Zhuang, Song et al., Effects of severe acute respiratory syndrome (SARS) coronavirus infection on peripheral blood lymphocytes and their subsets, Int J Infect Dis
Koch-Heier, Hoffmann, Schindler, Lussi, Planz, Inactivation of SARS-CoV-2 through Treatment with the Mouth Rinsing Solutions ViruProX® and BacterX® Pro, Microorganisms
Who, Coronavirus disease (COVID-19) situation reports