Retrospective 379 bamlanivimab patients and 379 matched controls in the USA, showing no significant differences with treatment.
Efficacy is highly variant dependent. In Vitro research suggests a lack of efficacy for omicron Liu, Sheward, VanBlargan.
risk of death,

no change

, RR 1.00, p = 1.00
, treatment 6 of 379 (1.6%), control 6 of 379 (1.6%).
risk of hospitalization,

3.9% higher

, RR 1.04, p = 0.86
, treatment 79 of 379 (20.8%), control 76 of 379 (20.1%), all-cause hospital revisit.
risk of hospitalization/ER,

5.0% higher

, OR 1.05, p = 0.86
, treatment 379, control 379, RR approximated with OR.
Effect extraction follows pre-specified rules prioritizing more serious outcomes. Submit updates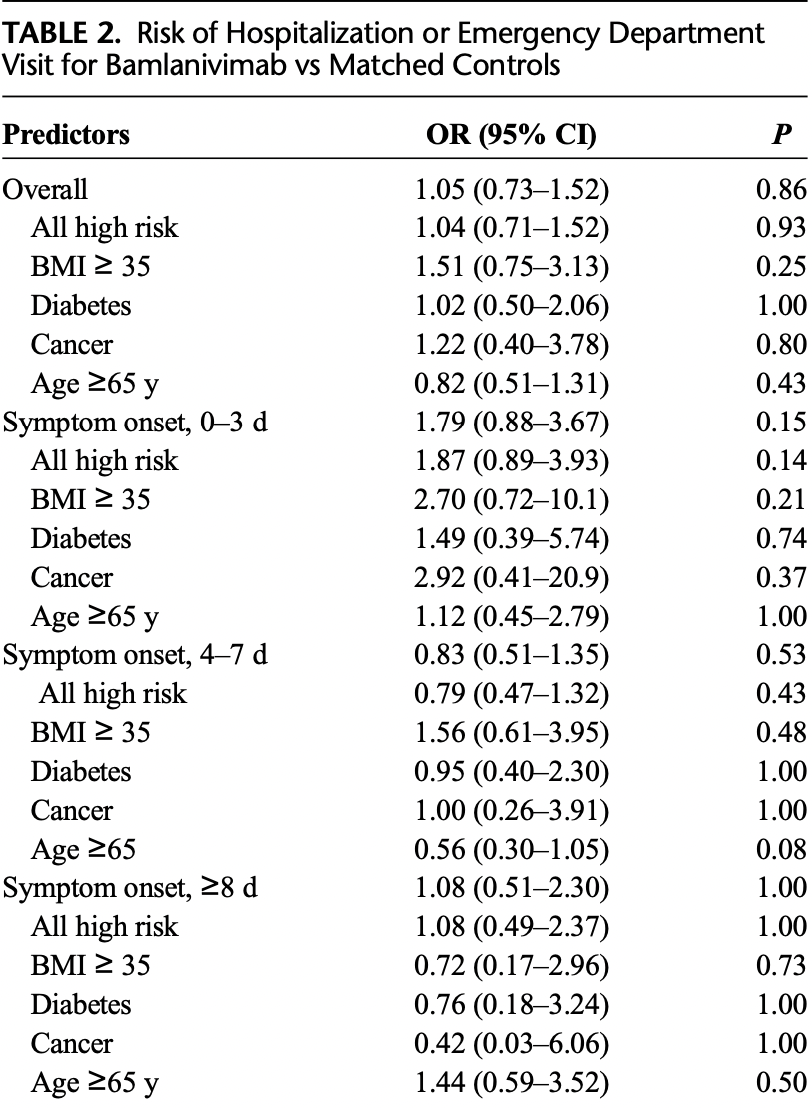 Priest et al., 27 Jan 2022, retrospective, propensity score matching, USA, peer-reviewed, 5 authors, study period October 2020 - March 2021, average treatment delay 6.0 days.
Bamlanivimab for the Prevention of Hospitalizations and Emergency Department Visits in SARS-CoV-2-Positive Patients in a Regional Health Care System
Introduction: Bamlanivimab (LY-CoV555) was approved by Emergency Use Authorization by the United States Food and Drug Administration in the ambulatory setting to prevent hospitalizations and emergency department visits. We report a retrospective, case-control study of bamlanivimab use in a regional health care system. Methods: A retrospective case-control study for SARS-CoV-2-positive patients receiving bamlanivimab and matched controls between October 2020 and March 2021 was performed. End points included all-cause hospitalization, emergency department visits, and mortality. Results: No statistically significant difference was noted in all-cause hospitalization, emergency department visits, or mortality, including patients 65 years or older, body mass index of 35 or higher, diagnosis of diabetes mellitus, or cancer (high-risk patients). No difference was seen based on timing of bamlanivimab infusion relative to symptom onset or timing of infusion within the study period. Conclusions: Based on the evaluated endpoints, there was no benefit from bamlanivimab, regardless of when it was received in a patient's clinical course or when during the study period it was received. A lack of efficacy of monoclonal antibodies in patients infected with COVID-19 variants has been noted, but the impact of local variants on these results could not be assessed given a lack of available variant diagnostic tools. These findings do not support bamlanivimab for the prevention of hospitalization or emergency department visits for patients with mild to moderate SARS-CoV-2 infection.
References
Gottlieb, Nirula, Chen, Effect of bamlanivimab as monotherapy or in combination with etesevimab on viral load in patients with mild to moderate COVID-19: a randomized clinical trial, JAMA
Mcginley, Only one Covid-19 treatment is designed to keep people out of the hospital
Starr, Greaney, Dingens, Complete map of SARS-CoV-2 RBD mutations that escape the monoclonal antibody LY-CoV555 and its cocktail with LY-CoV016, Cell Rep Med