Retrospective 115 COVID-19 patients in North Macedonia, showing lower vitamin D levels associated with hospitalization.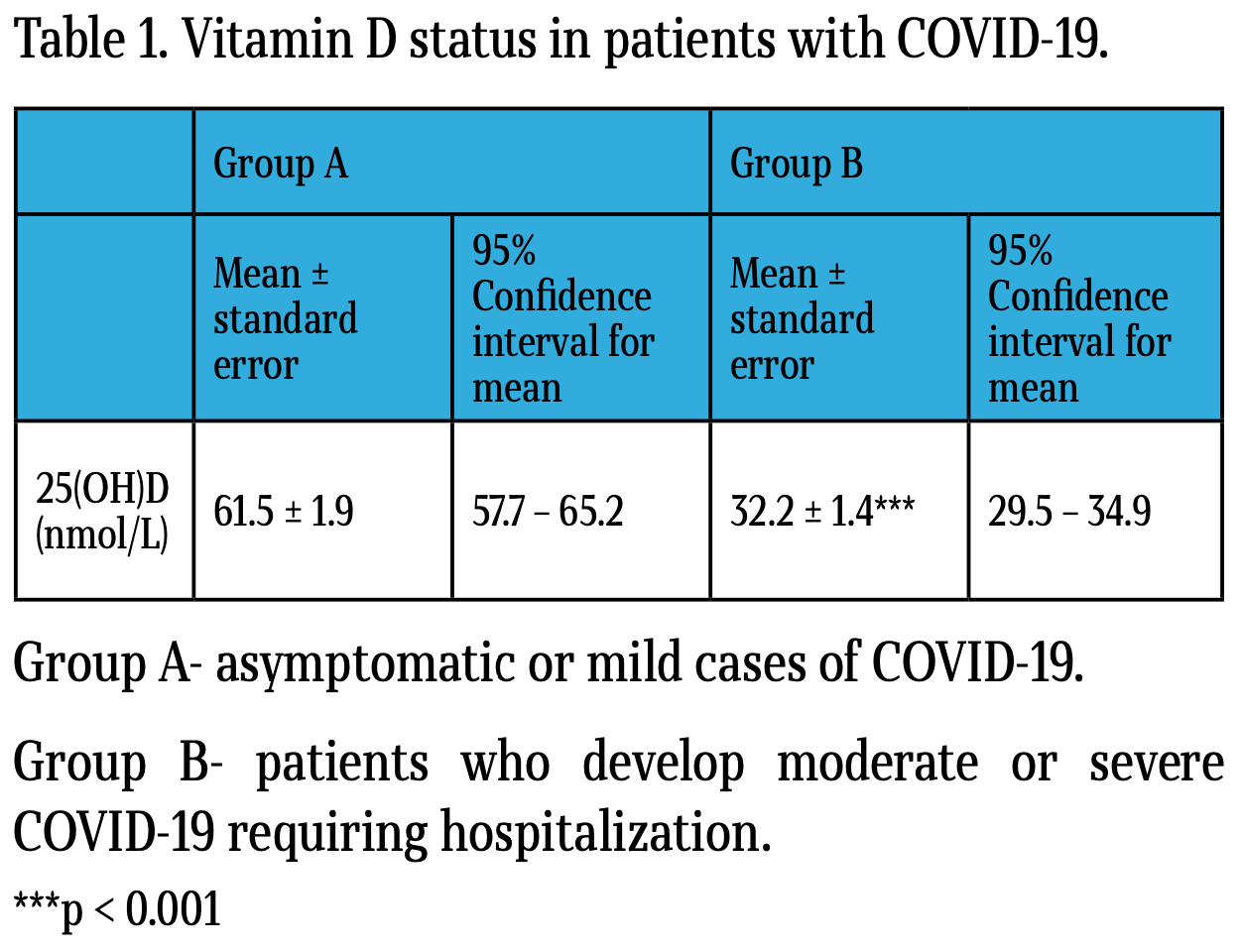 Pop-Kostova et al., 12 May 2023, retrospective, North Macedonia, peer-reviewed, 2 authors, study period September 2020 - December 2020.
Original scientific paper ЛИПИДНИОТ МАРКЕР АПОЛИПОПРОТЕИН Б КАКО ПРЕДИКТОР ЗА КОРОНАРНАТА АРТЕРИСКА БОЛЕСТ КАЈ ДИЈАБЕТЕС МЕЛИТУС ТИП 2 ПАЦИЕНТИ СО И БЕЗ ДИЈАБЕТИЧНА НЕФРОПАТИЈА
Background: Patients with COVID-19 can develop abnormal inflammatory response, which can progress to multiorgan failure and death, with a higher prevalence observed in men. Besides, recent research suggests a complex interaction between viral infections and vitamin D. Aims: This study evaluates sex differences of vitamin D status, circulating enzymes and biomarkers of inflammatory response at the time of diagnosis of COVID-19, depending on severity of disease the patients develop. Methods: This retrospective observational study was conducted from September to December 2020. Patients (n = 115) were divided in two groups: Group A-asymptomatic or mild cases (36 men and 19 women; mean age 53.3 ± 1.4 y.) and Group B-patients who develop moderate or severe COVID-19 requiring hospitalization (38 men and 22 women; mean age 56.1 ± 1.3 y.). Results: Patients of Group B had almost two-fold lower circulating 25(OH)D concentrations than patients of Group A (Group A: 61.6 ± 1.9 nmol/L; Group B: 32.2 ± 1.4 nmol/L; p < 0.001). Within Group A, the only parameter with a statistically significant sex difference was ferritin (p < 0.01). Within Group B, in addition to ferritin (p < 0.05), we observed a pronounced and statistically highly significant sex difference in circulating 25(OH)D concentrations (men: 35.8 ± 1.7 nmol/L; women: 26.0 ± 1.7; p < 0.001). Conclusions: Our results demonstrate that inadequate vitamin D status is associated with the development of moderate or severe COVID-19 and indicate that circulating 25(OH)D might be associated to sex differences in disease outcome.
VITAMIN D STATUS IN PATIENTS WITH COVID-19 -SEX DIFFERENCES ASSOCIATED WITH SEVERITY OF THE DISEASE. Conflict of interest The authors declare that they have no conflict of interest.
References
Laird, Rhodes, Kenny, Vitamin D and Inflammation: Potential Implications for Severity of Covid-19, Ir Med J
Mendelsohn, Protective effects of estrogen on the cardiovascular system, Am J Cardiol
Pagano, Peruzzu, Ruggieri, Ortona, Gagliardi, None
Pop-Kostova, Ruskovska, Clinical significance of circulating enzymes in patients with COVID-19, Knowledge -International Journal
Pop-Kostova, Ruskovska, Inflammatory biomarkers in patients with COVID-19, Knowledge -International Journal
Prof, Omer Xhemaili, Zurich, Prof, Dr et al., None