Efficacy and Safety of COVID-19 Convalescent Plasma in Hospitalized Patients
et al., JAMA Internal Medicine,
RCT 941 hospitalized patients in the USA, showing no significant difference with convalescent plasma treatment.
risk of death,

11.8% lower

, RR 0.88, p = 0.45
, treatment 59 of 462 (12.8%), control 71 of 462 (15.4%), NNT 39, odds ratio converted to relative risk, day 28.
risk of death,

1.3% lower

, RR 0.99, p = 0.95
, treatment 35 of 463 (7.6%), control 39 of 463 (8.4%), NNT 116, odds ratio converted to relative risk, day 14.
WHO scale,

7.6% lower

, OR 0.92, p = 0.50
, treatment 468, control 473, day 28, RR approximated with OR.
WHO scale,

6.4% lower

, OR 0.94, p = 0.58
, treatment 468, control 473, day 14, primary outcome, RR approximated with OR.
Effect extraction follows pre-specified rules prioritizing more serious outcomes. Submit updates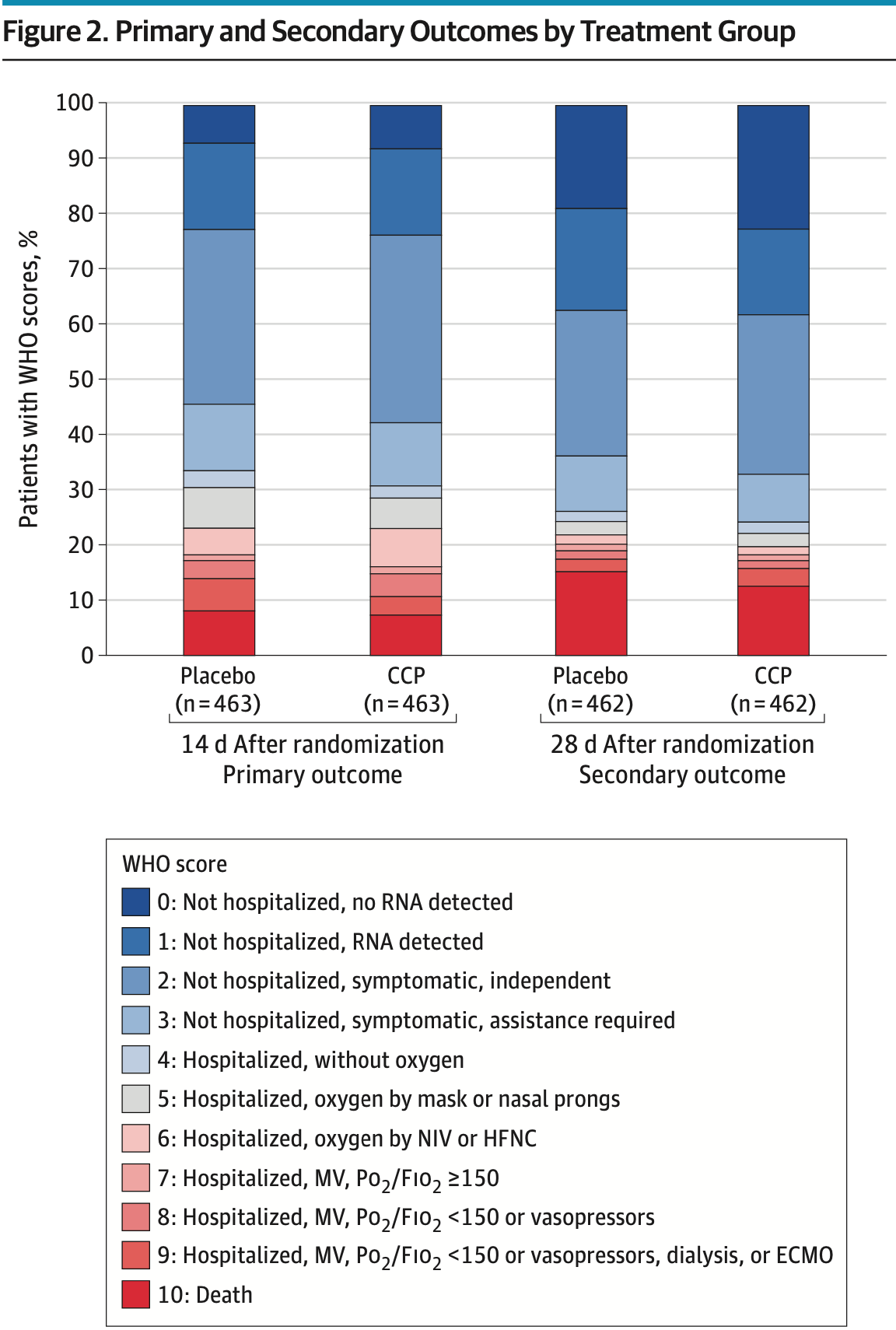 Ortigoza et al., 13 Dec 2021, Double Blind Randomized Controlled Trial, placebo-controlled, USA, peer-reviewed, median age 63.0, 268 authors, study period 17 April, 2020 - 15 March, 2021, average treatment delay 7.0 days, trial
NCT04364737
(history)
(CONTAIN COVID-19).
Contact: l.pirofski@einsteinmed.org.
Abstract: Research JAMA Internal Medicine | Original Investigation Efficacy and Safety of COVID-19 Convalescent Plasma in Hospitalized Patients A Randomized Clinical Trial Mila B. Ortigoza, MD, PhD; Hyunah Yoon, MD; Keith S. Goldfeld, DrPH; Andrea B. Troxel, ScD; Johanna P. Daily, MD, MS; Yinxiang Wu, MA; Yi Li, MS; Danni Wu, MS; Gia F. Cobb, MA; Gillian Baptiste, MD; Mary O'Keeffe, MD; Marilou O. Corpuz, MD; Luis Ostrosky-Zeichner, MD; Amee Amin, MD; Ioannis M. Zacharioudakis, MD; Dushyantha T. Jayaweera, MD; Yanyun Wu, MD; Julie V. Philley, MD; Megan S. Devine, MD; Mahalia S. Desruisseaux, MD; Alessandro D. Santin, MD; Shweta Anjan, MD, MBBS; Reeba Mathew, MD; Bela Patel, MD; Masayuki Nigo, MD; Rabi Upadhyay, MD; Tania Kupferman, MD; Andrew N. Dentino, MD; Rahul Nanchal, MD, MS; Christian A. Merlo, MD, MPH; David N. Hager, MD, PhD; Kartik Chandran, PhD; Jonathan R. Lai, PhD; Johanna Rivera, PhD; Chowdhury R. Bikash, PhD; Gorka Lasso, PhD; Timothy P. Hilbert, MD; Monika Paroder, MD, PhD; Andrea A. Asencio, BA; Mengling Liu, PhD; Eva Petkova, PhD; Alexander Bragat, MBA; Reza Shaker, MD; David D. McPherson, MD; Ralph L. Sacco, MD, MS; Marla J. Keller, MD; Corita R. Grudzen, MD; Judith S. Hochman, MD; Liise-anne Pirofski, MD; and the CONTAIN COVID-19 Consortium for the CONTAIN COVID-19 Study Group Visual Abstract IMPORTANCE There is clinical equipoise for COVID-19 convalescent plasma (CCP) use in Supplemental content patients hospitalized with COVID-19. OBJECTIVE To determine the safety and efficacy of CCP compared with placebo in hospitalized patients with COVID-19 receiving noninvasive supplemental oxygen. DESIGN, SETTING, AND PARTICIPANTS CONTAIN COVID-19, a randomized, double-blind, placebo-controlled trial of CCP in hospitalized adults with COVID-19, was conducted at 21 US hospitals from April 17, 2020, to March 15, 2021. The trial enrolled 941 participants who were hospitalized for 3 or less days or presented 7 or less days after symptom onset and required noninvasive oxygen supplementation. INTERVENTIONS A unit of approximately 250 mL of CCP or equivalent volume of placebo (normal saline). MAIN OUTCOMES AND MEASURES The primary outcome was participant scores on the 11-point World Health Organization (WHO) Ordinal Scale for Clinical Improvement on day 14 after randomization; the secondary outcome was WHO scores determined on day 28. Subgroups were analyzed with respect to age, baseline WHO score, concomitant medications, symptom duration, CCP SARS-CoV-2 titer, baseline SARS-CoV-2 serostatus, and enrollment quarter. Outcomes were analyzed using a bayesian proportional cumulative odds model. Efficacy of CCP was defined as a cumulative adjusted odds ratio (cOR) less than 1 and a clinically meaningful effect as cOR less than 0.8. RESULTS Of 941 participants randomized (473 to placebo and 468 to CCP), 556 were men (59.1%); median age was 63 years (IQR, 52-73); 373 (39.6%) were Hispanic and 132 (14.0%) were non-Hispanic Black. The cOR for the primary outcome adjusted for site, baseline risk, WHO score, age, sex, and symptom duration was 0.94 (95% credible interval [CrI], 0.75-1.18) with posterior probability (P[cOR<1] = 72%); the cOR for the secondary adjusted outcome was 0.92 (95% CrI, 0.74-1.16; P[cOR<1] = 76%). Exploratory subgroup analyses suggested heterogeneity of treatment effect: at day 28, cORs were 0.72 (95% CrI, 0.46-1.13; P[cOR<1] = 93%) for participants enrolled in April-June 2020 and 0.65 (95% CrI, 0.41 to 1.02; P[cOR<1] = 97%)..
Please send us corrections, updates, or comments. Vaccines and treatments are complementary. All practical, effective, and safe means should be used based on risk/benefit analysis. No treatment, vaccine, or intervention is 100% available and effective for all current and future variants. We do not provide medical advice. Before taking any medication, consult a qualified physician who can provide personalized advice and details of risks and benefits based on your medical history and situation.
FLCCC
and
WCH
provide treatment protocols.
Submit