Convalescent plasma for hospitalized patients with COVID-19: an open-label, randomized controlled trial
et al., Nature Medicine,
RCT 940 hospitalized patients, 614 assigned to convalescent plasma, showing no significant differences.
risk of death,

13.0% higher

, RR 1.13, p = 0.33
, treatment 156 of 625 (25.0%), control 69 of 313 (22.0%), day 90.
risk of death,

12.0% higher

, RR 1.12, p = 0.40
, treatment 141 of 614 (23.0%), control 63 of 307 (20.5%), day 30.
risk of death/intubation,

16.0% higher

, RR 1.16, p = 0.18
, treatment 199 of 614 (32.4%), control 86 of 307 (28.0%), primary outcome.
Effect extraction follows pre-specified rules prioritizing more serious outcomes. Submit updates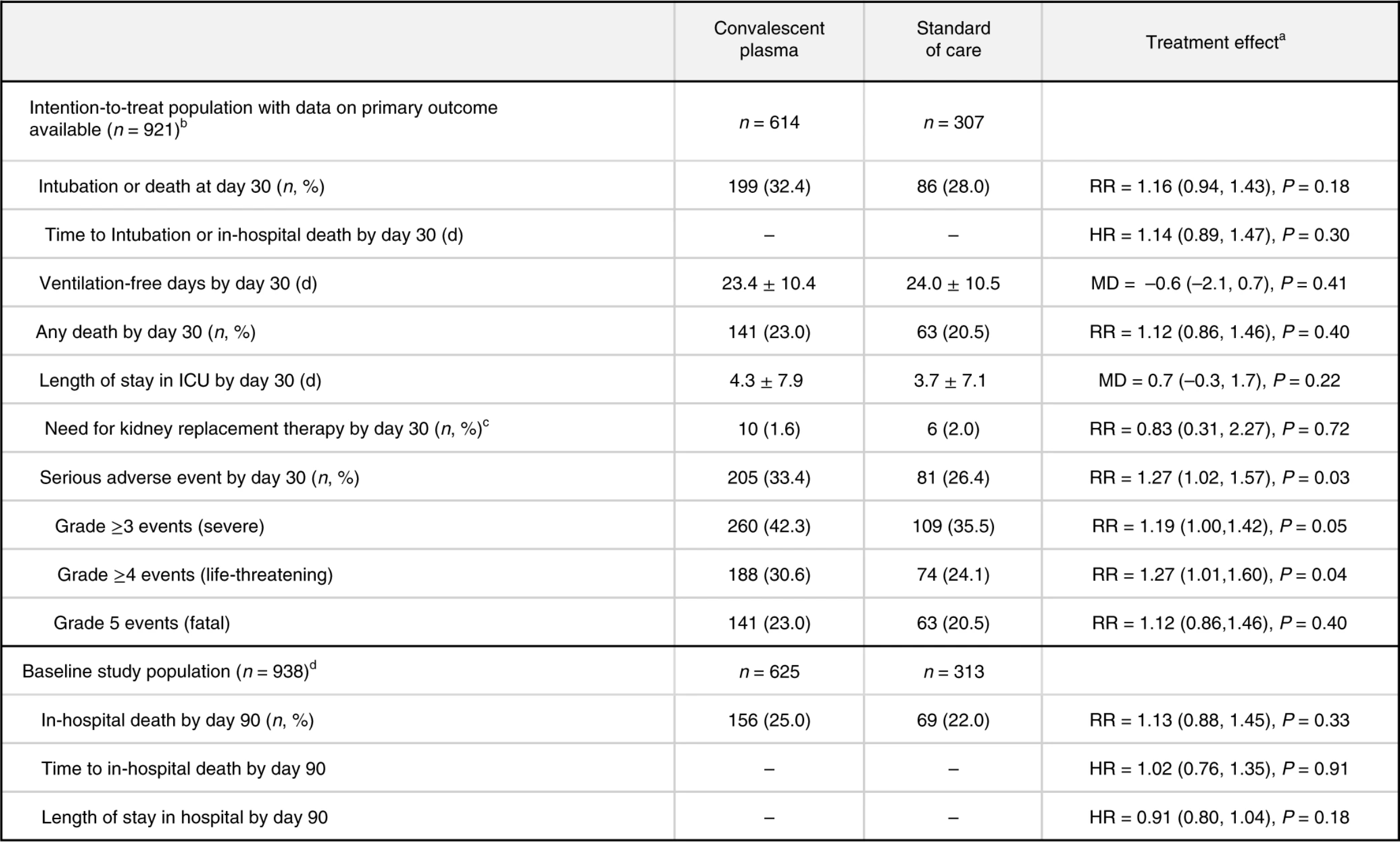 Bégin et al., 9 Sep 2021, Randomized Controlled Trial, multiple countries, peer-reviewed, 32 authors, average treatment delay 8.0 days, trial
NCT04348656
(history)
(CONCOR-1).
Abstract: Articles https://doi.org/10.1038/s41591-021-01488-2 Convalescent plasma for hospitalized patients with COVID-19: an open-label, randomized controlled trial Philippe Bégin 1,2,87 ✉, Jeannie Callum 3,4,5,6,87 ✉, Erin Jamula7, Richard Cook8, Nancy M. Heddle6,7,9, Alan Tinmouth6,10,11, Michelle P. Zeller6,7,9, Guillaume Beaudoin-Bussières12,13, Luiz Amorim14, Renée Bazin15, Kent Cadogan Loftsgard16, Richard Carl17, Michaël Chassé2,18, Melissa M. Cushing19,20, Nick Daneman21, Dana V. Devine22,23, Jeannot Dumaresq24,25, Dean A. Fergusson6,10,26, Caroline Gabe7, Marshall J. Glesby 27, Na Li7,28,29, Yang Liu7, Allison McGeer30,31, Nancy Robitaille32,33,34, Bruce S. Sachais20,35, Damon C. Scales36,37, Lisa Schwartz 38, Nadine Shehata6,39,40, Alexis F. Turgeon 41,42, Heidi Wood43, Ryan Zarychanski44, Andrés Finzi12,13, the CONCOR-1 Study Group* and Donald M. Arnold 7,9,87 ✉ The efficacy of convalescent plasma for coronavirus disease 2019 (COVID-19) is unclear. Although most randomized controlled trials have shown negative results, uncontrolled studies have suggested that the antibody content could influence patient outcomes. We conducted an open-label, randomized controlled trial of convalescent plasma for adults with COVID-19 receiving oxygen within 12 d of respiratory symptom onset (NCT04348656). Patients were allocated 2:1 to 500 ml of convalescent plasma or standard of care. The composite primary outcome was intubation or death by 30 d. Exploratory analyses of the effect of convalescent plasma antibodies on the primary outcome was assessed by logistic regression. The trial was terminated at 78% of planned enrollment after meeting stopping criteria for futility. In total, 940 patients were randomized, and 921 patients were included in the intention-to-treat analysis. Intubation or death occurred in 199/614 (32.4%) patients in the convalescent plasma arm and 86/307 (28.0%) patients in the standard of care arm—relative risk (RR) = 1.16 (95% confidence interval (CI) 0.94–1.43, P = 0.18). Patients in the convalescent plasma arm had more serious adverse events (33.4% versus 26.4%; RR = 1.27, 95% CI 1.02–1.57, P = 0.034). The antibody content significantly modulated the therapeutic effect of convalescent plasma. In multivariate analysis, each standardized log increase in neutralization or antibody-dependent cellular cytotoxicity independently reduced the potential harmful effect of plasma (odds ratio (OR) = 0.74, 95% CI 0.57–0.95 and OR = 0.66, 95% CI 0.50–0.87, respectively), whereas IgG against the full transmembrane spike protein increased it (OR = 1.53, 95% CI 1.14–2.05). Convalescent plasma did not reduce the risk of intubation or death at 30 d in hospitalized patients with COVID-19. Transfusion of convalescent plasma with unfavorable antibody profiles could be associated with worse clinical outcomes compared to standard care. T he immune response after severe acute respiratory syndrome coronavirus 2 (SARS-CoV-2) infection results in the formation of antibodies that can interfere with viral replication and infection of host cells in over 95% of patients1. Based on previous experience in other viral infections2, the use of convalescent plasma has been proposed as a therapeutic form of passive immunization for patients with acute COVID-19 (refs. 3,4). Early in the pandemic, several small randomized trials found no difference in clinical outcomes5–8. In the United States, an Extended Access Program outside of a controlled trial led to the use..
Please send us corrections, updates, or comments. Vaccines and treatments are complementary. All practical, effective, and safe means should be used based on risk/benefit analysis. No treatment, vaccine, or intervention is 100% available and effective for all current and future variants. We do not provide medical advice. Before taking any medication, consult a qualified physician who can provide personalized advice and details of risks and benefits based on your medical history and situation.
FLCCC
and
WCH
provide treatment protocols.
Submit