Retrospective 539 patients in the USA, showing lower mortality, ICU admission, and ARDS with aspirin treatment, without statistical significance.Although the 14% lower mortality is not statistically significant, it is consistent with the significant 11% lower mortality
[4‑17%]
from meta analysis of the
59 mortality results to date
.
risk of death,

13.6% lower

, RR 0.86, p = 0.72
, treatment 15 of 87 (17.2%), control 24 of 223 (10.8%), adjusted per study, odds ratio converted to relative risk, multivariable.
risk of ICU admission,

27.8% lower

, RR 0.72, p = 0.17
, treatment 28 of 87 (32.2%), control 77 of 223 (34.5%), adjusted per study, odds ratio converted to relative risk, multivariable.
risk of ARDS,

25.1% lower

, RR 0.75, p = 0.39
, treatment 13 of 87 (14.9%), control 40 of 223 (17.9%), NNT 33, adjusted per study, odds ratio converted to relative risk, multivariable.
risk of hospitalization,

2.4% lower

, OR 0.98, p = 0.94
, treatment 25, control 176, adjusted per study, multivariable, RR approximated with OR.
Effect extraction follows pre-specified rules prioritizing more serious outcomes. Submit updates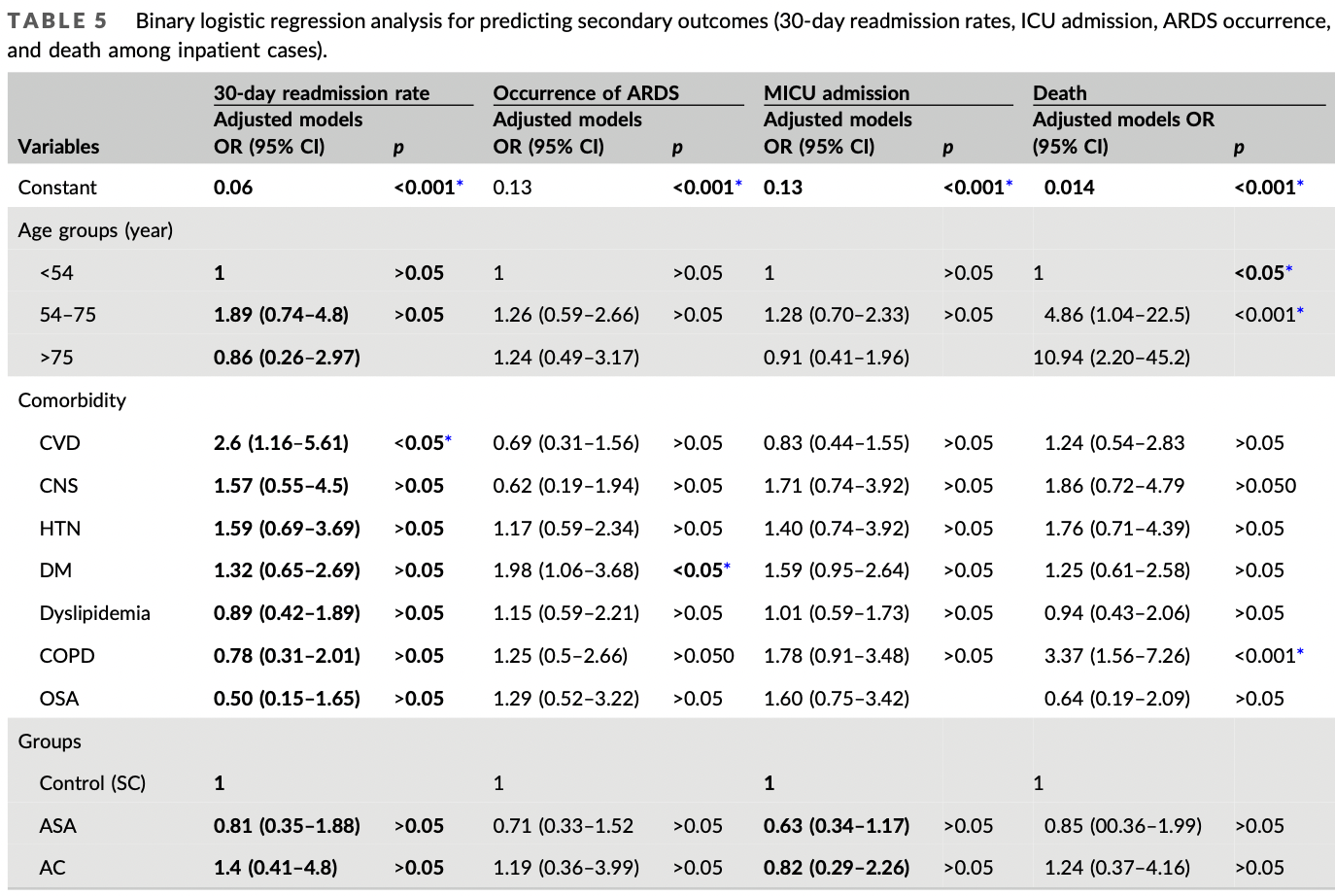 Malik et al., 11 Jul 2022, retrospective, USA, peer-reviewed, 16 authors, study period 1 March, 2020 - 1 December, 2020.
Contact: muhammadbmalik@gmail.com, dr_samar11@yahoo.com.
Effect of low dose acetylsalicylic acid and anticoagulant on clinical outcomes in COVID‐19, analytical cross‐sectional study
Health Science Reports, doi:10.1002/hsr2.699
Background and aims: The therapeutic strategy for the treatment of known sequelae of COVID-19 has shifted from reactive to preventative. In this study, we aim to evaluate the effects of acetylsalicylic acid (ASA), and anticoagulants on COVID-19 related morbidity and mortality. Methods: This record-based analytical cross-sectional study targeted 539 COVID-19 patients in a single United States medical center between March and December 2020. Through a random stratified sample, we recruited outpatient (n = 206) and inpatient (n = 333) cases from three management protocols, including standard care (SC) (n = 399), low-dose ASA only (ASA) (n = 112), and anticoagulation only (AC) (n = 28). Collected data included demographics, comorbidities, and clinical outcomes. The primary outcome measure was inpatient admission. Exploratory secondary outcome measures included length of stay, 30-day readmission rates, medical intensive care unit (MICU) admission, need for mechanical ventilation, the occurrence of acute respiratory distress syndrome (ARDS), bleeding events, clotting events, and mortality. The collected data were coded and analyzed using standard tests. Results: Age, mean number of comorbidities, and all individual comorbidities except for asthma, and malignancy were significantly lower in the SC compared to ASA and AC. After adjusting for age and comorbidity via binary logistic regression models, no statistical differences were found between groups for the studied outcomes. When compared to the SC group, ASA had lower 30-day readmission rates (odds ration
from March until December, and the many outcomes were studied in detail. Every case fulfilling the selection criteria has an equal chance of being recruited into the sample (so it is a random sample) to find the association and risk assessment. | CONCLUSIONS Low-dose ASA is a promising, effective, protective medication in potentially improving the outcomes in COVID-19 cases, through reducing mortality, and morbidity (hospital readmission rates, the occurrence of ARDS, and ICU admission) but not statistically significant due to the higher risk patients in these groups. further prospective research is still needed. | RECOMMENDATION CONFLICT OF INTEREST The authors declare no conflict of interest. TRANSPARENCY STATEMENT I affirm that this manuscript is an honest, accurate, and transparent account of the study being reported; that no important aspects of the study have been omitted; and that any discrepancies from the study as planned (and, if relevant, registered) have been explained. ETHICS STATEMENT This study was reviewed by the institutional review board (IRB) at Upstate Medical University and was considered exempt according to the #4(iii) exemption category in federal regulations. The requirement for written informed consent was waived by the IRB and the study was conducted in accordance with ethical principles.
References