Retrospective 991 hospitalized patients in Iran, showing lower mortality with aspirin treatment.
This study includes
HCQ
and aspirin.
risk of death,

24.7% lower

, HR 0.75, p = 0.04
, treatment 336, control 655, adjusted per study, Cox proportional hazards, RR approximated with OR.
Effect extraction follows pre-specified rules prioritizing more serious outcomes. Submit updates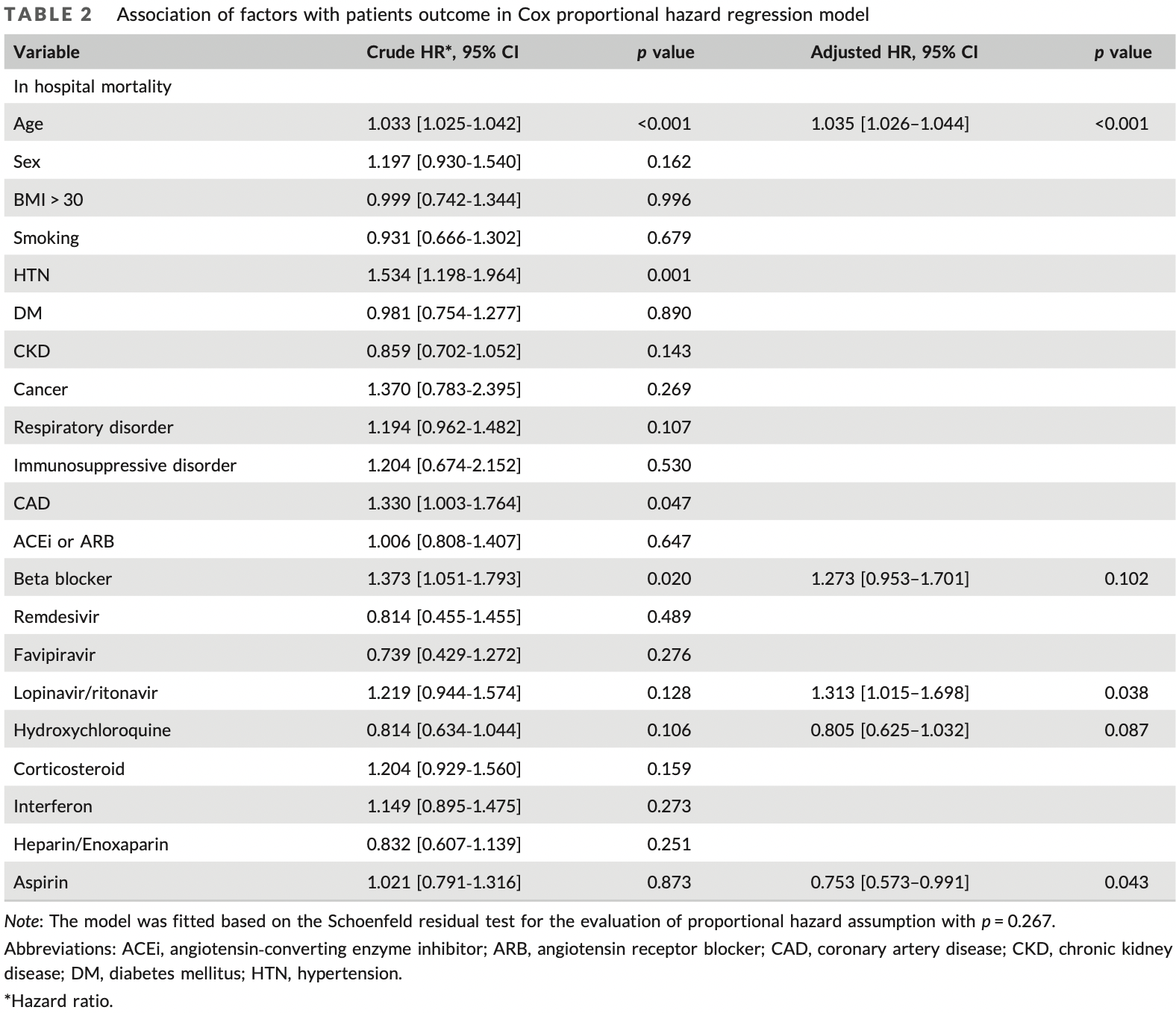 Haji Aghajani et al., 29 Apr 2021, retrospective, Iran, peer-reviewed, 7 authors.
Decreased in‐hospital mortality associated with aspirin administration in hospitalized patients due to severe COVID‐19
Journal of Medical Virology, doi:10.1002/jmv.27053
Hypercoagulability and thrombosis caused by coronavirus disease 2019 (COVID-19) are related to the higher mortality rate. Because of limited data on the antiplatelet effect, we aimed to evaluate the impact of aspirin add-on therapy on the outcome of the patients hospitalized due to severe COVID-19. In this cohort study, patients with a confirmed diagnosis of severe COVID-19 admitted to Imam Hossein Medical
The main limitations of our study were the retrospective pattern of the study and lack of data about the probable adverse effect of aspirin, such as bleeding components. In conclusion, based on the result of our study, in patients who received aspirin, a relevant underlying condition such as hypertension, diabetes, and coronary artery disease was more prevalent. These patients had a more severe course of the disease and a longer duration of hospitalization. By adjustment of the effect of underlying conditions and confounding factors, aspirin use in severe hospitalized COVID-19 patients is independently associated with a 25% decrease in mortality rate. So, by considering all the probable described mechanisms and the results of other studies in this regard, we recommend using aspirin during the hospital stay for all patients with the diagnosis of severe COVID-19. ACKNOWLEDGMENT This study was supported via the Deputy of research and technology, Shahid Beheshti University of Medical Sciences, Iran. No specific grants from funding agencies, commercial, and non-profit sectors were received. CONFLICT OF INTERESTS The authors declare that there are no conflicts of interest. AUTHOR CONTRIBUTIONS
References
Aghajani, Moradi, Amini, Decreased in-hospital mortality associated with aspirin administration in hospitalized patients due to severe COVID-19, J Med Virol
Chow, Khanna, Kethireddy, Aspirin use is associated with decreased mechanical ventilation, ICU admission, and inhospital mortality in hospitalized patients with COVID-19