Prospective study of 69 COVID+ patients in Kosovo, showing lower vitamin D levels associated with COVID-19 severity.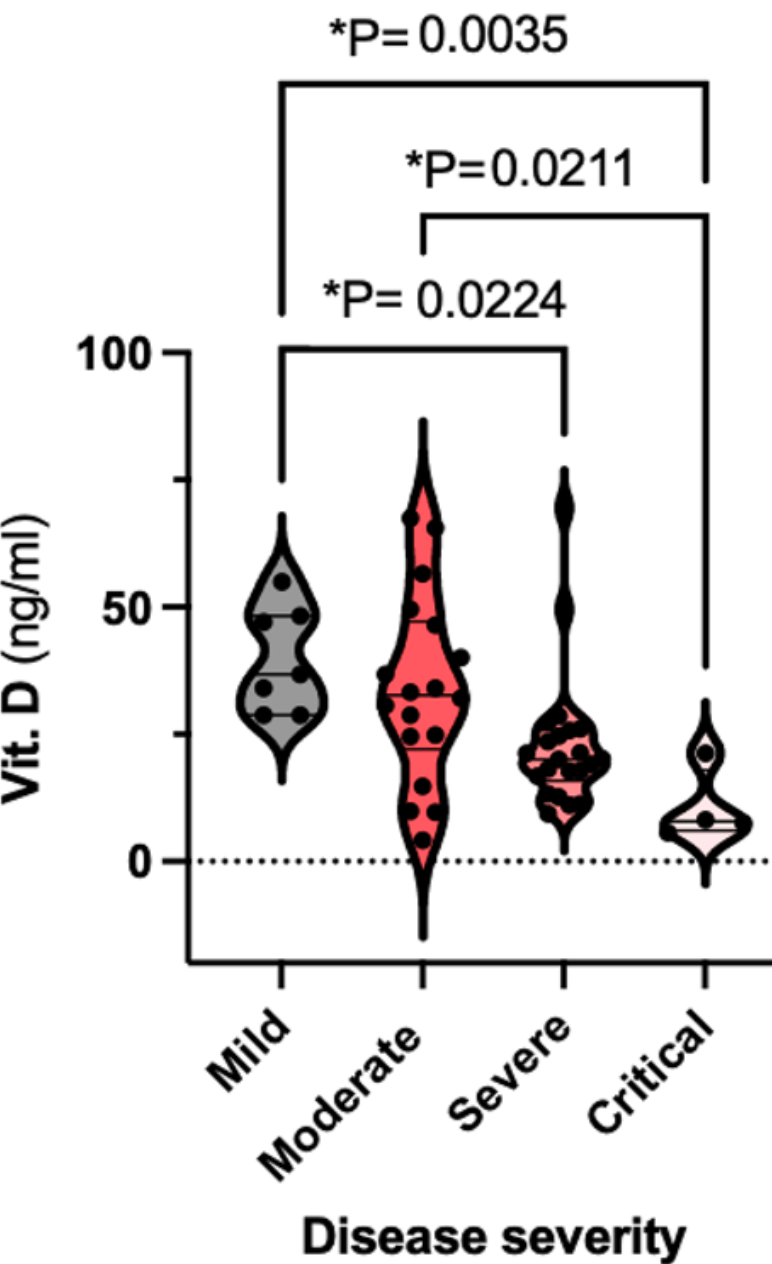 Latifi-Pupovci et al., 5 Apr 2022, prospective, Kosovo, peer-reviewed, 9 authors.
Relationship of anti-SARS-CoV-2 IgG antibodies with Vitamin D and inflammatory markers in COVID-19 patients
Scientific Reports, doi:10.1038/s41598-022-09785-7
Several studies have found an association of COVID-19 disease severity with Vitamin D deficiency and higher levels of anti-SARS-CoV-2 IgGs. The aim of this study was to determine whether levels of Vitamin D and "inflammatory state" influence the magnitude of anti-SARS-CoV-2 IgGs levels in COVID-19 patients. For this purpose, in 67 patients levels of anti-SARS-CoV-2 IgG were measured in week 4 whereas in 52 patients levels of Vitamin D were measured in week 1 after symptom onset. We found that low Vitamin D levels were significantly associated with age and disease severity whereas there was a trend without significance, towards negative correlation of Vitamin D with anti-SARS-CoV-2 IgG. Anti-SARS-CoV-2 IgG were significantly higher in older ages, patients with severe disease, diabetes and those who received corticosteroid and antibiotic therapy. There was a positive correlation of anti-SARS-CoV-2 IgG with IL-6, CRP, LDH, ESR and with percentages of granulocytes. In conclusion, Vitamin D and anti-SARS-CoV-2 IgG share common parameters associated with inflammatory state. However, even though Vitamin D protects against severe forms of COVID-19 it could not directly affect anti-SARS-CoV-2 IgG production. The coronavirus disease 2019 (COVID-19 ) is caused by a new coronavirus which in addition to acute respiratory failure is associated with systemic disorders such as hyperinflammation, hypercoagulation and vasculitis 1 . Although many people exhibit mild 'flu-like' symptoms, in severe responses systemic changes have been attributed to the cytokine storm accompanying severe inflammatory syndrome [2] [3] [4] . Severe forms of COVID-19 have been linked with low levels of circulating 25-hydroxy Vitamin D (25[OH]D) as an expression of Vitamin D (Vit. D) [5] [6] [7] [8] [9] [10] . Vit. D has immunomodulatory activity in response to invasion of bacterial and viral pathogens 11, 12 interacting with its receptor (VDR) in immune cells [13] [14] [15] . In several studies it was shown that severe inflammatory syndrome was accompanied with changes in hematological markers and increased several inflammatory markers such as CRP, LDH, ESR, ferritin etc. 2, [16] [17] [18] . A recent study has shown that in the presence of Vit. D, IL-6 induces higher production of IL-10, a known anti-inflammatory cytokine which is expected to lead to the reduction of inflammatory markers such as CRP 19 . Several studies have shown inverse association between Vit. D and CRP levels [20] [21] [22] . Additionally, high levels of CRP were associated with lowering levels of Vit. D 23 indicating that Vit. D is a negative acute phase reactant. Thus, Vit. D insufficiency could be the cause and effect of high CRP levels in COVID-19 patients. Humoral and cellular immune responses, two wings of adaptive immunity, are crucial in clearing a variety of viral infections 24 , and have been implicated in recovered COVID-19 patients 25, 26 . In several studies disease severity..
Ethics declaration. This study was approved by the Ethics Committee at University Clinical Centre of Kosova (reference no 2548/2020). Written informed consent was obtained from all participants, in accordance with the Declaration of Helsinki. Author contributions Competing interests The authors declare no competing interests.
References