The clinical impact of androgen deprivation therapy on SARS-CoV-2 infection rates and disease severity
The clinical impact of androgen deprivation therapy on SARS-CoV-2 infection rates and disease severity
,
Türk Üroloji Dergisi/Turkish Journal of Urology, doi:10.5152/tud.2021.21278
,
Retrospective 365 prostate cancer patients in Turkey, 138 treated with ADT, showing no significant differences with treatment. This study is excluded in the after exclusion results of meta analysis: excessive unadjusted differences between groups.
risk of hospitalization,

229.0% higher

, RR 3.29, p = 0.20
, treatment 4 of 138 (2.9%), control 2 of 227 (0.9%).
risk of case,

28.7% lower

, RR 0.71, p = 0.32
, treatment 13 of 138 (9.4%), control 30 of 227 (13.2%), NNT 26.
Effect extraction follows pre-specified rules prioritizing more serious outcomes. Submit updates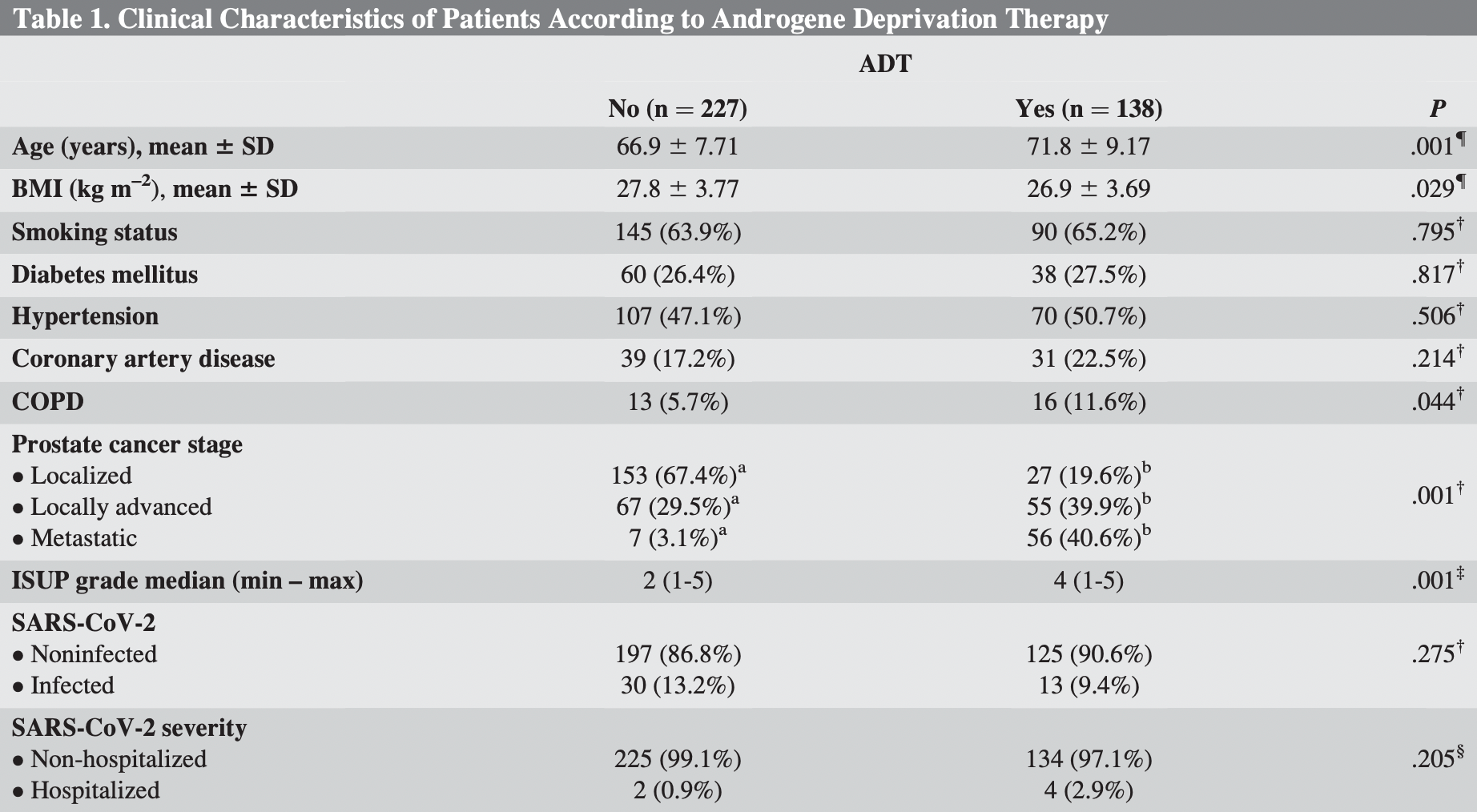 Kazan et al., 1 Nov 2021, retrospective, Turkey, peer-reviewed, 10 authors, study period August 2020 - June 2021.
Abstract: Turk J Urol 2021; 47(6): 495-500 DOI: 10.5152/tud.2021.21278 UROONCOLOGY Original Article The clinical impact of androgen deprivation therapy on SARS-CoV-2 infection rates and disease severity Özgür Kazan1 , Meftun Çulpan2 , Özgür Efiloğlu2 , Gökhan Atis2 , Asıf Yildirim2 Cite this article as: Kazan Ö, Çulpan M, Efiloğlu Ö, Atis G, Yildirim A. The clinical impact of androgen deprivation therapy on SARS-CoV2 infection rates and disease severity. Turk J Urol. 2021; 47(6): 495-500 ABSTRACT Objective: The protective effect of androgen deprivation therapy (ADT) against severe acute respiratory syndrome coronavirus 2 (SARS-CoV-2) is a novel hypothesis. ADT may protect patients with prostate cancer through the inhibition of androgen receptor-dependent transmembrane serine protease type 2. We analyzed the role of ADT on SARS-CoV-2 infection risk and disease severity. Material and methods: Between August 2020 and June 2021, patients with prostate cancer were included in our study. Patients were divided into two groups as men receiving ADT or not. Patients' characteristics such as prostate cancer grade and stage, comorbidities, SARS-CoV-2 infection status, and infection severity were assessed. SARS-CoV-2-infected close relatives and patients' compliance with the precautions against SARSCoV-2 were also analyzed. Results: A total of 365 patients, 138 (37.8%) with ADT and 227 (62.2%) without ADT, were included in our analysis. Patients with ADT were older (71.8 vs 66.9 years, P ¼ .001) and had a higher rate of chronic obstructive pulmonary disease (11.6% vs 5.7%, P ¼ .044). Patients receiving ADT were more often locally advanced and metastatic (80.4% vs 32.6%, P ¼ .001). SARS-CoV-2 infection rates were statistically similar between patients who received and did not receive ADT (9.4% vs 13.2%, P ¼ .275, respectively). There was no significant difference between two groups in terms of hospitalization rates (2.9% vs 0.9%, P ¼ .205). In multivariate analysis, the presence of SARS-CoV-2-infected close relatives and precautions score were only independent predictors for both risk of SARS-CoV-2 infection and infection severity. Conclusion: We could not find any effect of ADT on risk and severity of SARS-CoV-2 infection. SARSCoV-2 infection and hospitalization rates were similar between patients with and without ADT. Keywords: Androgen deprivation therapy; prostate cancer; SARS-CoV-2; TMPRSS-2. 1 Department of Urology, Kocaeli State Hospital, Kocaeli, Turkey _ Department of Urology, Istanbul Medeniyet University School of _ Medicine, Istanbul, Turkey 2 Submitted: 16.09.2021 Accepted: 03.11.2011 Corresponding Author: Özgür Kazan E-mail: ozgurkazan@hotmail.com C Copyright 2021 by Turkish V Association of Urology Available online at www.turkishjournalofurology.com
Please send us corrections, updates, or comments. Vaccines and treatments are complementary. All practical, effective, and safe means should be used based on risk/benefit analysis. No treatment, vaccine, or intervention is 100% available and effective for all current and future variants. We do not provide medical advice. Before taking any medication, consult a qualified physician who can provide personalized advice and details of risks and benefits based on your medical history and situation.
FLCCC
and
WCH
provide treatment protocols.
Submit