RCT 50 hospitalized patients in Israel, 33 treated with curcumin, vitamin C, artemisinin, and frankincense oral spray, showing improved recovery with treatment.
Viral load measured by PCR may not accurately reflect infectious virus measured by viral culture.
Porter
show that viral load early in infection was correlated with infectious virus, but viral load late in infection could be high even with low or undetectable infectious virus. Assessing viral load later in infection may underestimate reductions in infectious virus with treatment.
This study is excluded in meta analysis: combined treatments may contribute more to the effect seen.
This study includes vitamin C and
curcumin
.
relative NEWS2 score,

76.7% better

, RR 0.23, p = 0.04
, treatment mean 0.52 (±0.67) n=33, control mean 2.23 (±3.2) n=17, day 15.
risk of oxygen therapy,

92.2% lower

, RR 0.08, p = 0.01
, treatment 0 of 33 (0.0%), control 4 of 17 (23.5%), NNT 4.2, relative risk is not 0 because of continuity correction due to zero events (with reciprocal of the contrasting arm), day 15.
oxygen time,

69.7% lower

, relative time 0.30, p = 0.17
, treatment mean 2.3 (±1.4) n=33, control mean 7.6 (±4.6) n=17.
hospitalization time,

13.3% lower

, relative time 0.87, p = 0.92
, treatment mean 7.8 (±7.3) n=33, control mean 9.0 (±8.0) n=17.
risk of no viral clearance,

9.8% lower

, RR 0.90, p = 0.77
, treatment 14 of 33 (42.4%), control 8 of 17 (47.1%), NNT 22, day 15.
Effect extraction follows pre-specified rules prioritizing more serious outcomes. Submit updates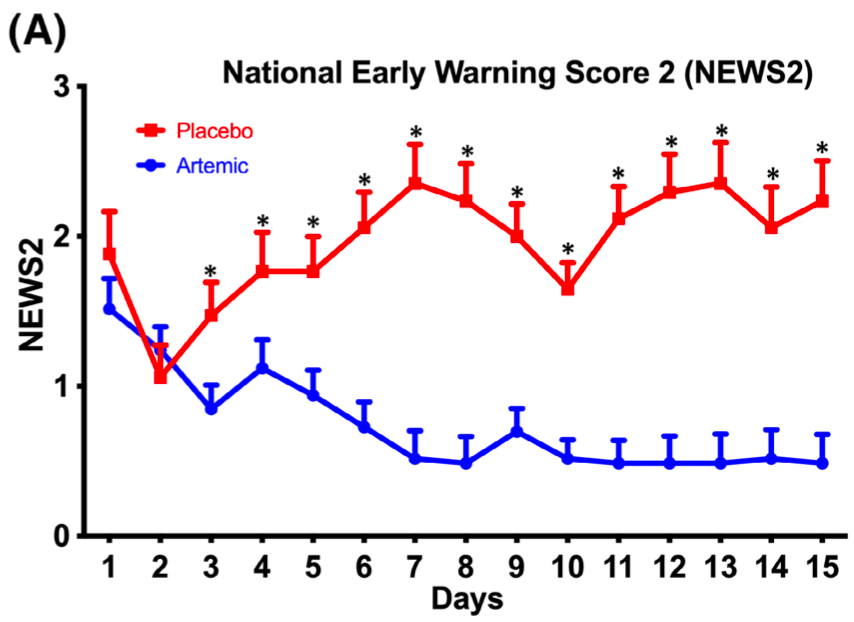 Hellou et al., 19 May 2022, Double Blind Randomized Controlled Trial, placebo-controlled, Israel, peer-reviewed, 6 authors, study period 8 May, 2020 - 21 December, 2020, this trial uses multiple treatments in the treatment arm (combined with curcumin, artemisinin, and frankincense) - results of individual treatments may vary, trial
NCT04382040
(history)
.
Effect of ArtemiC in patients with COVID‐19: A Phase II prospective study
Journal of Cellular and Molecular Medicine, doi:10.1111/jcmm.17337
The coronavirus disease 2019 (COVID-19) pandemic, which initially emerged in Wuhan-South-eastern China in 2019, is caused by severe acute respiratory syndrome coronavirus 2 (SARS-CoV-2) and is associated with significant morbidity and mortality among vulnerable patients. 1 This grim situation is mainly attributed to the poor understanding of the pathogenesis of SARS-CoV-2-induced injury to vital organs, particularly in aged patients with diabetes, obesity, hypertension, heart failure and respiratory diseases. 2, 3 Critically ill cases are characterized by acute respiratory distress syndrome (ARDS) and septic shock, as well as multiple organ dysfunction or failure. [2] [3] [4] Human angiotensin-converting enzyme 2 (ACE2) receptor serves as the binding domain of SARS-CoV-2 in human host cells, exploiting its high affinity to this enzyme to inflict remarkable damage to key target organs. [5] [6] [7]
AUTH O R CO NTR I B UTI O N S Elias Hellou involved in investigation, writing-original draft (lead), review and editing (lead). Jameel Mohsin, Fahed Hakim and Ameer Elemy involved in investigation (supporting). Mona Mustafa-Hellou involved in investigation (supporting), writing-review and editing (supporting). Shadi Hamou involved in writing-original draft, review and editing (equal). CO N FLI C T O F I NTE R E S T The authors confirm that there are no conflicts of interest.
References
Chernyak, Popova, Prikhodko, Grebenchikov, Zinovkina et al., COVID-19 and oxidative stress
Fo R M Ati O N ; Hellou, Mohsin, Elemy, Hakim, Mustafa-Hellou et al., Additional supporting information may be found in the online version of the article at the publisher's website, J Cell Mol Med