In Vitro
study showing dose-dependent inhibition of SARS-CoV-2 with budesonide.
3 preclinical studies support the efficacy of budesonide for COVID-19: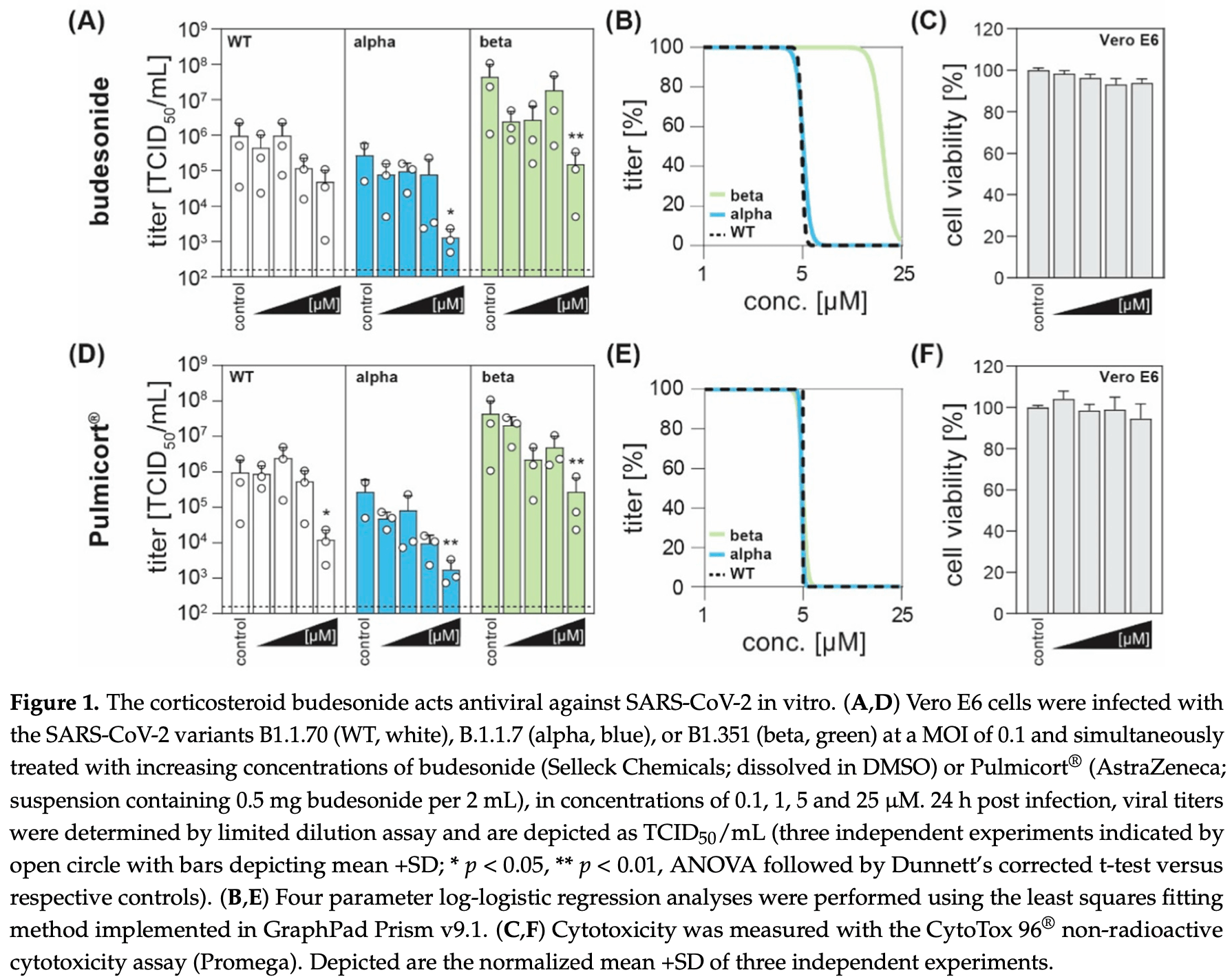 Heinen et al., 20 Jul 2021, peer-reviewed, 6 authors.
In Vitro studies are an important part of preclinical research, however results may be very different in vivo.
Antiviral Effect of Budesonide against SARS-CoV-2
Viruses, doi:10.3390/v13071411
Treatment options for COVID-19, a disease caused by Severe Acute Respiratory Syndrome Coronavirus 2 (SARS-CoV-2) infection, are currently severely limited. Therefore, antiviral drugs that efficiently reduce SARS-CoV-2 replication or alleviate COVID-19 symptoms are urgently needed. Inhaled glucocorticoids are currently being discussed in the context of treatment for COVID-19, partly based on a previous study that reported reduced recovery times in cases of mild COVID-19 after inhalative administration of the glucocorticoid budesonide. Given various reports that describe the potential antiviral activity of glucocorticoids against respiratory viruses, we aimed to analyze a potential antiviral activity of budesonide against SARS-CoV-2 and circulating variants of concern (VOC) B.1.1.7 (alpha) and B.1.351 (beta). We demonstrate a dose-dependent inhibition of SARS-CoV-2 that was comparable between all viral variants tested while cell viability remains unaffected. Our results are encouraging as they could indicate a multimodal mode of action of budesonide against SARS-CoV-2 and COVID-19, which could contribute to an improved clinical performance.
Author Contributions: S.P. designed the project; N.H. and T.L.M. performed the experiments; N.H., S.P. and M.K. wrote the manuscript; D.T. evaluated the data; E.S. and S.P. supervised the study. All authors have read and agreed to the published version of the manuscript. Funding: This research received no external funding. Institutional Review Board Statement: Not applicable. Informed Consent Statement: Not applicable. Data Availability Statement: The data generated and analyzed in this study are included in the article. Viruses 2021, 13, 1411 Conflicts of Interest: The authors declare no conflict of interest.
References
Zhou, Dejnirattisai, Supasa, Liu, Mentzer et al., Evidence of escape of SARS-CoV-2 variant B.1.351 from natural and vaccine-induced sera, Cell