In Vitro study showing that aspirin and metabolite salicylic acid inhibit SARS-CoV-2 viral replication in Vero, A549-ACE2, and Huh-7 cells, and in human precision-cut lung slices. Results indicate inhibition of post-entry pathways.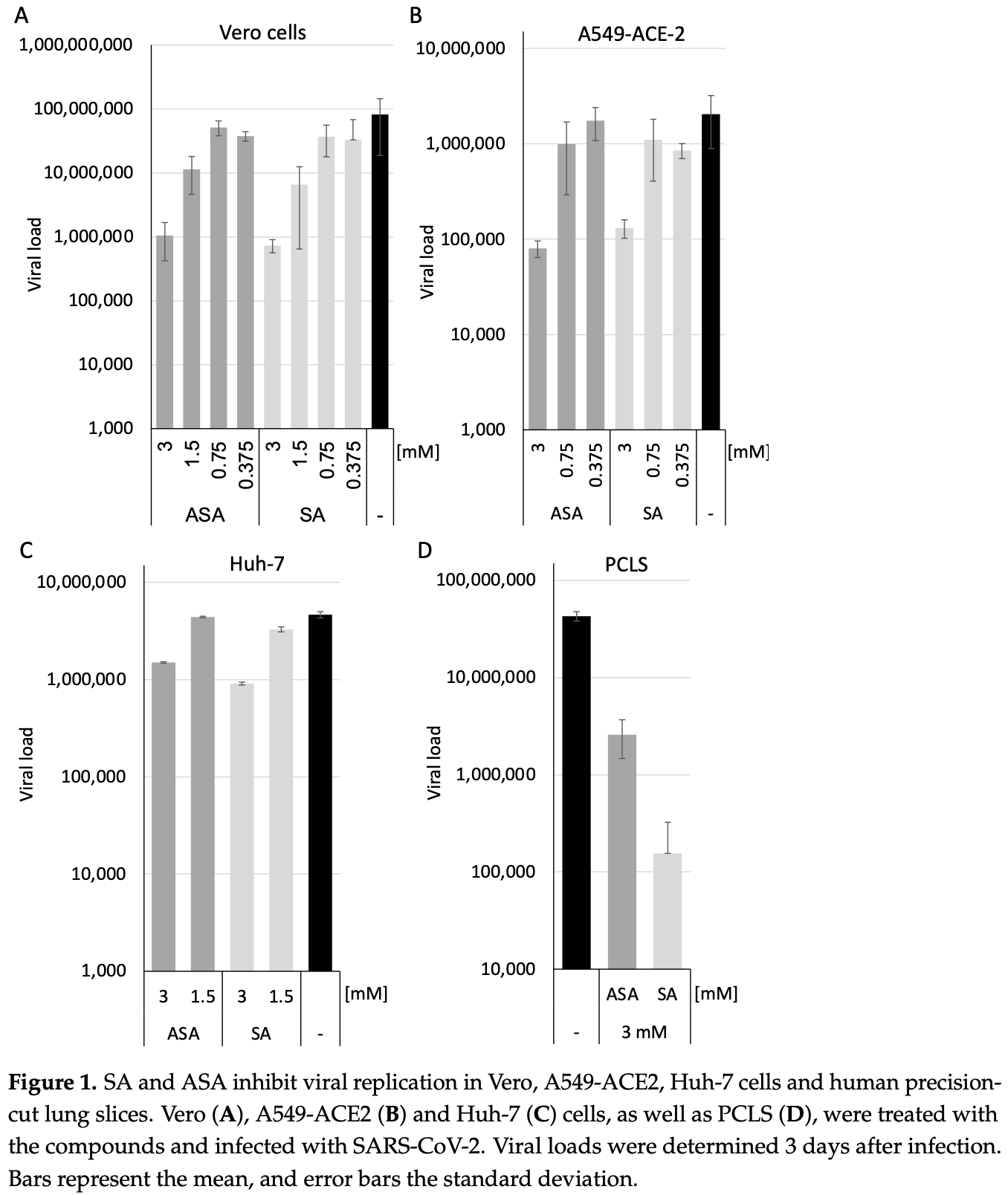 Geiger et al., 27 Sep 2022, peer-reviewed, 11 authors.
Contact: jochen.bodem@uni-wuerzburg.de (corresponding author).
In Vitro studies are an important part of preclinical research, however results may be very different in vivo.
Acetylsalicylic Acid and Salicylic Acid Inhibit SARS-CoV-2 Replication in Precision-Cut Lung Slices
Vaccines, doi:10.3390/vaccines10101619
Aspirin, with its active compound acetylsalicylic acid (ASA), shows antiviral activity against rhino-and influenza viruses at high concentrations. We sought to investigate whether ASA and its metabolite salicylic acid (SA) inhibit SARS-CoV-2 since it might use similar pathways to influenza viruses. The compound-treated cells were infected with SARS-CoV-2. Viral replication was analysed by RTqPCR. The compounds suppressed SARS-CoV-2 replication in cell culture cells and a patient-near replication system using human precision-cut lung slices by two orders of magnitude. While the compounds did not interfere with viral entry, it led to lower viral RNA expression after 24 h, indicating that post-entry pathways were inhibited by the compounds.
Funding: Bayer Vital GmbH funded a part of this study. This publication was supported by the Open Access Publication Fund of the University of Wuerzburg. Conflicts of Interest: Bayer Vital GmbH funded a part of this study but had no role in the design of the study; in the collection, analysis or interpretation of data; in the writing of the manuscript; or in the decision to publish the results.
References
Hoffmann, Mosbauer, Hofmann-Winkler, Kaul, Kleine-Weber et al., Chloroquine does not inhibit infection of human lung cells with SARS-CoV-2, Nature
Perlman, Masters, Coronaviridae: The Viruses and Their Replication, Fields Virology