Retrospective 977 hospitalized patients in Saudi Arabia, showing significantly shorter hospitalization with zinc treatment.
hospitalization time,

30.2% lower

, relative time 0.70, p < 0.001
, treatment mean 6.39 (±0.76) n=130, control mean 9.15 (±0.27) n=847.
Effect extraction follows pre-specified rules prioritizing more serious outcomes. Submit updates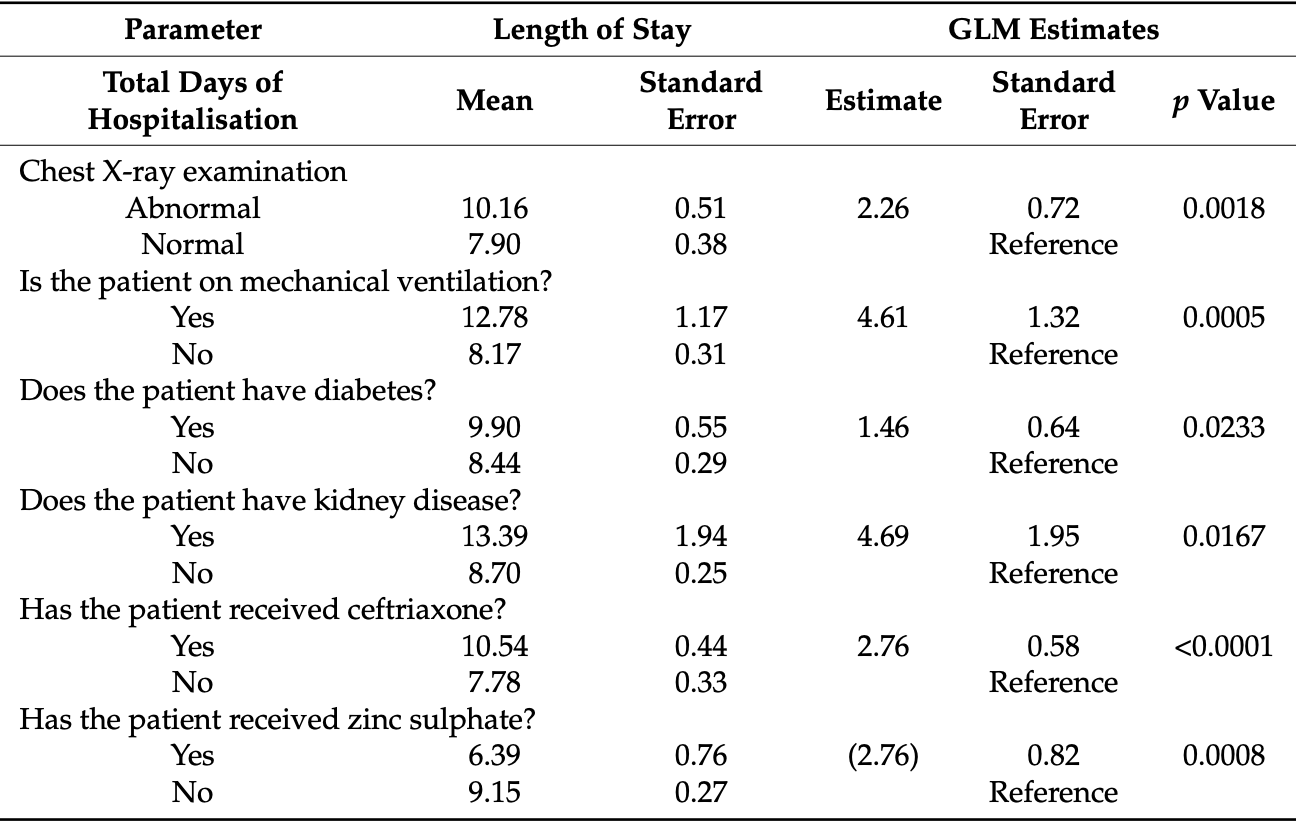 Alahmari et al., 27 Jun 2022, retrospective, Saudi Arabia, peer-reviewed, 7 authors, study period 1 May, 2020 - 30 July, 2020.
Contact: a.alahmari@psau.edu.sa (corresponding author), z.almalki@psau.edu.sa, aa.albassam@psau.edu.sa, ah.alshehri@psau.edu.sa, n.ahmed@psau.edu.sa, mmaalsultan@iau.edu.sa, ph.abdalhadi@gmail.com.
Factors Associated with Length of Hospital Stay among COVID-19 Patients in Saudi Arabia: A Retrospective Study during the First Pandemic Wave
Healthcare, doi:10.3390/healthcare10071201
The COVID-19 pandemic severely affected healthcare systems and tested their preparedness. To date, the length of hospital stay (LoHS) and its factors among COVID-19 patients has not been thoroughly studied. Moreover, it is essential to identify the features of these patients. Adult COVID-19 patients in Saudi Arabia with complete electronic medical records and who were hospitalised for >1 day between 1 May 2020 and 30 July 2020 at one of two hospitals were considered for this retrospective cohort study. Descriptive statistics and multivariate generalized linear models were performed using the data. Of the patients, 34% were ≥50 years old and 80.14% were female. More than 70% had mild-to-moderate symptoms; 45% had either diabetes or hypertension. The median LoHS was 7.00 days (IQR: 3-11). Patients who were females, had either critical or severe disease, were on mechanical ventilation, had diabetes, and administered ceftriaxone had significantly longer LoHS (p < 0.05). Patients administered zinc sulphate had significantly shorter LoHS (p = 0.0008). During the first pandemic wave, COVID-19 patients were hospitalised for 7 days. Healthcare professionals should pay more attention to women, patients with diabetes, and those with severe or critical symptoms. Unnecessary use of ceftriaxone should be minimised, and zinc sulphate can be administered.
References
Chen, Zhou, Dong, Qu, Gong et al., Epidemiological and clinical characteristics of 99 cases of 2019 novel coronavirus pneumonia in Wuhan, China: A descriptive study, Lancet
Jombart, Procter, Knight, COVID-19 Length of Hospital Stay: A Systematic Review and Data Synthesis, BMC Med
Rees, Nightingale, Jafari, Waterlow, Clifford et al., None
Skalny, Rink, Ajsuvakova, Aschner, Gritsenko et al., Zinc and Respiratory Tract Infections: Perspectives for COVID19 (Review), Int. J. Mol. Med
Who, Coronavirus Disease (COVID-19) Advice for the Public: Mythbusters
Worldometer, None
Zhou, Yu, Du, Fan, Liu et al., Clinical Course and Risk Factors for Mortality of Adult Inpatients with COVID-19 in Wuhan, China: A Retrospective Cohort Study, Lancet