risk of death,

85.7% lower

, RR 0.14, p = 0.007
, high D levels 111, low D levels 328, inverted to make RR<1 favor high D levels, >12.5 nmol/L.
Effect extraction follows pre-specified rules prioritizing more serious outcomes. Submit updates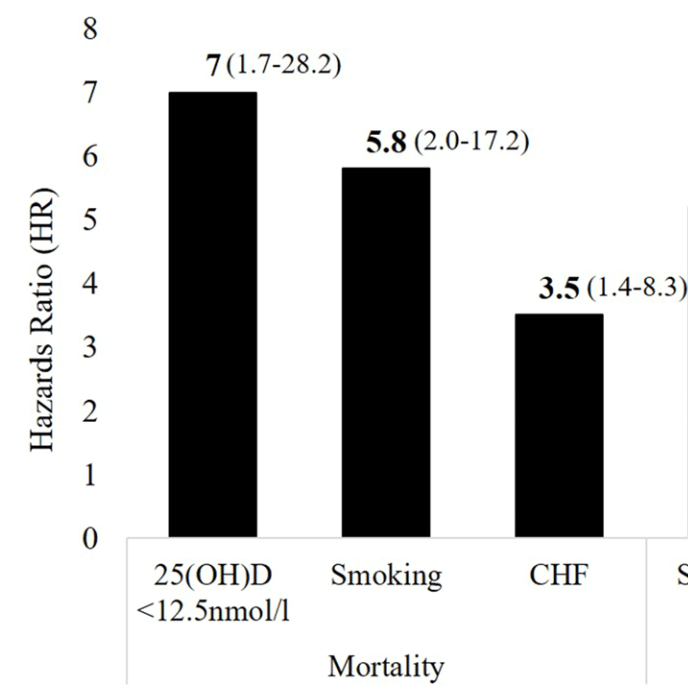 Alguwaihes et al., 5 Dec 2020, retrospective, Saudi Arabia, peer-reviewed, 10 authors.
Diabetes and Covid-19 among hospitalized patients in Saudi Arabia: a single-centre retrospective study
Cardiovascular Diabetology, doi:10.1186/s12933-020-01184-4
Background: Information on the clinical characteristics and outcomes of hospitalized Covid-19 patients with or without diabetes mellitus (DM) is limited in the Arab region. This study aims to fill this gap.
Supplementary information Supplementary information accompanies this paper at https ://doi. org/10.1186/s1293 3-020-01184 -4. Additional file 1: Table S1 . Presenting symptoms and vital signs of Covid-19 patients according to severity and final outcome. S2 . Clinical characteristics of Covid-19 patients according to severity and outcome. S3 . Factors for outcomes of interest using the multivariate Cox proportional hazards regression model. Additional file 2: Table Additional file 3: Table Abbreviations Authors' contributions AMA, MEA and AAJ contributed to the study design and conducting the study. MM, SSA, MHA, AA, and SHA contributed to the data collection and conducting the study. SS wrote the manuscript and performed data analysis. AMA and NMA contributed to the data interpretation and fund acquisition. AMA is the guarantor of this work, has full access to the data and takes responsibility for the integrity of the data and accuracy of the data analysis. All authors critically reviewed and approved the manuscript in its original, revised and final form. All authors read and approved the final manuscript. Ethics approval and consent to participate Informed consent was waived by the Ethics Committee of the College of Medicine in King Saud University in Riyadh, Saudi Arabia (E-20-5090/July 5, 2020). Consent for publication Not applicable. Competing interests The authors declare that they have no competing interests. Publisher's Note Springer Nature remains..
References
Habibi, Aroor, Das, Manrique-Acevedo, Johnson et al., The combination of a neprilysin inhibitor (sacubitril) and angiotensin-II receptor blocker (valsartan) attenuates glomerular and tubular injury in the Zucker Obese rat, Cardiovasc Diabetol
Schnell, Standl, Catrinoiu, Itzhak, Lalic et al., Report from the 4th Cardiovascular Outcome Trial (CVOT) Summit of the Diabetes & Cardiovascular Disease (D&CVD) EASD Study Group, Cardiovasc Diabetol