Prospective study of 1,124 COVID-19 ICU patients, showing lower mortality with aspirin treatment.
risk of death,

30.9% lower

, HR 0.69, p = 0.003
, treatment 202 of 712 (28.4%), control 165 of 412 (40.0%), NNT 8.6, adjusted per study, multivariable, Cox proportional hazards.
risk of mechanical ventilation,

9.6% lower

, RR 0.90, p = 0.33
, treatment 189 of 712 (26.5%), control 121 of 412 (29.4%), NNT 35.
Effect extraction follows pre-specified rules prioritizing more serious outcomes. Submit updates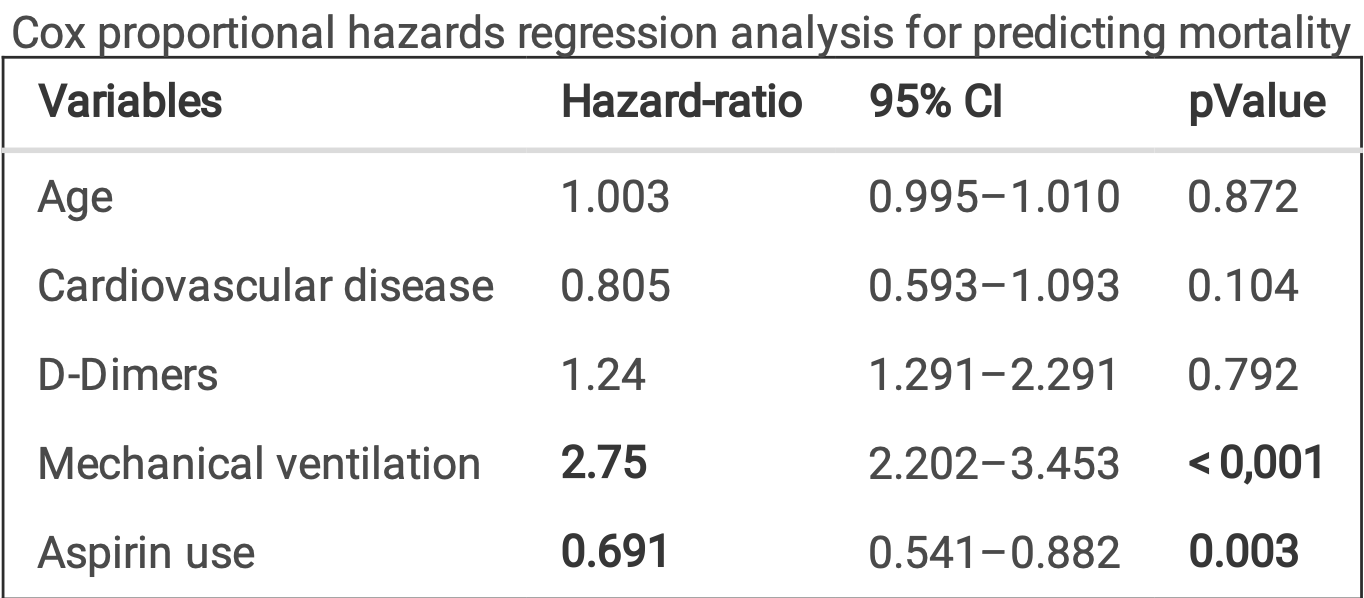 Aidouni et al., 30 Nov 2022, prospective, Morocco, preprint, mean age 64.0, 6 authors, study period March 2020 - March 2022.
Contact: aminbouchlarhem63@gmail.com.
The impact of asprin use on the outcome of patients admitted to the intensive care unit with COVID-19 infection
doi:10.21203/rs.3.rs-2313880/v1
Background Our objective in this study is to know the impact of the use of asprin in anti-aggregation dose on the evolution during hospitalization of patients admitted in intensive care unit for a severe infection by SARS-COV-2. Methods We conducted a prospective study of patients admitted to our department with severe COVID-19 infection during the period between March 2020 and March 2022, analyzing the difference between the placebo group and the aspirin group on the primary endpoint of all-cause hospital mortality and the composite secondary endpoint of use of mechanical ventilation and thromboembolic events. Results Out of 1124 patients included, 32.6% died, with a protective effect of aspirin against placebo (Hazardratio = 0.691, p = 0.003), for thrombo-embolic complications, 104 events were observed, with a protective effect of aspirin (Hazard-Ratio = 0.448 and p = 0.001), nally regarding mechanical ventilation, there was no remarkable bene t on our sample. Conclusion Given the divergence of results of studies published in the literature, the availability of results of large randomized controlled trials is a necessity.
References