Effect of aspirin on short-term outcomes in hospitalized patients with COVID-19
PSM retrospective 1,994 PCR+ patients in the USA, not showing a significant difference in mortality with aspirin treatment.Although the 13% lower mortality is not statistically significant, it is consistent with the significant 12% lower mortality
[6‑18%]
from meta analysis of the
55 mortality results to date
.
risk of death,

13.2% lower

, RR 0.87, p = 0.53
, treatment 33 of 248 (13.3%), control 38 of 248 (15.3%), NNT 50.
Effect extraction follows pre-specified rules prioritizing more serious outcomes. Submit updates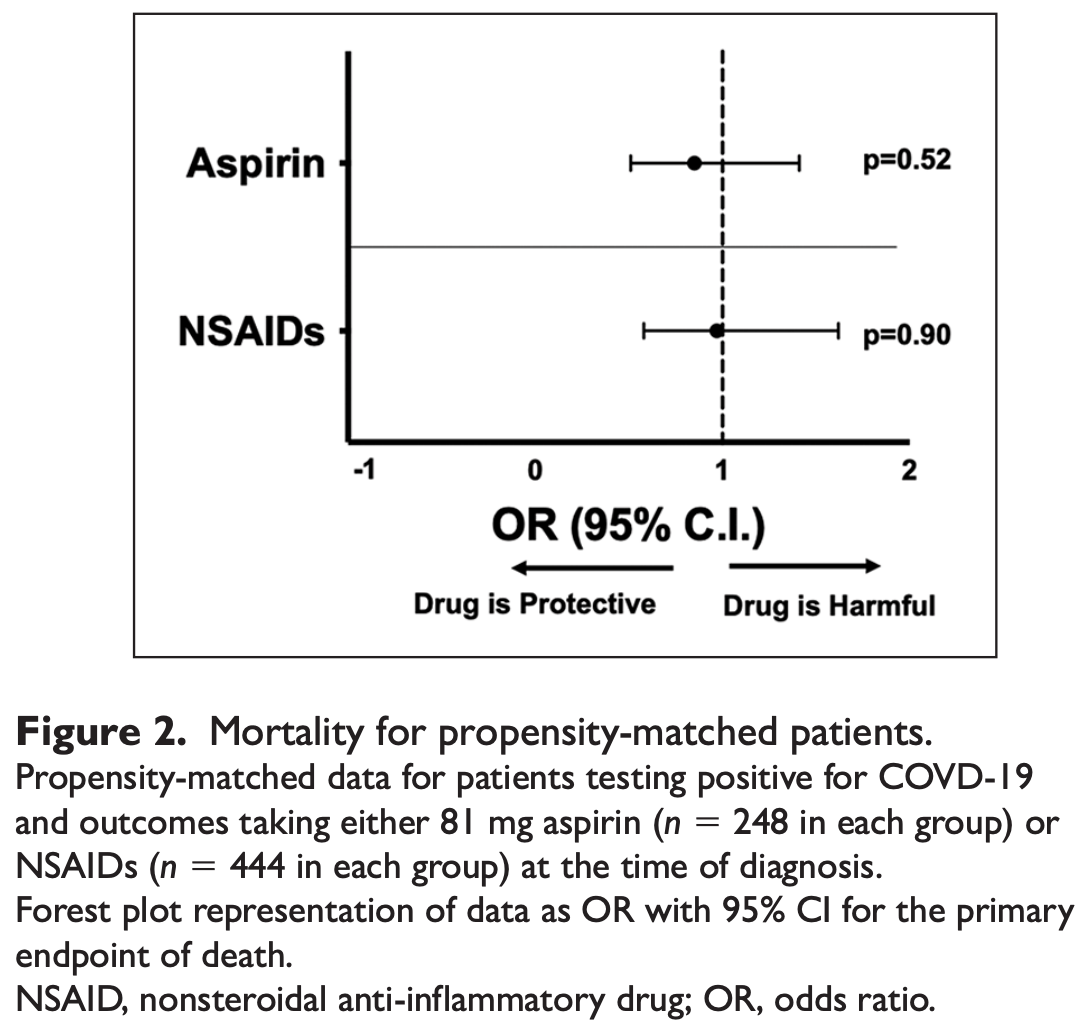 Sahai et al., 19 May 2021, retrospective, propensity score matching, USA, peer-reviewed, 18 authors.
Abstract: 1012754 research-article2021 VMJ0010.1177/1358863X211012754Vascular MedicineSahai et al. Original Article Effect of aspirin on short-term outcomes in hospitalized patients with COVID-19 Vascular Medicine 1­–7 © The Author(s) 2021 Article reuse guidelines: sagepub.com/journals-permissions https://doi.org/10.1177/1358863X211012754 DOI: 10.1177/1358863X211012754 journals.sagepub.com/home/vmj Aditya Sahai1*, Rohan Bhandari1,2* , Matthew Godwin2, Thomas McIntyre2, Mina K Chung2,3, Jean-Pierre Iskandar4, Hayaan Kamran1, Essa Hariri4, Anu Aggarwal2, Robert Burton4, Ankur Kalra1, John R Bartholomew1, Keith R McCrae3,5, Ayman Elbadawi6 , James Bena7, Lars G Svensson1, Samir Kapadia1 and Scott J Cameron1,2,5 Abstract Coronavirus disease 2019 (COVID-19) caused by SARS-CoV-2 is an ongoing viral pandemic marked by increased risk of thrombotic events. However, the role of platelets in the elevated observed thrombotic risk in COVID-19 and utility of antiplatelet agents in attenuating thrombosis is unknown. We aimed to determine if the antiplatelet effect of aspirin may mitigate risk of myocardial infarction, cerebrovascular accident, and venous thromboembolism in COVID-19. We evaluated 22,072 symptomatic patients tested for COVID-19. Propensity-matched analyses were performed to determine if treatment with aspirin or nonsteroidal anti-inflammatory drugs (NSAIDs) affected thrombotic outcomes in COVID-19. Neither aspirin nor NSAIDs affected mortality in COVID-19. Thus, aspirin does not appear to prevent thrombosis and death in COVID-19. The mechanisms of thrombosis in COVID-19, therefore, appear distinct and the role of platelets as direct mediators of SARS-CoV-2-mediated thrombosis warrants further investigation. Keywords ACE2, COVID-19, platelets, SARS-CoV-2, thrombosis, TMPRSS2
Please send us corrections, updates, or comments. Vaccines and treatments are complementary. All practical, effective, and safe means should be used based on risk/benefit analysis. No treatment, vaccine, or intervention is 100% available and effective for all current and future variants. We do not provide medical advice. Before taking any medication, consult a qualified physician who can provide personalized advice and details of risks and benefits based on your medical history and situation.
FLCCC
and
WCH
provide treatment protocols.
Submit