Fitness, strength and severity of COVID-19: a prospective register study of 1 559 187 Swedish conscripts
Prospective study of 1,559,187 men in Sweden with cardiorespiratory fitness levels measured on military conscription, showing high cardiorespiratory fitness associated with lower risk of COVID-19 hospitalization, ICU admission, and death.
risk of death,

50.0% lower

, OR 0.50, p = 0.005
, high vs. low fitness, model 7, RR approximated with OR.
risk of ICU admission,

40.0% lower

, OR 0.60, p < 0.001
, high vs. low fitness, model 7, RR approximated with OR.
risk of hospitalization,

27.0% lower

, OR 0.73, p < 0.001
, high vs. low fitness, model 7, RR approximated with OR.
Effect extraction follows pre-specified rules prioritizing more serious outcomes. Submit updates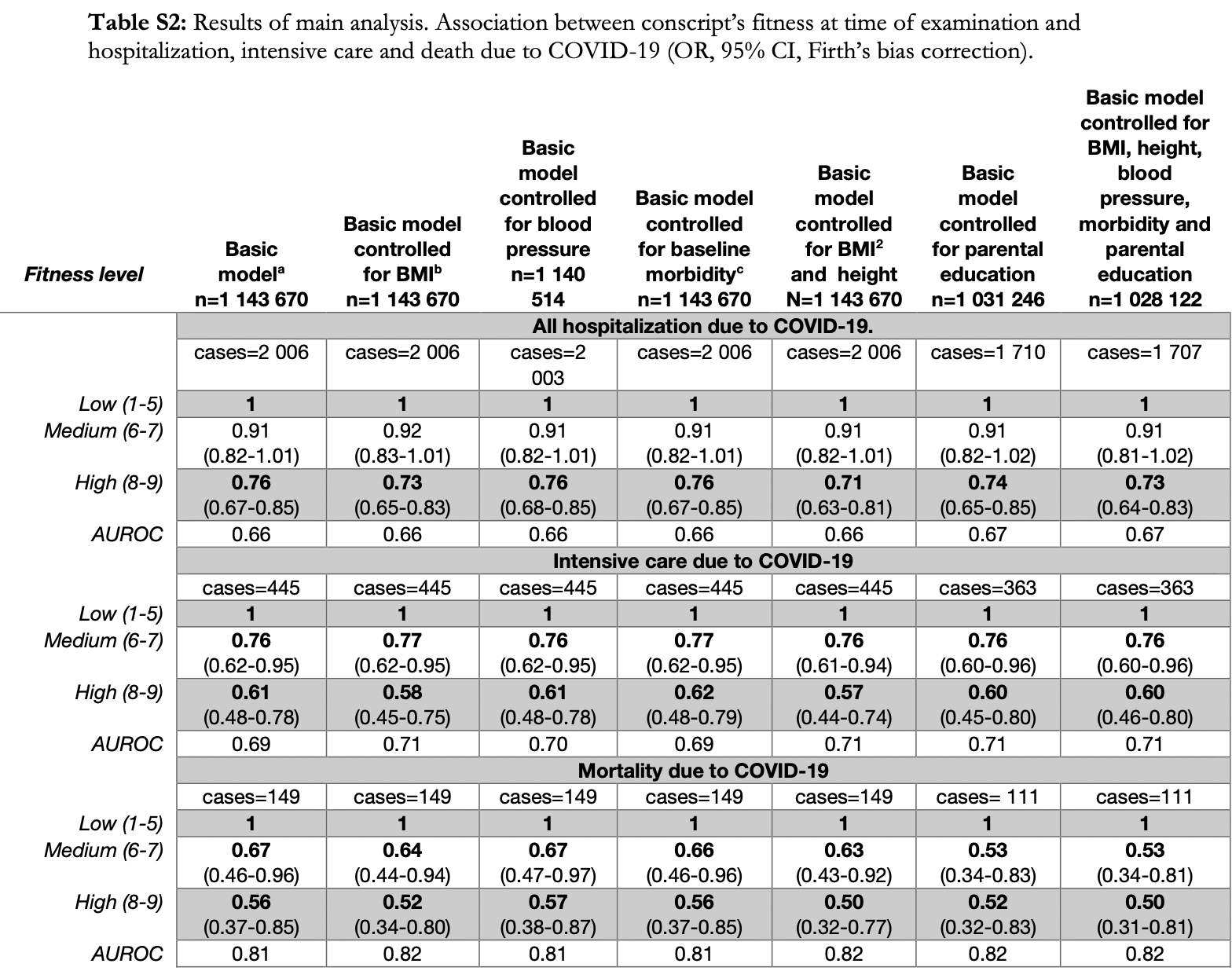 af Geijerstam et al., 5 Jul 2021, prospective, Sweden, peer-reviewed, 9 authors, study period March 2020 - September 2020.
Contact: eijerstam@gu.se.
Abstract: Open access Original research Agnes af Geijerstam ‍ ‍,1 Kirsten Mehlig,1 Mats Börjesson,2,3 Josefina Robertson,1,4 Jenny Nyberg ‍ ‍,5 Martin Adiels,1,2 Annika Rosengren,2,6 Maria Åberg,1,7 Lauren Lissner1 To cite: af Geijerstam A, Mehlig K, Börjesson M, et al. Fitness, strength and severity of COVID-19: a prospective register study of 1 559 187 Swedish conscripts. BMJ Open 2021;11:e051316. doi:10.1136/ bmjopen-2021-051316 ►► Prepublication history and additional supplemental material for this paper are available online. To view these files, please visit the journal online (http://​dx.​doi.o​ rg/​10.​1136/​ bmjopen-​2021-​051316). Received 15 March 2021 Accepted 16 June 2021 © Author(s) (or their employer(s)) 2021. Re-­use permitted under CC BY. Published by BMJ. For numbered affiliations see end of article. Correspondence to Dr Agnes af Geijerstam; ​agnes.​af.g​ eijerstam@​gu.​se ABSTRACT Objective To investigate the possible connection between cardiorespiratory fitness (CRF) and muscle strength in early adulthood and severity of COVID-19 later in life. Design Prospective registry-­based cohort study. Participants 1 559 187 Swedish men, undergoing military conscription between 1968 and 2005 at a mean age of 18.3 (SD 0.73) years. Main outcome measures Hospitalisation, intensive care or death due to COVID-19 from March to September 2020, in relation to CRF and muscle strength. Results High CRF in late adolescence and early adulthood had a protective association with severe COVID-19 later in life with OR (95% CI) 0.76 (0.67 to 0.85) for hospitalisation (n=2 006), 0.61 (0.48 to 0.78) for intensive care (n=445) and 0.56 (0.37 to 0.85) for mortality (n=149), compared with the lowest category of CRF. The association remains unchanged when controlled for body mass index (BMI), blood pressure, chronic diseases and parental education level at baseline, and incident cardiovascular disease before 2020. Moreover, lower muscle strength in late adolescence showed a linear association with a higher risk of all three outcomes when controlled for BMI and height. Conclusions Physical fitness at a young age is associated with severity of COVID-19 many years later. This underscores the necessity to increase the general physical fitness of the population to offer protection against future viral pandemics. BACKGROUND The COVID-19 pandemic has affected the world in unprecedented ways. While measures such as contact restrictions and vaccinations relieve the immediate impact of the disease, epidemiological studies may identify risk factors that could be managed in the long run, in order to reduce the impact of future epidemics. Early on, advanced age and current cardiovascular comorbidities including obesity were found to be associated with a more severe course of COVID-19.1–3 Cardiorespiratory fitness (CRF) is regarded as one of the most important risk factors for overall health, cardiovascular morbidity and overall mortality.4 The level of physical Strengths and limitations of this study ►► Data from the Swedish military service conscription registry provided us with objective measures of fitness in a uniquely large sample. ►► The prospective design with long and near-­complete follow-­up from well-­validated hospital records and the death registry gives a strong ground for drawing conclusions. ►► Limitations include thatit was not possible to distinguish conscripts with low versus extremely low fitness levels. ►► Since female conscription was..
Please send us corrections, updates, or comments. Vaccines and treatments are complementary. All practical, effective, and safe means should be used based on risk/benefit analysis. No treatment, vaccine, or intervention is 100% available and effective for all current and future variants. We do not provide medical advice. Before taking any medication, consult a qualified physician who can provide personalized advice and details of risks and benefits based on your medical history and situation.
FLCCC
and
WCH
provide treatment protocols.
Submit