Prospective study of 1,559,187 men in Sweden with cardiorespiratory fitness levels measured on military conscription, showing high cardiorespiratory fitness associated with lower risk of COVID-19 hospitalization, ICU admission, and death.
risk of death,

50.0% lower

, OR 0.50, p = 0.005
, high vs. low fitness, model 7, RR approximated with OR.
risk of ICU admission,

40.0% lower

, OR 0.60, p < 0.001
, high vs. low fitness, model 7, RR approximated with OR.
risk of hospitalization,

27.0% lower

, OR 0.73, p < 0.001
, high vs. low fitness, model 7, RR approximated with OR.
Effect extraction follows pre-specified rules prioritizing more serious outcomes. Submit updates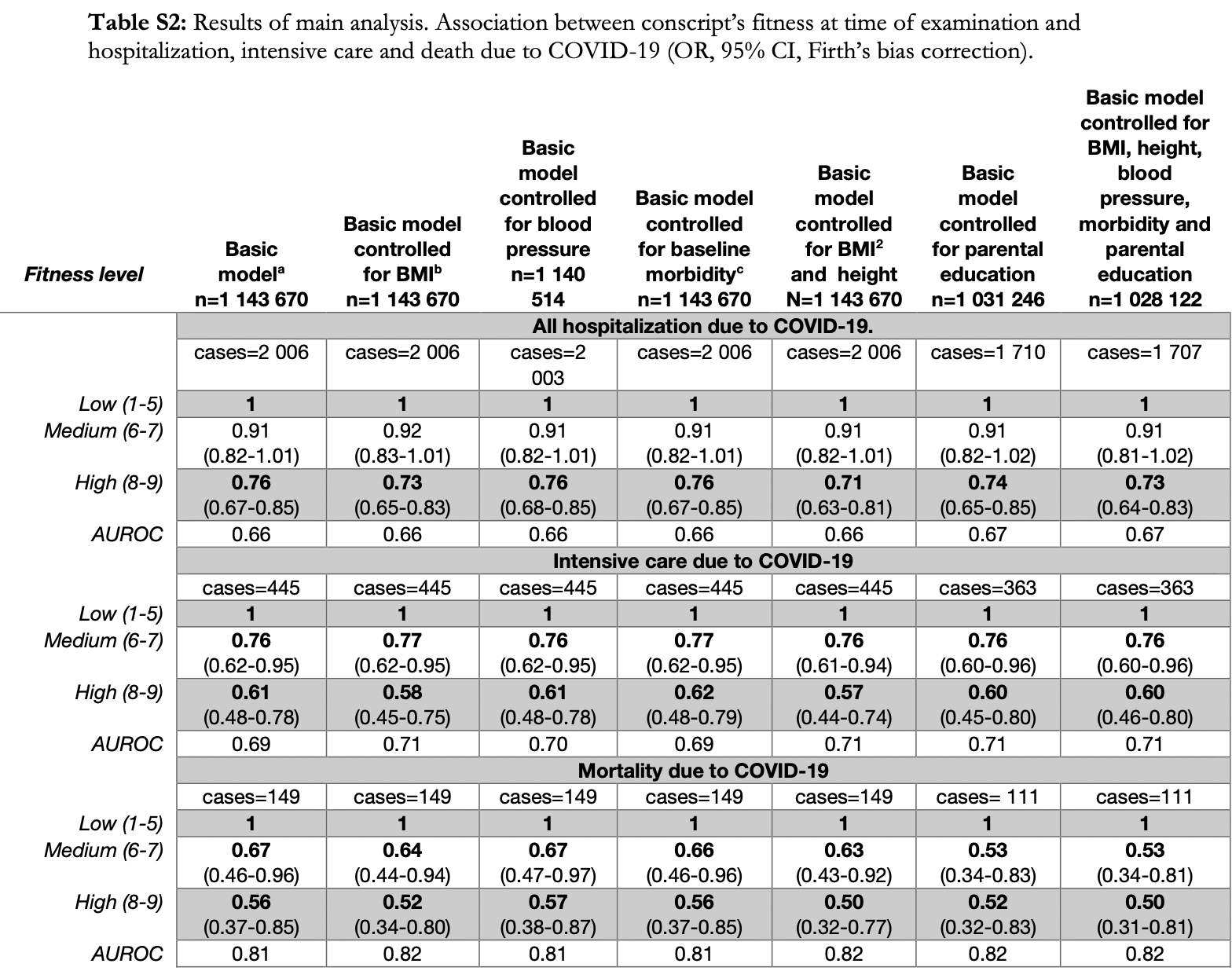 af Geijerstam et al., 5 Jul 2021, prospective, Sweden, peer-reviewed, 9 authors, study period March 2020 - September 2020.
Contact: eijerstam@gu.se.
Fitness, strength and severity of COVID-19: a prospective register study of 1 559 187 Swedish conscripts
BMJ Open, doi:10.1136/bmjopen-2021-051316
Objective To investigate the possible connection between cardiorespiratory fitness (CRF) and muscle strength in early adulthood and severity of COVID-19 later in life. Design Prospective registry-based cohort study. Participants 1 559 187 Swedish men, undergoing military conscription between 1968 and 2005 at a mean age of 18.3 (SD 0.73) years. Main outcome measures Hospitalisation, intensive care or death due to COVID-19 from March to September 2020, in relation to CRF and muscle strength. Results High CRF in late adolescence and early adulthood had a protective association with severe COVID-19 later in life with OR (95% CI) 0.76 (0.67 to 0.85) for hospitalisation (n=2 006), 0.61 (0.48 to 0.78) for intensive care (n=445) and 0.56 (0.37 to 0.85) for mortality (n=149), compared with the lowest category of CRF. The association remains unchanged when controlled for body mass index (BMI), blood pressure, chronic diseases and parental education level at baseline, and incident cardiovascular disease before 2020. Moreover, lower muscle strength in late adolescence showed a linear association with a higher risk of all three outcomes when controlled for BMI and height. Conclusions Physical fitness at a young age is associated with severity of COVID-19 many years later. This underscores the necessity to increase the general physical fitness of the population to offer protection against future viral pandemics.
Regionhälsan, Region Västra Götaland, Göteborg, Sweden Twitter Agnes af Geijerstam @agnesafg Contributors LL and MÅ initiated the project. AaG and KM performed all statistical analyses. AaG had main responsibility for writing the article. MB, JR, JN, MA and AR all made substantial contributions to the interpretation of the analyses, the structure and content of the manuscript and have read and approved of the final draft. All authors have agreed to be accountable for all aspects of the work. Competing interests None declared. Patient consent for publication Not required. Ethics approval The Ethics Committee of the University of Gothenburg and Confidentiality Clearance at Statistics Sweden approved the study (EPN Reference numbers EPN 462-14 and 567-15; T174-15, T653-17, T196-17, T 2020-01325, T 2020-02420). The requirement for informed consent was waived by the Ethics Committee of the University of Gothenburg for secondary analysis of existing data. Provenance and peer review Not commissioned; externally peer reviewed. Data availability statement Data may be obtained from a third party and are not publicly available. The data used in this study is available on request from the Swedish National Board of Health and Welfare, the Swedish intensive care registry and Statistics Sweden. Supplemental material This content has been supplied by the author(s). It has not been vetted by BMJ Publishing Group Limited (BMJ) and may not have been peer-reviewed. Any opinions or..
References
Burtscher, Millet, Burtscher, Low cardiorespiratory and mitochondrial fitness as risk factors in viral infections: implications for COVID-19
Cheval, Sieber, Maltagliati, Muscle strength is associated with COVID-19 hospitalization in adults 50 years of age and older, MedRxiv
Gao, Piernas, Astbury,
Li, Hertzmark, Louie, The SAS lgtphcurv9 macro
Nordesjö, Schéle, Validity of an ergometer cycle test and measures of isometric muscle strength when prediction some aspects of military performance, Swed J Def Med
Ross, Blair, Arena, American heart association physical activity Committee of the Council on lifestyle and cardiometabolic health; Council on clinical cardiology; Council on epidemiology and prevention; Council on cardiovascular and stroke nursing; Council on functional genomics and translational biology; stroke Council. Importance of assessing cardiorespiratory fitness in clinical practice: a case for fitness as a clinical vital sign: a scientific statement from the American heart association, Circulation
Williams, Mancia, Spiering, ESC/ESH guidelines for the management of arterial hypertension: the task force for the management of arterial hypertension of the European Society of cardiology (ESC) and the European Society of hypertension (ESH), Eur Heart J