Very late stage RCT with 56 colchicine and 60 control patients in Mexico, showing no significant differences.Although the 29% lower mortality is not statistically significant, it is consistent with the significant 33% lower mortality
[21‑43%]
from meta analysis of the
39 mortality results to date
.
risk of death,

28.6% lower

, RR 0.71, p = 0.74
, treatment 4 of 56 (7.1%), control 6 of 60 (10.0%), NNT 35.
progression to critical or death,

17.0% lower

, OR 0.83, p = 0.67
, treatment 56, control 60, primary outcome, RR approximated with OR.
risk of no recovery,

13.0% higher

, RR 1.13, p = 0.59
, treatment 56, control 60, Kaplan–Meier.
Effect extraction follows pre-specified rules prioritizing more serious outcomes. Submit updates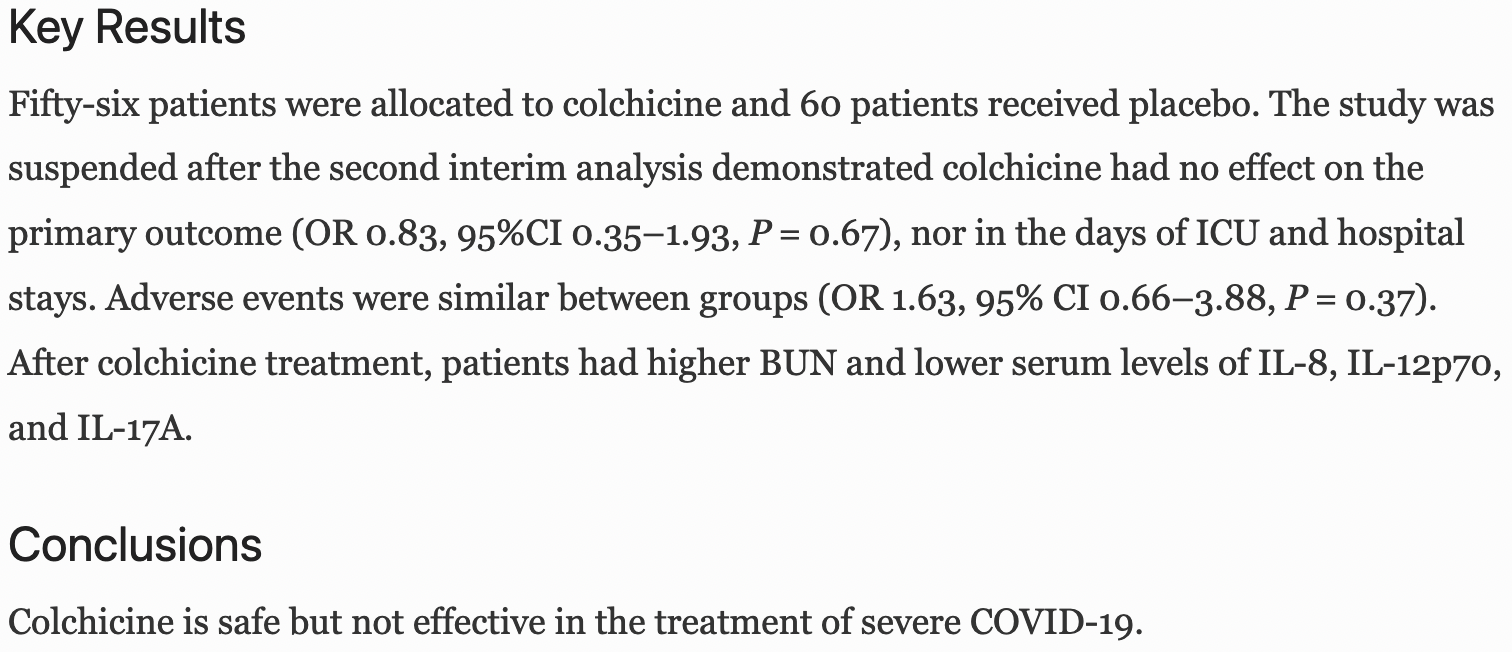 Absalón-Aguilar et al., 9 Nov 2021, Double Blind Randomized Controlled Trial, placebo-controlled, Mexico, peer-reviewed, 18 authors, study period May 2020 - April 2021, dosage 1.5mg day 1, 1mg days 2-10.
Colchicine Is Safe Though Ineffective in the Treatment of Severe COVID-19: a Randomized Clinical Trial (COLCHIVID)
Journal of General Internal Medicine, doi:10.1007/s11606-021-07203-8
BACKGROUND: Colchicine is an available, safe, and effective anti-inflammatory drug and has been suggested as a COVID-19 treatment, but its usefulness in hospitalized severe COVID-19 patients has not been thoroughly demonstrated. OBJECTIVE: To address the safety and efficacy of colchicine in hospitalized patients with severe COVID-19. DESIGN: We conducted a triple-blind parallel nonstratified placebo-controlled clinical trial. PARTICIPANTS: We recruited 116 hospitalized patients with severe COVID-19 in Mexico. INTERVENTIONS: Patients were randomized to receive 1.5 mg of colchicine or placebo at the time of the recruitment in the study (baseline) and 0.5 mg BID PO to complete 10 days of treatment. MAIN MEASURES: The primary composite outcome was the progression to critical disease or death. Besides, we evaluated immunological features at baseline and after recovery or disease progression in 20 patients. KEY RESULTS: Fifty-six patients were allocated to colchicine and 60 patients received placebo. The study was suspended after the second interim analysis demonstrated colchicine had no effect on the primary outcome (OR 0.83, 95%CI 0.35-1.93, P = 0.67), nor in the days of ICU and hospital stays. Adverse events were similar between groups (OR 1.63, 95% CI 0.66-3.88, P = 0.37). After colchicine treatment, patients had higher BUN and lower serum levels of IL-8, IL-12p70, and IL-17A.
Declarations Conflict of Interest The authors declare that they do not have a conflict of interest. Open Access This article is licensed under a Creative Commons Attribution 4.0 International License, which permits use, sharing, adaptation, distribution and reproduction in any medium or format, as long as you give appropriate credit to the original author(s) and the source, provide a link to the Creative Commons licence, and indicate if changes were made. The images or other third party material in this article are included in the article's Creative Commons licence, unless indicated otherwise in a credit line to the material. If material is not included in the article's Creative Commons licence and your intended use is not permitted by statutory regulation or exceeds the permitted use, you will need to obtain permission directly from the copyright holder. To view a copy of this licence, visit http:// creat iveco mmons. org/ licen ses/ by/4. 0/. Publisher's Note Springer Nature remains neutral with regard to jurisdictional claims in published maps and institutional affiliations.
References
Horby, Campbell, Spata, Colchicine in patients admitted to hospital with COVID-19 (RECOVERY): a randomised, controlled, open-label