RCT with 36 colchicine and 36 control patients, showing reduced length of hospitalization and oxygen therapy with treatment.
risk of death,

80.0% lower

, RR 0.20, p = 0.49
, treatment 0 of 36 (0.0%), control 2 of 36 (5.6%), NNT 18, relative risk is not 0 because of continuity correction due to zero events (with reciprocal of the contrasting arm).
risk of ICU admission,

50.0% lower

, RR 0.50, p = 0.67
, treatment 2 of 36 (5.6%), control 4 of 36 (11.1%), NNT 18.
hospitalization time,

22.2% lower

, relative time 0.78, p < 0.01
, treatment 36, control 36.
Effect extraction follows pre-specified rules prioritizing more serious outcomes. Submit updates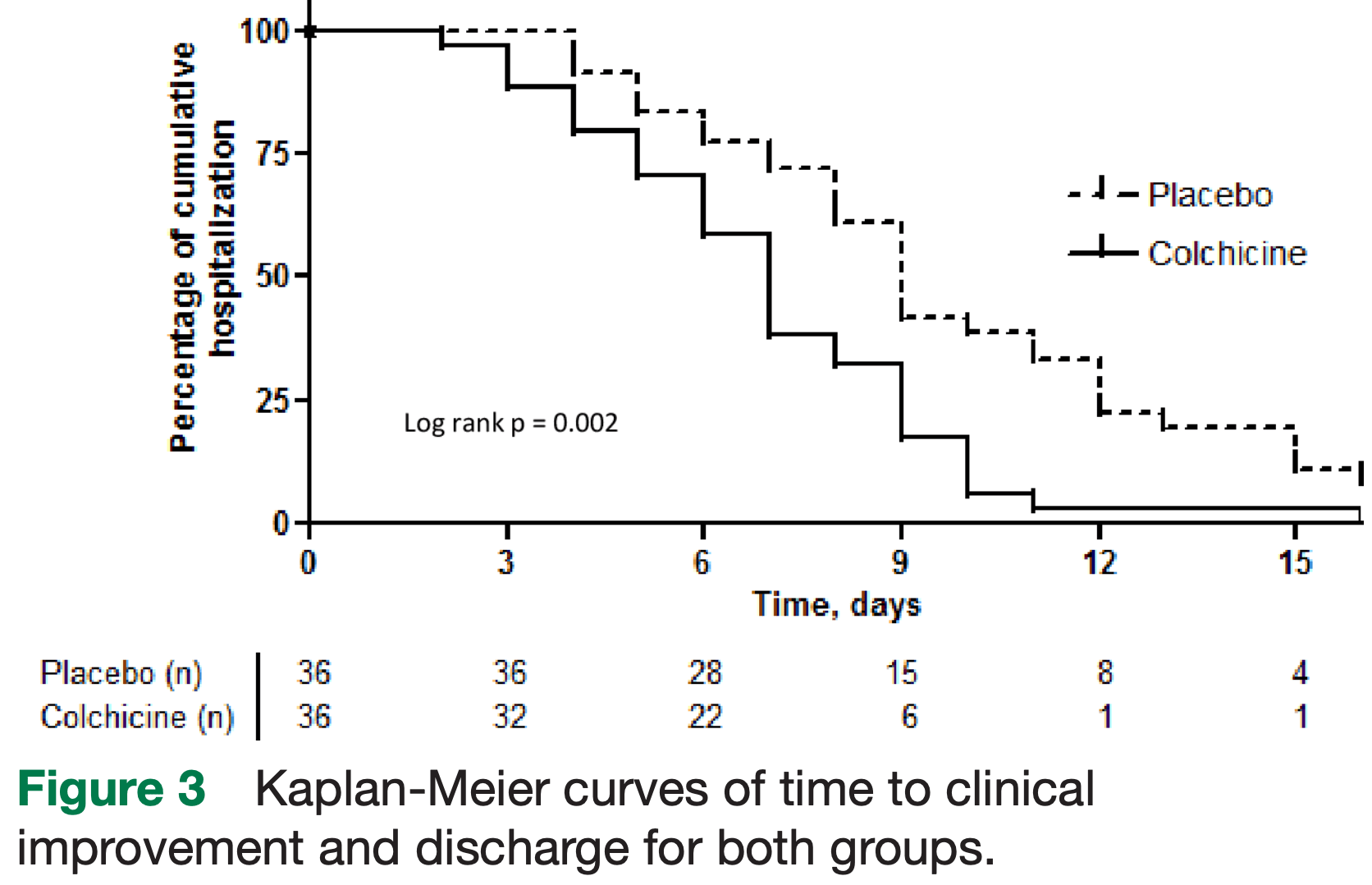 Lopes et al., 12 Aug 2020, Double Blind Randomized Controlled Trial, Brazil, peer-reviewed, baseline oxygen required 93.0%, median age 54.5 (treatment) 55.0 (control), 34 authors, average treatment delay 9.5 (treatment) 8.0 (control) days, dosage 1.5mg days 1-5, 1mg days 6-10.
Beneficial effects of colchicine for moderate to severe COVID-19: a randomised, double-blinded, placebo-controlled clinical trial
RMD Open, doi:10.1136/rmdopen-2020-001455
Objective To evaluate whether the addition of colchicine to standard treatment for COVID-19 results in better outcomes. Design We present the results of a randomised, doubleblinded, placebo-controlled clinical trial of colchicine for the treatment of moderate to severe COVID-19, with 75 patients allocated 1:1 from 11 April to 30 August 2020. Colchicine regimen was 0.5 mg thrice daily for 5 days, then 0.5 mg twice daily for 5 days. The primary endpoints were the need for supplemental oxygen, time of hospitalisation, need for admission and length of stay in intensive care unit and death rate. Results Seventy-two patients (36 for placebo and 36 for colchicine) completed the study. Median (and IQR) time of need for supplemental oxygen was 4.0 (2.0-6.0) days for the colchicine group and 6.5 (4.0-9.0) days for the placebo group (p<0.001). Median (IQR) time of hospitalisation was 7.0 (5.0-9.0) days for the colchicine group and 9.0 (7.0-12.0) days for the placebo group (p=0.003). At day 2, 67% versus 86% of patients maintained the need for supplemental oxygen, while at day 7, the values were 9% versus 42%, in the colchicine and the placebo groups, respectively (log rank; p=0.001). Two patients died, both in placebo group. Diarrhoea was more frequent in the colchicine group (p=0.26). Conclusion Colchicine reduced the length of both, supplemental oxygen therapy and hospitalisation. The drug was safe and well tolerated. Once death was an uncommon event, it is not possible to ensure that colchicine reduced mortality of COVID-19. Trial registration number RBR-8jyhxh. How might this impact on clinical practice?? ► This is the first RCT on colchicine for COVID-19. Colchicine may be considered as an adjunctive therapy for hospitalised patients with moderate to severe COVID-19.
Competing interests None declared. Patient consent for publication Not required. Ethics approval This study was approved by National Ethics Committee (CONEP; CAAE: 30248420.9.3001.5403). Provenance and peer review Not commissioned; externally peer reviewed. Data availability statement Data are available on reasonable request. Data types: deidentified participant data. How to access data: renedroliveira@ gmail. com. When available: With publication. Additional information who can access the data: researchers whose proposed use of the data has been approved. Types of analyses: any purpose. Mechanisms of data availability: with investigator support, after approval of a proposal with a signed data access agreement. Open access This is an open access article distributed in accordance with the Creative Commons Attribution 4.0 Unported (CC BY 4.0) license, which permits others to copy, redistribute, remix, transform and build upon this work for any purpose, provided the original work is properly cited, a link to the licence is given, and indication of whether changes were made. See: https:// creativecommons. org/ licenses/ by/ 4. 0/.
References
Mi, Zhong, Huang, Gender, age and comorbidities as the main prognostic factors in patients with COVID-19 pneumonia, Am J Transl Res
Rodriguez-Morales, Cardona, Ocampo, Clinical, laboratory and imaging features of COVID-19: a systematic review and meta-analysis, Travel Med Infect Dis
Yang, Hu, Zhu, Obesity aggravates COVID-19: a systematic review and meta-analysis, J Med Virol