Retrospective 530,942 COVID-19 tests in the USA, showing lower incidence of cases with exposure to iodine contrast for imaging within the last 60 days.
risk of case,

23.7% lower

, RR 0.76, p < 0.001
, NNT 48, adjusted per study, odds ratio converted to relative risk, multivariable.
Effect extraction follows pre-specified rules prioritizing more serious outcomes. Submit updates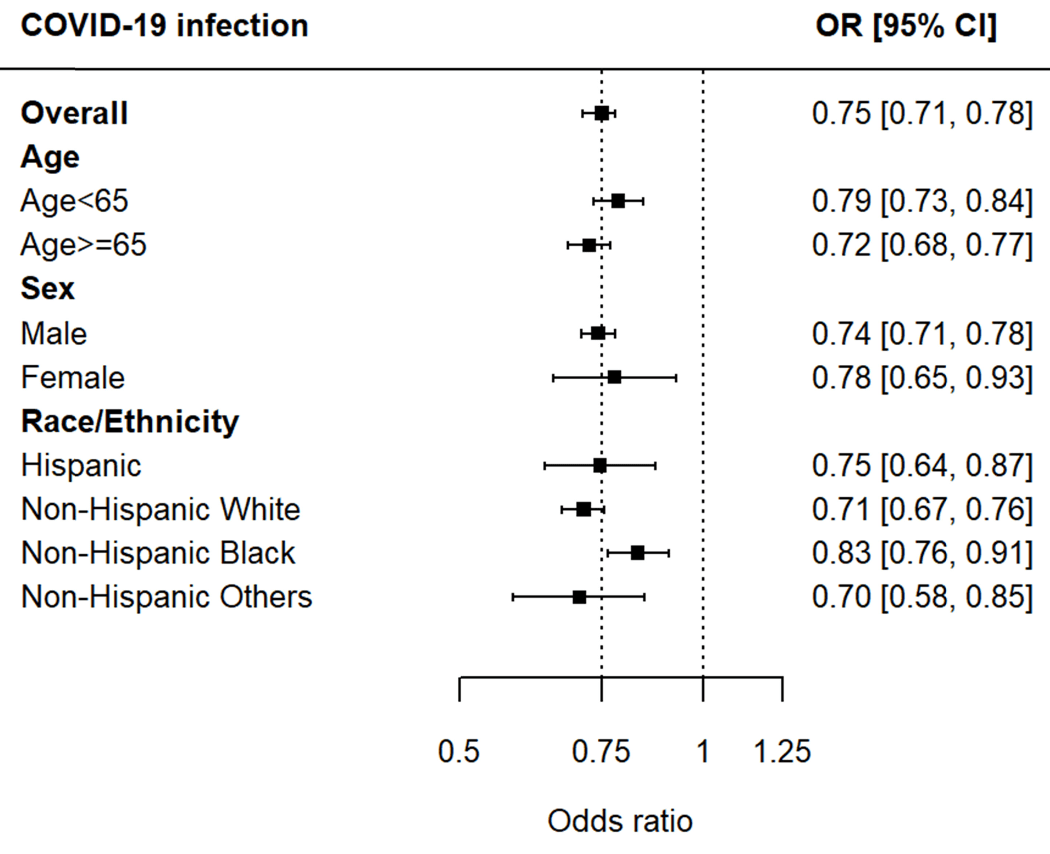 Tsai et al., 1 Dec 2022, retrospective, USA, peer-reviewed, 11 authors, study period 1 March, 2020 - 31 December, 2020.
Contact: angela.leung@va.gov.
Iodine contrast exposure and incident COVID-19 infection
Frontiers in Medicine, doi:10.3389/fmed.2022.1033601
Background: Iodine and particularly its oxidated forms have long been recognized for its effective antiseptic properties. Limited in vitro and in vivo data suggest that iodine exposure may rapidly inactivate, reduce transmission, and reduce infectivity of SARS-CoV-2. We hypothesized that iodine exposure may be associated with decreased incident COVID-19 infection. Methods: A retrospective population-level cohort analysis was performed of the U.S. Veterans Health Administration between 1 March 2020 and 31 December 2020, before the widespread availability of vaccines against SARS-CoV-2. Multivariable logistic regression models estimated the adjusted odds ratios (OR) and 95% confidence intervals (CI) of the associations between iodinated contrast exposure and incident COVID-19 infection, adjusting for age, sex, race/ethnicity, place of residence, socioeconomic status, and insurance status. Results: 530,942 COVID-19 tests from 333,841 Veterans (mean ± SD age, 62.7 ± 15.2 years; 90.2% men; 61.9% non-Hispanic Whites) were analyzed, of whom 9% had received iodinated contrast ≤60 days of a COVID-19 test. Iodine exposure was associated with decreased incident COVID-19 test positivity (OR, 0.75 95% CI, 0.71-0.78). In stratified analyses, the associations between iodinated contrast use and decreased COVID-19 infection risk did not differ by age, sex, and race/ethnicity.
Ethics statement The studies involving human participants were reviewed and approved by the VA Greater Los Angeles Healthcare System Institutional Review Board. Written informed consent for participation was not required for this study in accordance with the national legislation and the institutional requirements. Author contributions AL: concept and design. MM and AL: acquisition, analysis, or interpretation of data. KT, KI, and AL: drafting of the manuscript. KT, KI, MM, JK, YA, ML, NN, JC, RE, MB, and AL: critical review of the manuscript. MM, KI, and AL: statistical analysis. All authors contributed to the article and approved the submitted version. Conflict of interest The authors declare that the research was conducted in the absence of any commercial or financial relationships that could be construed as a potential conflict of interest. Publisher's note All claims expressed in this article are solely those of the authors and do not necessarily represent those of their affiliated organizations, or those of the publisher, the editors and the reviewers. Any product that may be evaluated in this article, or claim that may be made by its manufacturer, is not guaranteed or endorsed by the publisher. Author disclaimer The contents do not represent the views of the U.S. Department of Veterans Affairs or the United States Government. Supplementary material The Supplementary Material for this article can be found online at: https://www.frontiersin.org/articles/10.3389/..
References
Banfi, Fischer, Zabner, Durairaj, Lorentzen et al., Halides in the Treatment of Pathogenic Infection
Mathieu, Ritchie, Rodés-Guirao, Appel, Giattino et al., Coronavirus Pandemic (COVID-19
Mcdonnell, Burke, Disinfection: is it time to reconsider spaulding?, J Hosp Infect
Otten, Hellwig, Meyers, DRI: Dietary Reference Intakes: The Essential Guide to Nutrient Requirements