Single, High Dose Vitamin D Supplementation in Vitamin D Deficient Severe COVID-19: Randomized, Double-Blind, Placebocontrol Study (Shade-S)
et al., Abstracts Criticare - IJCCM2022, Indian J. Crit. Care Med.,
RCT 90 vitamin D deficient moderate/severe COVID-19 ARDS patients in India, showing lower mortality with vitamin D treatment. 600,000IU nanoformulation cholecalciferol. Minimal information is currently available.
risk of death,

45.0% lower

, RR 0.55, p = 0.046
, treatment 11 of 45 (24.4%), control 20 of 45 (44.4%), NNT 5.0.
Effect extraction follows pre-specified rules prioritizing more serious outcomes. Submit updates
This study is excluded in the after exclusion results of meta analysis: minimal details provided.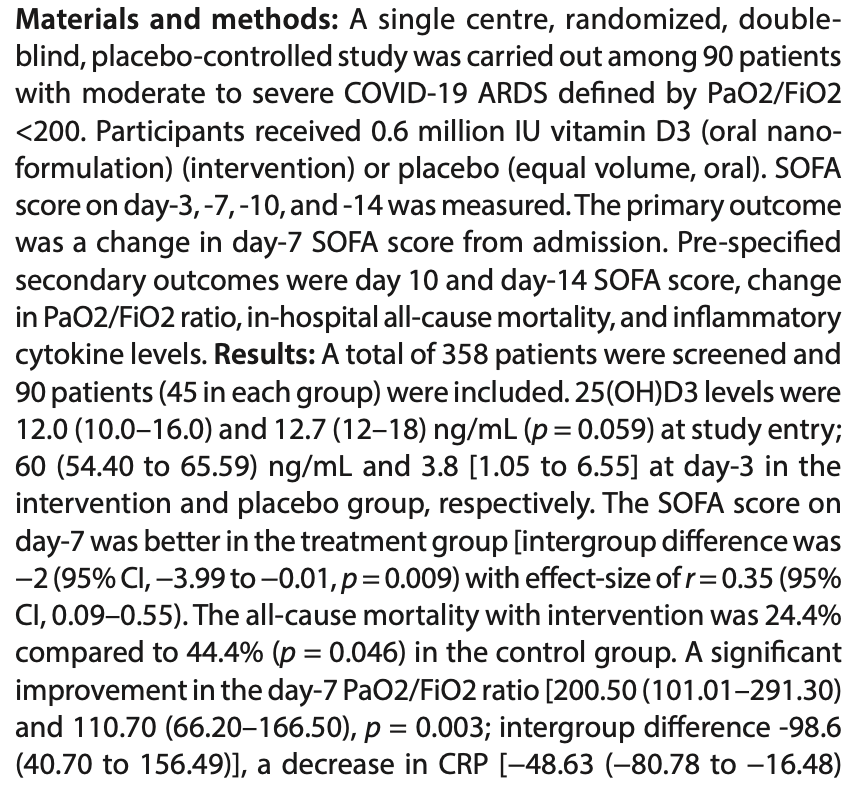 Singh et al., 1 Jun 2022, Double Blind Randomized Controlled Trial, placebo-controlled, India, peer-reviewed, 10 authors, dosage 600,000IU single dose, trial
NCT04952857
(history)
(Shade-S).
Contact: ajay. ydv2509@gmail.com.