Discussion of the potential negative effects of acetaminophen for COVID-19 based on promotion of glutathione depletion, especially in population groups at higher risk. Acetaminophen is also known as paracetamol, Tylenol, Panadol, Calpol, Tempra, Calprofen, Doliprane, Efferalgan, Grippostad C, Dolo, Acamol, Fevadol, Crocin, and Perfalgan.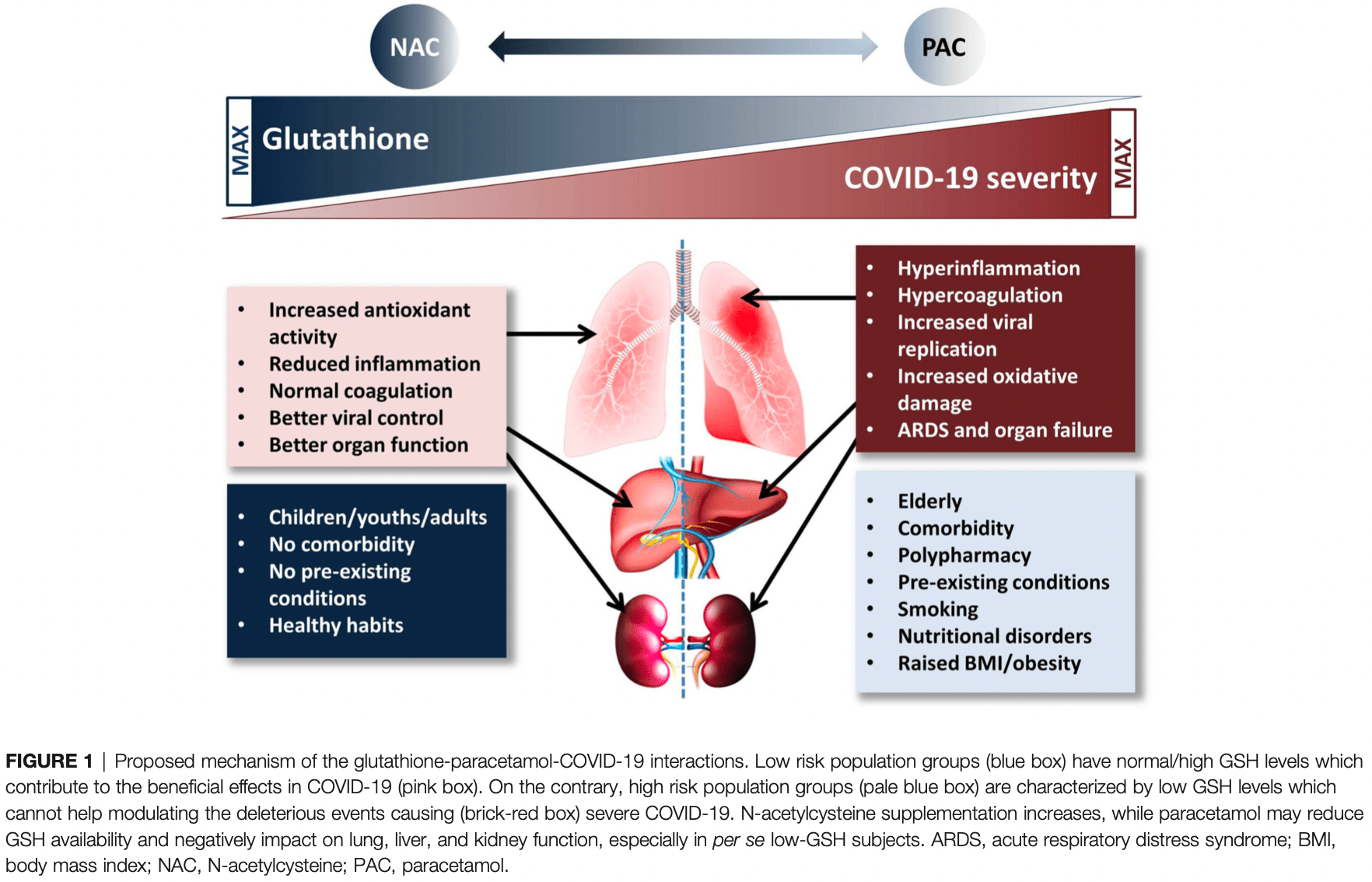 Sestili et al., 7 Oct 2020, peer-reviewed, 2 authors.
Contact: piero.sestili@uniurb.it.
Paracetamol-Induced Glutathione Consumption: Is There a Link With Severe COVID-19 Illness?
Frontiers in Pharmacology, doi:10.3389/fphar.2020.579944
COVID-19 pandemic is posing an unprecedented sanitary threat: antiviral and hostdirected medications to treat the disease are urgently needed. A great effort has been paid to find drugs and treatments for hospitalized, severely ill patients. However, medications used for the domiciliary management of early symptoms, notwithstanding their importance, have not been and are not presently regarded with the same attention and seriousness. In analogy with other airways viral infections, COVID-19 patients in the early phase require specific antivirals (still lacking) and non-etiotropic drugs to lower pain, fever, and control inflammation. Non-steroidal anti-inflammatory drugs (NSAIDs) and paracetamol (PAC) are widely used as non-etiotropic agents in common airways viral infections and hence are both theoretically repurposable for COVID-19. However, a warning from some research reports and National Authorities raised NSAIDs safety concerns because of the supposed induction of angiotensin-converting enzyme 2 (ACE2) levels (the receptor used by SARS-CoV2 to enter host airways cells), the increased risk of bacterial superinfections and masking of disease symptoms. As a consequence, the use of NSAIDs was, and is still, discouraged while the alternative adoption of paracetamol is still preferred. On the basis of novel data and hypothesis on the possible role of scarce glutathione (GSH) levels in the exacerbation of COVID-19 and of the GSH depleting activity of PAC, this commentary raises the question of whether PAC may be the better choice.
AUTHOR CONTRIBUTIONS PS: conceptualization and writing. CF: bibliographic search, revision of the text. All authors contributed to the article and approved the submitted version. Conflict of Interest: The authors declare that the research was conducted in the absence of any commercial or financial relationships that could be construed as a potential conflict of interest.
References
De Tours, De Marseille, Rapport d'expertise -Infections bacteŕiennes graves (de la peau et des tissus mous, pleuro-pulmonaires, neurologiques et ORL) rapporteés avec l'ibuprofène ou le ketoprofène dans le traitement symptomatique de la fièvre ou de douleur non rhumatologique
Estevez, De Angelo, Vesell, Basal and paracetamol-depleted glutathione from human lymphocytes: ethnic variability, Acta Physiol. Pharmacol. Ther. Latinoam
Ibrahim, El-Meligi, Abdel-Hamid, Elhendy, Relations between von Willebrand factor, markers of oxidative stress and microalbuminuria in patients with type 2 diabetes mellitus, Med. Sci. Monit
Mukhtar, Anwar, Hussain, Rasul, Naqvi et al., Detection of Paracetamol as substrate of the gut microbiome, Pak. J. Pharm. Sci
Rothuizen, Livio, Buclin, Drugs that aggravate the course of COVID-19: really?