Diabetes and SARS-CoV-2 Infection: The Potential Role of Antidiabetic Therapy in the Evolution of COVID-19
Retrospective 43 diabetes patients hospitalized for COVID-19 in Italy, showing lower risk of severe cases with metformin vs. insulin.
risk of severe case,

15.2% lower

, RR 0.85, p = 0.048
, treatment 5 of 19 (26.3%), control 14 of 24 (58.3%), NNT 3.1, adjusted per study, odds ratio converted to relative risk, multivariable.
Effect extraction follows pre-specified rules prioritizing more serious outcomes. Submit updates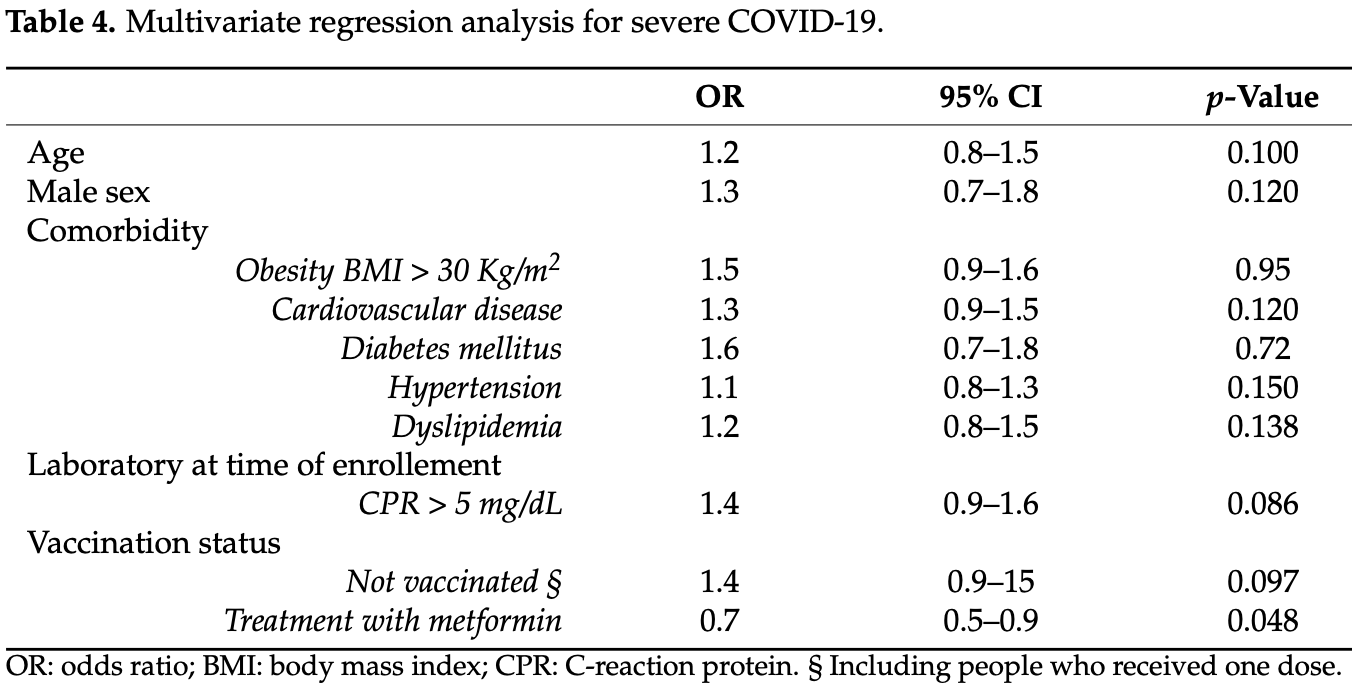 Pinchera et al., 6 Jan 2023, retrospective, Italy, peer-reviewed, 9 authors, study period November 2021 - May 2022, this trial compares with another treatment - results may be better when compared to placebo.
Contact: biapin89@virgilio.it (corresponding author).
Abstract: microorganisms Communication Diabetes and SARS-CoV-2 Infection: The Potential Role of Antidiabetic Therapy in the Evolution of COVID-19 Biagio Pinchera * , Nicola Schiano Moriello, Antonio Riccardo Buonomo , Isabella Di Filippo, Anastasia Tanzillo, Giorgio Buzzo, Riccardo Villari, Ivan Gentile and Federico II COVID Team Section of Infectious Diseases, Department of Clinical Medicine and Surgery, University of Naples Federico II, 80131 Naples, Italy * Correspondence: biapin89@virgilio.it Abstract: Diabetes mellitus represents one of the most frequent comorbidities among patients with COVID-19, constituting a risk factor for a more severe prognosis than that of non-diabetic patients. However, the pathophysiological mechanism underlying this unfavorable outcome is still not completely clear. The goal of our study was to evaluate the potential role of antidiabetic therapy in the evolution of COVID-19. Keywords: COVID-19; SARS-CoV-2; diabetes; insulin; metformin; mTOR
Please send us corrections, updates, or comments. Vaccines and treatments are complementary. All practical, effective, and safe means should be used based on risk/benefit analysis. No treatment, vaccine, or intervention is 100% available and effective for all current and future variants. We do not provide medical advice. Before taking any medication, consult a qualified physician who can provide personalized advice and details of risks and benefits based on your medical history and situation.
FLCCC
and
WCH
provide treatment protocols.
Submit