Small prospective study with 31 patients gargling povidone-iodine, 17 hydrogen peroxide, and 40 control patients, showing lower viral load mid-recovery with povidone-iodine, without reaching statistical significance. Oropharyngeal only, and only every 8 hours for two days. Results may be better with the addition of nasopharyngeal use, more frequent use, and without the two day limit.Authors report only one of the 7 previous trials for PVP-I and COVID-19. Non-randomized study with no adjustments or group details. Some results in Figure 1 appear to be switched compared to the text and the labels in the figure. The viral clearance figures do not match the group sizes - for example authors report 62% PCR- for PVP-I at the 3rd test, however there is no number of 31 patients that rounds to 62%.
Targeted administration to the respiratory tract provides treatment directly to the typical source of initial SARS-CoV-2 infection and replication, and allows for rapid onset of action, higher local drug concentration, and reduced systemic side effects.
This study is excluded in the after exclusion results of meta analysis: unadjusted results with no group details.
relative viral load,

29.2% better

, RR 0.71, p = 0.40
, treatment 31, control 40, 3rd PCR (mid-recovery).
relative viral load,

9.1% better

, RR 0.91, p = 0.91
, treatment 31, control 40, 4th PCR (most patients recovered).
Effect extraction follows pre-specified rules prioritizing more serious outcomes. Submit updates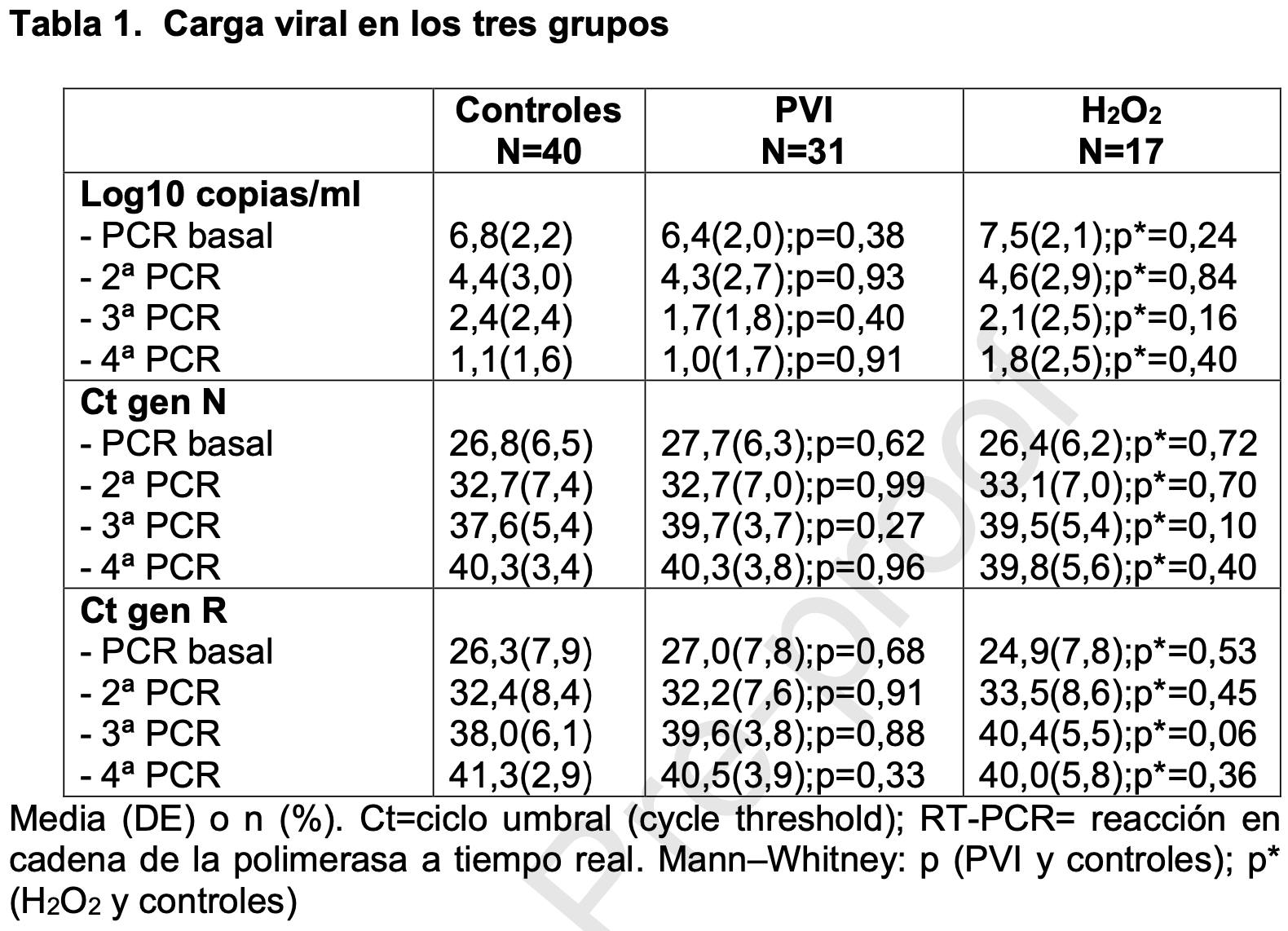 Pablo-Marcos et al., 25 Oct 2021, prospective, Spain, peer-reviewed, mean age 43.0, 6 authors, study period May 2020 - November 2020.
Contact: mirvdc@humv.es.
Utilidad de los enjuagues con povidona yodada y peróxido de hidrógeno en pacientes con COVID-19
Enfermedades Infecciosas y Microbiología Clínica, doi:10.1016/j.eimc.2021.10.005
Introduction: Povidone-iodine and hydrogen peroxide could be effective in against SARS-CoV-2. Methods: A "non-interventional trial" in 88 patients (43 ± 17 yrs., 55% men) with SARS-CoV-2 in nasopharyngeal swabs (RT-PCR). 31 received mouth rinses/gargling with povidone-iodine (every 8 h, two consecutive days), 17 with mouth rinses/gargling of hydrogen peroxide, and 40 controls. Were repeated PCR in 3, 11 and 17 days. Results: After intervention the viral load (Log10 copies/ml) remained similar in povidone-iodine (4.3 ± 2.7 copies/ml), hydrogen peroxide (4.6 ± 2.9 copies/ml; p = 0.40) and controls (4.4 ± 3.0 copies/ml). The percentage of patients with a negative result in the second PCR was 27% in povidone-iodine group, 23% in hydrogen peroxide and 32% in controls; in the third PCR, 62%, 54% y 58% respectively; and in the fourth PCR, 81%, 75% y 81%. Conclusion: Our results do not support the clinical usefulness of mouth rinses/gargling with povidoneiodine or hydrogen peroxide in patients with COVID-19.
G Model We only found one other study, without a control group, in 12 hospitalised COVID-19 patients who received H 2 O 2 (1%) mouth rinses, with no change in their oropharyngeal viral load at 30 min 13 . Our study has limitations, as it is not randomised. However, we included a large number of patients with a control group and evaluated the utility of two commonly used oral antiseptics. We conclude that rinses and gargles of PVI and H 2 O 2 do not seem to have a clear utility in reducing the oropharyngeal viral load of SARS-CoV-2. We believe that the recommendation for the use of these and other oral antiseptics should be based on scientific evidence, hence more studies are needed to assess their efficacy in this pandemic. Conflicts of interest The authors declare that they have no conflicts of interest.
References
Kariwa, Fujii, Takashima, Inactivation of SARS coronavirus by means of povidone-iodine, physical conditions, and chemical reagents, Jpn J Vet Res
Meselson, Droplets and aerosols in the transmission of SARS-CoV-2, N Engl J Med