Effect of vitamin D status on adult COVID-19 pneumonia induced by Delta variant: A longitudinal, real-world cohort study
recovery time,

25.0% lower

, relative time 0.75, p = 0.02
, high D levels (≥20ng/ml) 28, low D levels (<20ng/ml) 18, relative time until resolution of pneumonia.
Effect extraction follows pre-specified rules prioritizing more serious outcomes. Submit updates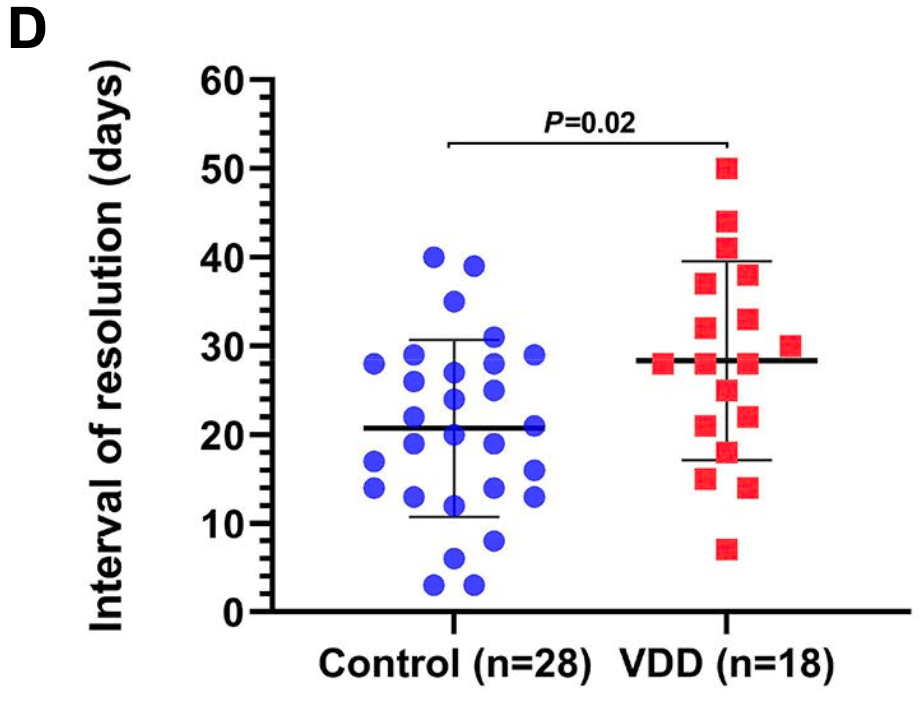 Huang et al., 24 Mar 2023, retrospective, China, peer-reviewed, 5 authors, study period 14 June, 2021 - 1 April, 2022.
Effect of vitamin D status on adult COVID-19 pneumonia induced by Delta variant: A longitudinal, real-world cohort study
Frontiers in Medicine, doi:10.3389/fmed.2023.1121256
Objective: The effect of vitamin D status on adult COVID-19 pneumonia induced by Delta variant remains to be further explored. Methods: A longitudinal, real-world cohort study was performed. Artificial intelligence (AI) was used to identify and measure pneumonia lesions. All cases with pneumonia were divided into the vitamin D deficiency (VDD) and control groups according to serum 25-hydroxyvitamin D concentration. Lesion dynamics were observed within six time periods after the onset of pneumonia. Results: A total of 161 cases were included, of which 101 (63%) were male and 46 (29%) presented with pneumonia. The median age and baseline 25-hydroxyvitamin D concentrations were 37 years and 21 ng/ml, respectively. Age, fibrinogen, and SARS-CoV-2 IgG titer on admission were independent predictors for the onset of pneumonia. After the onset of pneumonia, patients in the VDD group (n = 18) had higher percentage of fever (33 vs. 7.1%; p = 0.04) than those in the control group (n = 28); the interval of pneumonia resolution was longer (28 vs. 21 days; p = 0.02); lesions progressed more rapidly (p = 0.01) within 3 to 7 days and improved more slowly (p = 0.007) within more than 28 days; notably, simultaneous interleukin-6 (18.7 vs. 14.6 pg/ml; p = 0.04) levels were higher, and cycle thresholds for N gene (22.8 vs. 31.3; p = 0.04) and ORF1ab gene (20.9 vs. 28.7; p = 0.03) were lower within 3 to 7 days. Conclusion: Vitamin D status may have effects on the progression and resolution, but not the onset of Delta variant-induced pneumonia in adults. Computed tomography image diagnosis system based on AI may have promising applications in the surveillance and diagnosis of novel SARS-CoV-2 variantinduced pneumonia.
Ethics statement This investigation involving human participants were reviewed and approved by the Ethics Committee of The Third People's Hospital of Shenzhen (approval number: 2022-123). Written informed consent for participation was not required for this study in accordance with the national legislation and the institutional requirements. ORF1ab gene in the VDD group was lower (20.9 ± 4.2 vs. 28.7 ± 6.9) than that in the control group within 3 days. Author contributions HH was responsible for methodology, investigation, formal analysis, data curation, writing the original draft, and visualization. JZ and QZ for investigation and data curation. DP for conceptualization, investigation, review and editing, and supervision. YL worked on conceptualization, formal analysis, investigation, and data All authors contributed to the article and approved the submitted version. Conflict of interest The authors declare that the research was conducted in the absence of any commercial or financial relationships that could be construed as a potential conflict of interest. Publisher's note All claims expressed in this article are solely those of the authors and do not necessarily represent those of their affiliated organizations, or those of the publisher, the editors and the reviewers. Any product that may be evaluated in this article, or claim that may be made by its manufacturer, is not guaranteed or endorsed by the publisher. Supplementary material The Supplementary material for..
References