Retrospective 2,335 bamlanivimab patients and 2,335 PSM controls in the USA, showing significantly lower hospitalization with treatment.
Efficacy is highly variant dependent. In Vitro research suggests a lack of efficacy for omicron Liu, Sheward, VanBlargan.
Confounding by treatment propensity.
This study analyzes a population where only a fraction of eligible patients received the treatment. Patients receiving treatment may be more likely to follow other recommendations, more likely to receive additional care, and more likely to receive additional treatments that are not tracked in the data (e.g., nasal/oral hygiene
c19early.org, c19early.org (B)
, vitamin D
c19early.org (C)
, etc.) — either because the physician recommending bamlanivimab/etesevimab also recommended them, or because the patient seeking out bamlanivimab/etesevimab is more likely to be familiar with the efficacy of additional treatments. Therefore, these kind of studies may overestimate the efficacy of treatments.
risk of death,

74.4% lower

, RR 0.26, p = 0.11
, treatment 2 of 1,789 (0.1%), control 8 of 1,832 (0.4%), NNT 308, day 28.
risk of ICU admission,

48.8% lower

, RR 0.51, p = 0.10
, treatment 10 of 1,789 (0.6%), control 20 of 1,832 (1.1%), NNT 188, day 28.
risk of hospitalization,

37.4% lower

, RR 0.63, p = 0.01
, treatment 44 of 1,789 (2.5%), control 72 of 1,832 (3.9%), NNT 68, day 28, primary outcome.
Effect extraction follows pre-specified rules prioritizing more serious outcomes. Submit updates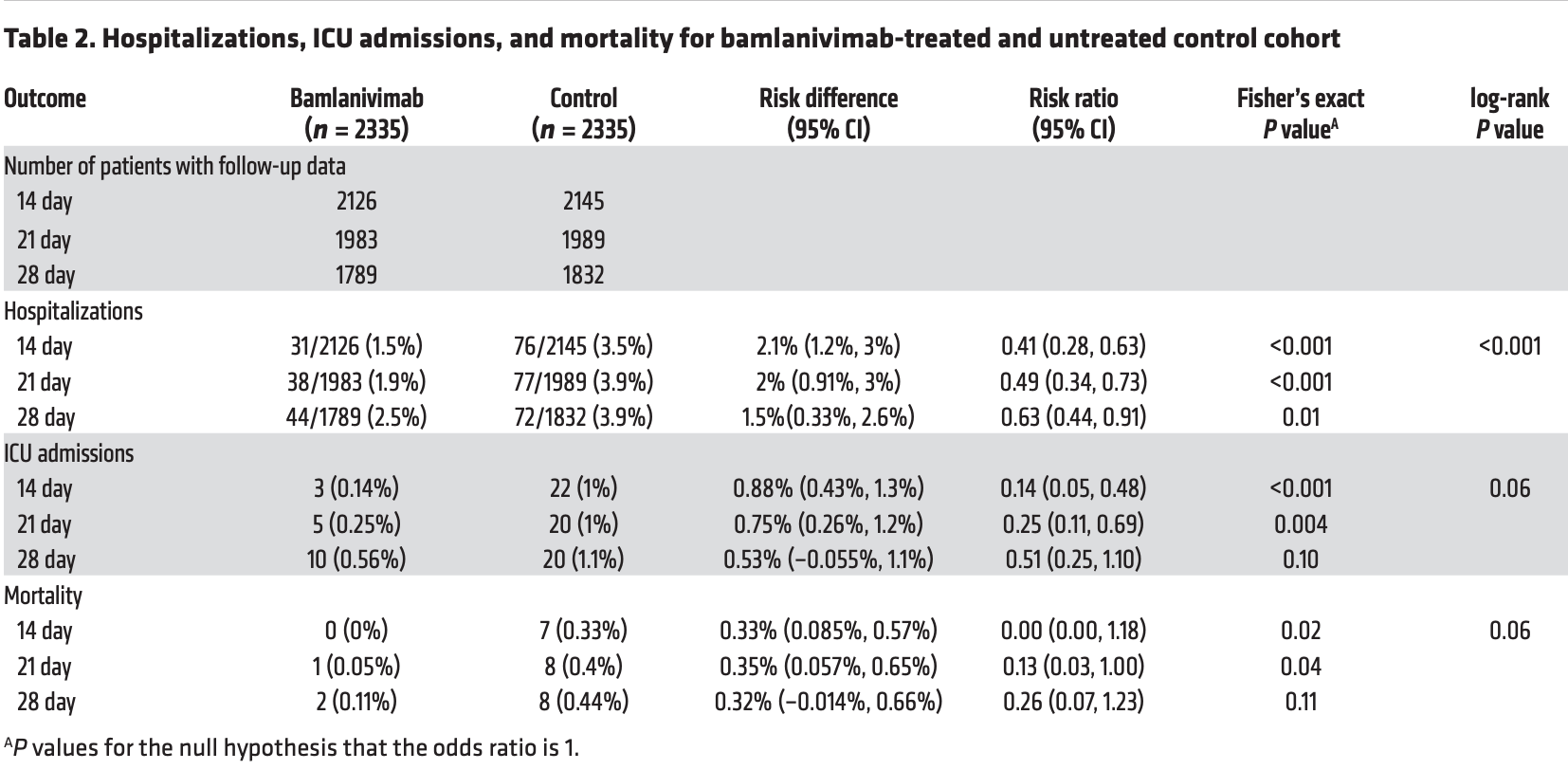 Ganesh et al., 1 Oct 2021, retrospective, USA, peer-reviewed, median age 63.0, 20 authors.
Intravenous bamlanivimab use associates with reduced hospitalization in high-risk patients with mild to moderate COVID-19
Journal of Clinical Investigation, doi:10.1172/jci151697
Clinical data to support the use of bamlanivimab for the treatment of outpatients with mild to moderate coronavirus disease-19 (COVID-19) are needed. 2335 Patients who received single-dose bamlanivimab infusion between November 12, 2020, and February 17, 2021, were compared with a propensity-matched control of 2335 untreated patients with mild to moderate COVID-19 at Mayo Clinic facilities across 4 states. The primary outcome was the rate of hospitalization at days 14, 21, and 28. The median age of the population was 63 years; 47.3% of the bamlanivimab-treated cohort were 65 years or more; 49.3% were female and 50.7% were male. High-risk characteristics included hypertension (54.2%), BMI greater than or equal to 35 (32.4%), diabetes mellitus (26.5%), chronic lung disease (25.1%), malignancy (16.6%), and renal disease (14.5%). Patients who received bamlanivimab had lower all-cause hospitalization rates at days 14 (1.5% vs. 3.5%; risk ratio [RR], 0.41), 21 (1.9% vs. 3.9%; RR, 0.49), and 28 (2.5% vs. 3.9%; RR, 0.63). Secondary exploratory outcomes included lower intensive care unit (ICU) admission rates at days 14 (0.14% vs. 1%; RR, 0.14), 21 (0.25% vs.1%; RR, 0.25), and 28 (0.56% vs.1.1%; RR. 0.51) and lower […] Clinical Medicine Virology
Author contributions RG, CFP, and RRR conceived and designed the study. CFP, PJL, AP, AJV, JCO, RG, ADB, and RRR acquired, analyzed, or interpreted data. RG, CFP, and RRR drafted the manuscript. All authors critically revised the manuscript. CFP, PJL, AP, AJV, JCO, RG, and RRR performed statistical analysis. SJB, JJL, MDB, ADB, and DMB provided administrative, technical, or material support. RO, LLS, SMTS, CGW, SNH, DMB, RG, LLA, RFA, AH, and RRR supervised the project.
References
Bhimraj, Infectious Diseases Society of America Guidelines on the Treatment and Management of Patients with COVID-19
Bierle, Influence of social and cultural factors on the decision to consent for monoclonal antibody treatment among high-risk patients with mild-moderate COVID-19, J Prim Care Community Health
Cardinal, Aitken, ANOVA for the Behavioral Sciences Researcher
Crane, Telemedicine consultations and follow-up of patients with COVID-19, Mayo Clin Proc
Kumar, Real-world experience of bamlanivimab for COVID-19: a case-control study
Stuart, Prognostic score-based balance measures can be a useful diagnostic for propensity score methods in comparative effectiveness research, J Clin Epidemiol
Vora, SARS-CoV-2 neutralizing antibody LY-CoV555 in outpatients with COVID-19