risk of death,

63.9% lower

, RR 0.36, p = 0.10
, high D levels (≥25nmol/L) 3 of 26 (11.5%), low D levels (<25nmol/L) 8 of 25 (32.0%), NNT 4.9.
risk of death,

92.9% lower

, RR 0.07, p = 0.18
, high D levels (≥50nmol/L) 0 of 8 (0.0%), low D levels (<50nmol/L) 11 of 43 (25.6%), NNT 3.9, relative risk is not 0 because of continuity correction due to zero events (with reciprocal of the contrasting arm).
Effect extraction follows pre-specified rules prioritizing more serious outcomes. Submit updates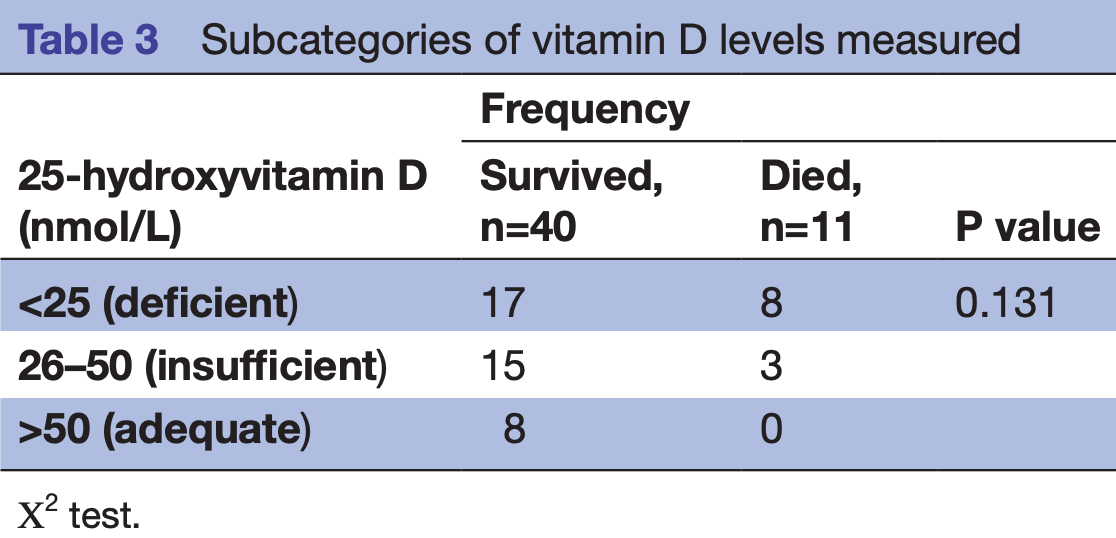 Eden et al., 5 Aug 2021, retrospective, United Kingdom, peer-reviewed, 5 authors.
Nutritional parameters and outcomes in patients admitted to intensive care with COVID-19: a retrospective single-centre service evaluation
BMJ Nutrition, Prevention & Health, doi:10.1136/bmjnph-2021-000270
D deficiency may also associate with poorer outcomes and mortality, supporting a possible role of vitamin D in immune function specific to pulmonary inflammation and COVID-19 pathophysiology. There are plausible associations between raised BMI, glycaemic control, vitamin D status and poor prognosis, as seen in wider studies; however, in this service evaluation audit during the first wave of the pandemic in the UK, with a limited data set available for this analysis, the associations did not reach statistical significance. Further research is needed into specific nutritional markers influencing critical care admissions with COVID-19. ► This snapshot audit in a London ICU from the first peak of the COVID-19 pandemic adds to the body of evidence associating overweight/obesity as a risk factor of disease severity and mortality in COVID-19. ► Further data suggesting baseline vitamin D status may influence severity of COVID-19 as higher mortality was observed in individuals with vitamin D deficiency (<25 nmol/L). ► This highlights baseline nutritional parameters that are easily obtainable in the critical care setting and suggests additional nutritional markers worthy of further research.
Contributors TE, JN and SR planned the above service evaluation and determined the data collection. TE and JN collected the relevant data and JN and SR provided the statistical analysis. TE, SM and DC contributed to the report writing and discussion of this service evaluation. SR supervised the undertaking of the work and contributed to the overall revisions prior to submission by TE. Competing interests None declared. Patient consent for publication Not required. Provenance and peer review Not commissioned; externally peer reviewed by Marcello Scopazzini, NHS Lothian, Edinburgh, UK. Data availability statement All data relevant to the study are included in the article or uploaded as supplemental information. All relevant data and statistical analyses have been included within the submission. For further information and additional data, please contact the first author Timothy Eden ( timothy. eden@ nhs. net). Supplemental material This content has been supplied by the author(s). It has not been vetted by BMJ Publishing Group Limited (BMJ) and may not have been peer-reviewed. Any opinions or recommendations discussed are solely those of the author(s) and are not endorsed by BMJ. BMJ disclaims all liability and responsibility arising from any reliance placed on the content. Where the content includes any translated material, BMJ does not warrant the accuracy and reliability of the translations (including but not limited to local regulations, clinical guidelines, terminology,..
References
De, Vega, Barquin, Boros, Could attitudes toward COVID-19 in Spain render men more vulnerable than women?
Griffin, Wall, Blake, Vitamin D status of adults in the community, in outpatient clinics, in hospital, and in nursing homes in the West of Ireland, Journals Gerontol Ser A
Peng, Meng, Guan, Clinical characteristics and outcomes of 112 cardiovascular disease patients infected by 2019-nCoV