Retrospective 73 hospitalized COVID-19 patients in Belgium, showing higher risk of mortality with selenium deficiency and zinc deficiency. This study is excluded in the after exclusion results of meta analysis: unadjusted results with no group details.
This study includes selenium and
zinc
.
risk of death,

91.8% lower

, RR 0.08, p = 0.001
, high selenium levels (≥55.2µg/L) 1 of 42 (2.4%), low selenium levels (<55.2µg/L) 9 of 31 (29.0%), NNT 3.8.
risk of death,

93.7% lower

, RR 0.06, p = 0.002
, high selenium levels (≥660µg/L) 0 of 13 (0.0%), low selenium levels (<660µg/L) 8 of 15 (53.3%), NNT 1.9, relative risk is not 0 because of continuity correction due to zero events (with reciprocal of the contrasting arm), >65 years.
Effect extraction follows pre-specified rules prioritizing more serious outcomes. Submit updates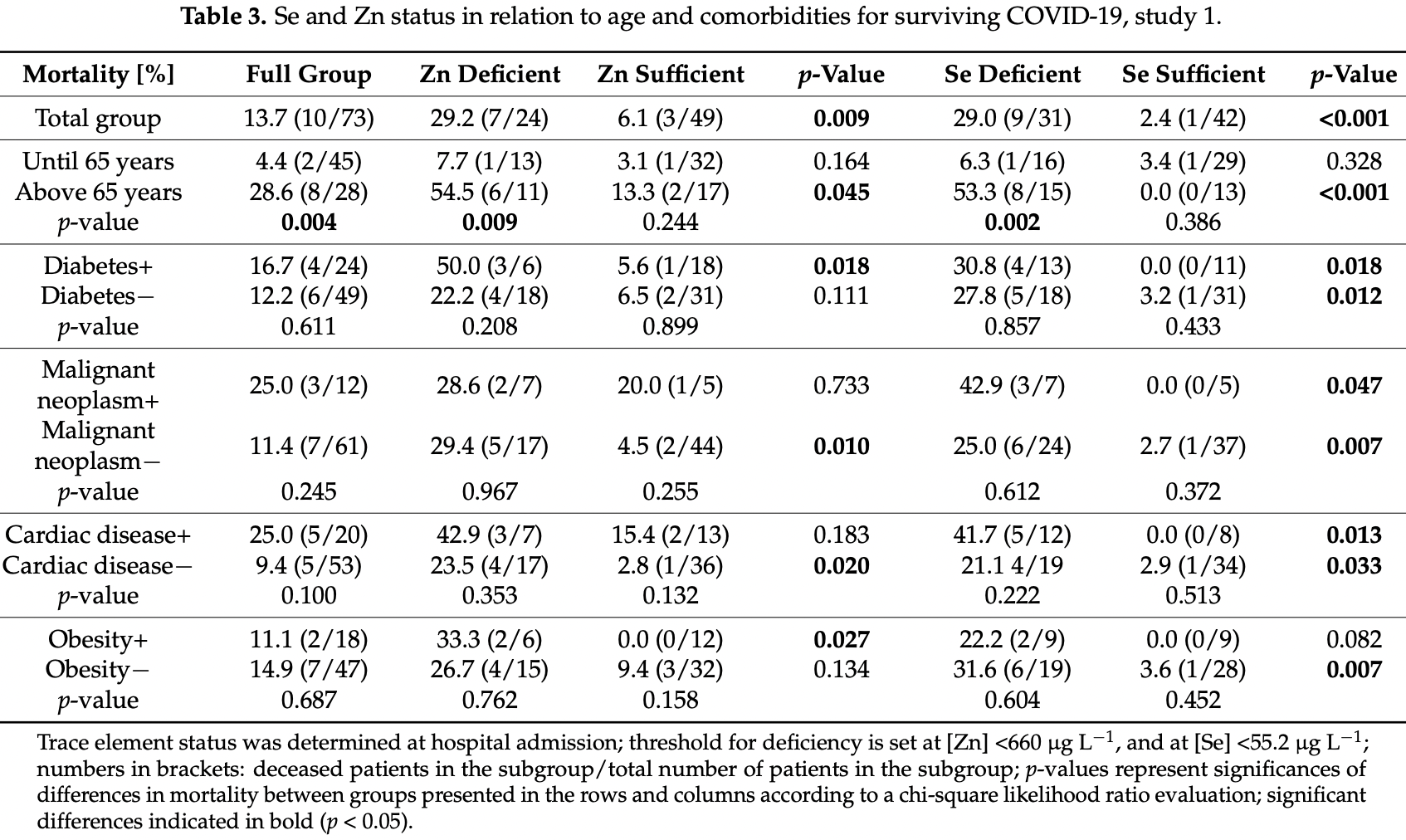 Du Laing et al., 22 Sep 2021, retrospective, Belgium, peer-reviewed, 11 authors.
Course and Survival of COVID-19 Patients with Comorbidities in Relation to the Trace Element Status at Hospital Admission
Nutrients, doi:10.3390/nu13103304
Selenium (Se) and zinc (Zn) are essential trace elements needed for appropriate immune system responses, cell signalling and anti-viral defence. A cross-sectional observational study was conducted at two hospitals in Ghent, Belgium, to investigate whether Se and/or Zn deficiency upon hospital admission correlates to disease severity and mortality risk in COVID-19 patients with or without co-morbidities. Trace element concentrations along with additional biomarkers were determined in serum or plasma and associated to disease severity and outcome. An insufficient Se and/or Zn status upon hospital admission was associated with a higher mortality rate and a more severe disease course in the entire study group, especially in the senior population. In comparison to healthy European adults, the patients displayed strongly depressed total Se (mean ± SD: 59.2 ± 20.6 vs. 84.4 ± 23.4 µg L −1 ) and SELENOP (mean ± SD: 2.2 ± 1.9 vs. 4.3 ± 1.0 mg L −1 ) concentrations at hospital admission. Particularly strong associations were observed for death risk of cancer, diabetes and chronic cardiac disease patients with low Se status, and of diabetes and obese patients with Zn deficiency. A composite biomarker based on serum or plasma Se, SELENOP and Zn at hospital admission proved to be a reliable tool to predict severe COVID-19 course and death, or mild disease course. We conclude that trace element assessment at hospital admission may contribute to a better stratification of patients with COVID-19 and other similar infectious diseases, support clinical care, therapeutic interventions and adjuvant supplementation needs, and may prove of particular relevance for patients with relevant comorbidities.
Funding: This research did not receive any specific grant from funding agencies in the public, commercial, or not-for-profit sectors. The analytical measurements and research in the lab of LS are supported by the Deutsche Forschungsgemeinschaft (DFG), Research Unit FOR-2558 "TraceAge" (Scho 849/6-2), and CRC/TR 296 "Local control of TH action" (LocoTact, P17). Institutional Review Board Statement: The study was conducted according to the guidelines of the Declaration of Helsinki, and approved by the Ethics Committee of JPH Ghent and UZ Gent (BC-07492, approved on 23 March 2020). Informed Consent Statement: Informed consent was obtained from all subjects involved in the study. Conflicts of Interest: LS holds shares in selenOmed GmbH, a company involved in Se status assessment and supplementation. The other authors declare no competing interest.
References
Beck, Handy, Levander, Host nutritional status: The neglected virulence factor, Trends Microbiol
Braunstein, Kusmenkov, Zuck, Angstwurm, Becker et al., Selenium and Selenoprotein P Deficiency Correlates with Complications and Adverse Outcome After Major Trauma, Shock
Guillin, Vindry, Ohlmann, Chavatte, Selenium, Selenoproteins and Viral Infection, Nutrients
Haase, Schomburg, You'd Better Zinc-Trace Element Homeostasis in Infection and Inflammation, Nutrients
Heller, Sun, Hackler, Seelig, Seibert et al., Prediction of survival odds in COVID-19 by zinc, age and selenoprotein P as composite biomarker, Redox Biol
Santos, Sinha, Obesity and aging: Molecular mechanisms and therapeutic approaches, Ageing Res. Rev