Retrospective 112,269 hospitalized COVID-19 patients in the USA, showing lower mortality with aspirin treatment.
risk of death,

13.5% lower

, RR 0.87, p < 0.001
, treatment 1,410 of 13,795 (10.2%), control 11,577 of 98,275 (11.8%), NNT 64, adjusted per study, odds ratio converted to relative risk, propensity score weighting.
Effect extraction follows pre-specified rules prioritizing more serious outcomes. Submit updates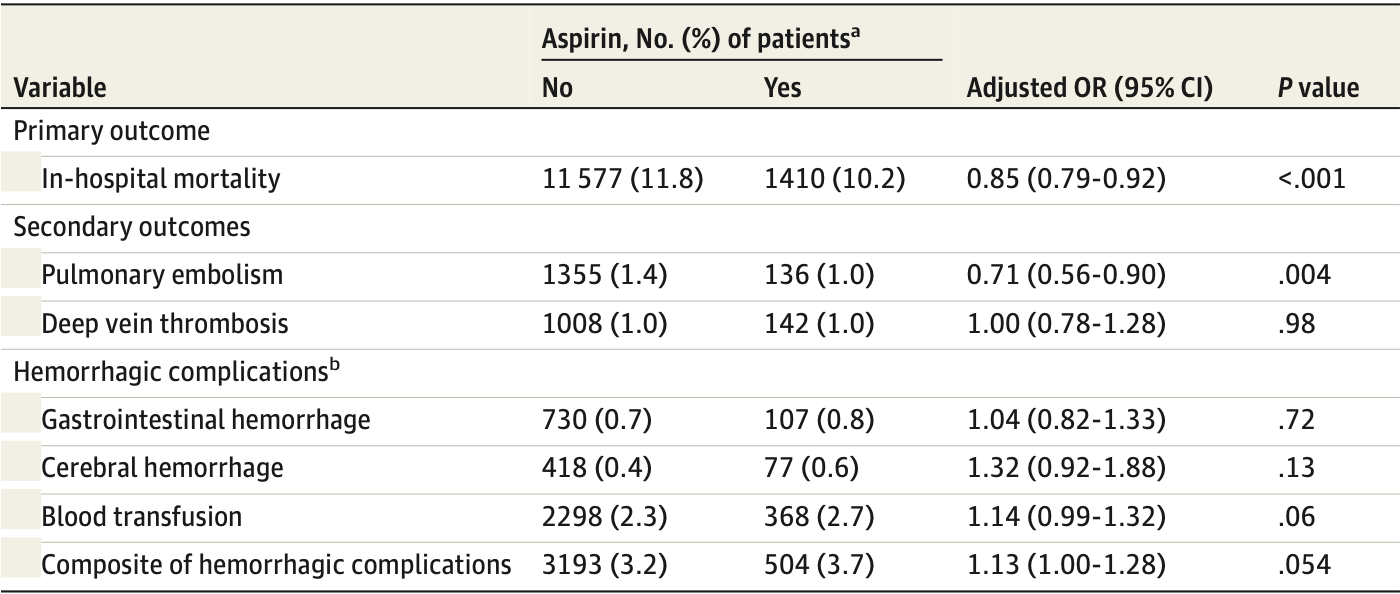 Chow et al., 24 Mar 2022, retrospective, USA, peer-reviewed, median age 63.0, 89 authors.
Association of Early Aspirin Use With In-Hospital Mortality in Patients With Moderate COVID-19
JAMA Network Open, doi:10.1001/jamanetworkopen.2022.3890
IMPORTANCE Prior observational studies suggest that aspirin use may be associated with reduced mortality in high-risk hospitalized patients with COVID-19, but aspirin's efficacy in patients with moderate COVID-19 is not well studied. OBJECTIVE To assess whether early aspirin use is associated with lower odds of in-hospital mortality in patients with moderate COVID-19.
Author Contributions: Drs Chow and Crandall had full access to all of the data in the study and take responsibility for the integrity of the data and the accuracy of the data analysis. Drs Mazzeffi and Crandall, as co-senior authors, contributed equally to the manuscript. Concept and design Conflict of Interest Disclosures: Dr Chow reported serving on the speaker's bureau for La Jolla Pharmaceutical Company outside the submitted work. Dr Gomberg-Maitland reported receiving honoraria from Medscape and serving as a consultant and member of the steering committees for Acceleron/Merck, Bayer, Janssen, and United Therapeutics outside the submitted work. Dr Mazzeffi reported receiving consulting fees from Hemosonics outside the submitted work. Dr Crandall reported receiving grants from the National Institutes of Health (NIH) and the National Science Foundation during the conduct of the study. No other disclosures were reported. Funding/Support: The analyses described in this publication were conducted with data or tools accessed through the National Center for Advancing Translational Sciences (NCATS) N3C Data Enclave and supported by grant U24 TR002306 from the NCATS. This study was also partially supported by grants NSF DEB-2028280 and DEB-2109688 from the National Science Foundation (Drs Rahnavard and Crandall) and 03UL1TR001876-05S1 from the NIH/NCATS (Dr Crandall), as well as an award from the George Washington University Office of the Vice President for Research (Dr..
References
Faraone, Interpreting estimates of treatment effects: implications for managed care, P T
Hernan, Robins, Causal Inference: What If
Lumley, Survey: analysis of complex survey samples
Ritchie, Mathieu, Rodés-Guirao, Coronavirus pandemic (COVID-19)