Long COVID RCT with mostly asymptomatic patients that remained PCR positive for 14 days, showing slower viral conversion with treatment. Authors report "a 30-day follow-up of our patients showed that a long-lasting COVID-19 was noted in 34.5% of patients who received vitamin D and in 38.9% of patients who belonged to the placebo group", however no number of the reported group sizes matches these percentages. Authors do not define "long-lasting COVID-19" which does not match the viral clearance at 30 days shown in Figure 2, and is also unexpected in terms of symptoms according to the baseline symptomatic status. Details and timing of PCR tests are not provided. According to Figure 3, testing appears to have been sporadic - for example ~23 treatment patients remain PCR+ at day 40, however no more than one unique Ct value per day is shown.
risk of no recovery,

8.5% lower

, RR 0.92, p = 0.85
, treatment 20 of 57 (35.1%), control 23 of 60 (38.3%), NNT 31, approximate, reported percentages do not match group sizes, day 30.
risk of no viral clearance,

58.0% higher

, HR 1.58, p = 0.01
, treatment 57, control 60, Cox proportional hazards.
Effect extraction follows pre-specified rules prioritizing more serious outcomes. Submit updates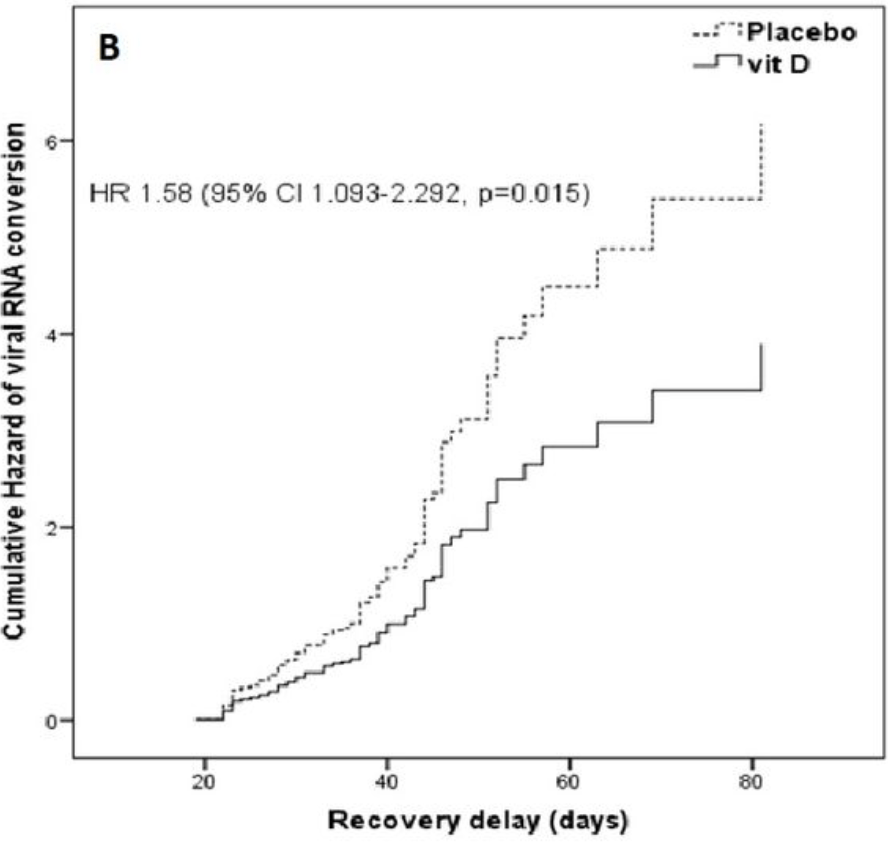 Abroug et al., 21 Jul 2022, Randomized Controlled Trial, placebo-controlled, Tunisia, preprint, mean age 42.7, 16 authors, study period May 2020 - August 2020, dosage 200,000IU single dose, trial
NCT04883203
(history)
.
Contact: hela-abr@hotmail.com.