Survey of 428 recovered COVID-19 patients in Iraq, showing fewer hospital visits for patients on prophylactic vitamin C or D. Hospitalization was lower for those on vitamin C, D, or zinc, without statistical significance.Although the 19% lower hospitalization is not statistically significant, it is consistent with the significant 16% lower hospitalization
[4‑27%]
from meta analysis of the
14 hospitalization results to date
.This is the
21st of 64 COVID-19 controlled studies
for vitamin C, which collectively show efficacy with
p=0.00000022
.
17 studies are RCTs
, which show efficacy with
p=0.00000014
. This study is excluded in the after exclusion results of meta analysis: unadjusted results with no group details.
risk of hospitalization,

18.7% lower

, RR 0.81, p = 0.69
, treatment 8 of 132 (6.1%), control 22 of 295 (7.5%), NNT 72, unadjusted.
Effect extraction follows pre-specified rules prioritizing more serious outcomes. Submit updates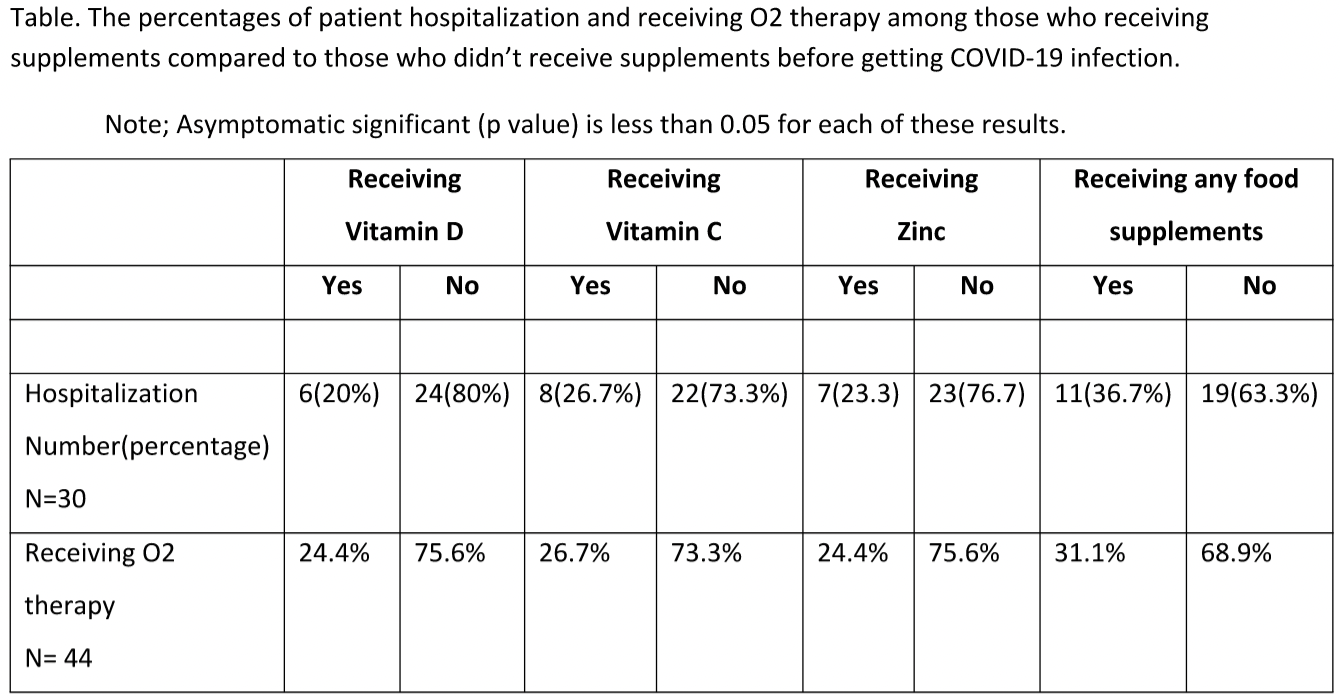 Abdulateef et al., 8 Apr 2021, retrospective, Iraq, peer-reviewed, 7 authors, study period July 2020 - August 2020.
COVID-19 severity in relation to sociodemographics and vitamin D use
Open Medicine, doi:10.1515/med-2021-0273
Most COVID-19 cases are treated as outpatients, while the majority of studies on COVID-19 focus on inpatients. Little is known about the self-reporting and selfrating of the disease's symptoms, and the associations of prophylactic use of dietary supplements with COVID-19 severity have not been addressed. The aims of this study are to evaluate COVID-19 severity and to relate them to sociodemographic characteristics and prophylactic dietary supplements. An observational patient-based study conducted through an online questionnaire on recovered COVID-19 patients. The patients were assessed for several severity parameters, sociodemographic parameters, and prophylactic dietary supplement use. A total of 428 patients were evaluated. Age and presence of comorbidities had positive associations with the severity parameters. The severe infection group had the highest proportion of patients stressed about COVID-19 (P < 0.05). Cigarette, but not hookah, smoking was significantly associated with less severe symptoms. Vitamin D negatively predicted disease severity (P < 0.05). In conclusion, stress, age, and presence of comorbidities were the most important positive predictors of COVID-19 severity, while prophylactic vitamin D use and smoking were significant negative predictors. The use of protective measures and other prophylactic dietary supplements was not significantly associated with symptom severity.
Conflict of interest: There is no conflict of interest. Data availability statement: The SPSS file that contains the data of all patients who enrolled in the final analysis was uploaded to Figshare data repository website and its link will be available upon reasonable request. Appendix
References
Abdulateef, Ali, Abdulateef, Mohesh, Smoking knowledge, attitude, and practices among health care professionals from Sulaymaniyah City/Iraq
Dabbagh, UCLA UCLA Electronic theses and dissertations title current trends of substance use in Iraq: Examining data COVID-19, sociodemographics, and dietary supplements  605 from the 2014 Iraqi National household survey of alcohol and drug use
Jones, Mühlemann, Veith, Zuchowski, Hofmann et al., An analysis of SARS-CoV-2 viral load by patient age
Tenforde, Kim, Lindsell, Rose, Shapiro et al., risk factors for delayed return to usual health among outpatients with COVID-19 in a multistate health care systems network-United States