Retrospective 298 hospitalized type 2 diabetes patients in China showing metformin use associated with not having COVID-19, however the analysis considers treatment during hospitalization, and authors note that in this population metformin may have been specifically discontinued for COVID-19 patients. This study is excluded in meta analysis: substantial unadjusted
confounding by indication
likely.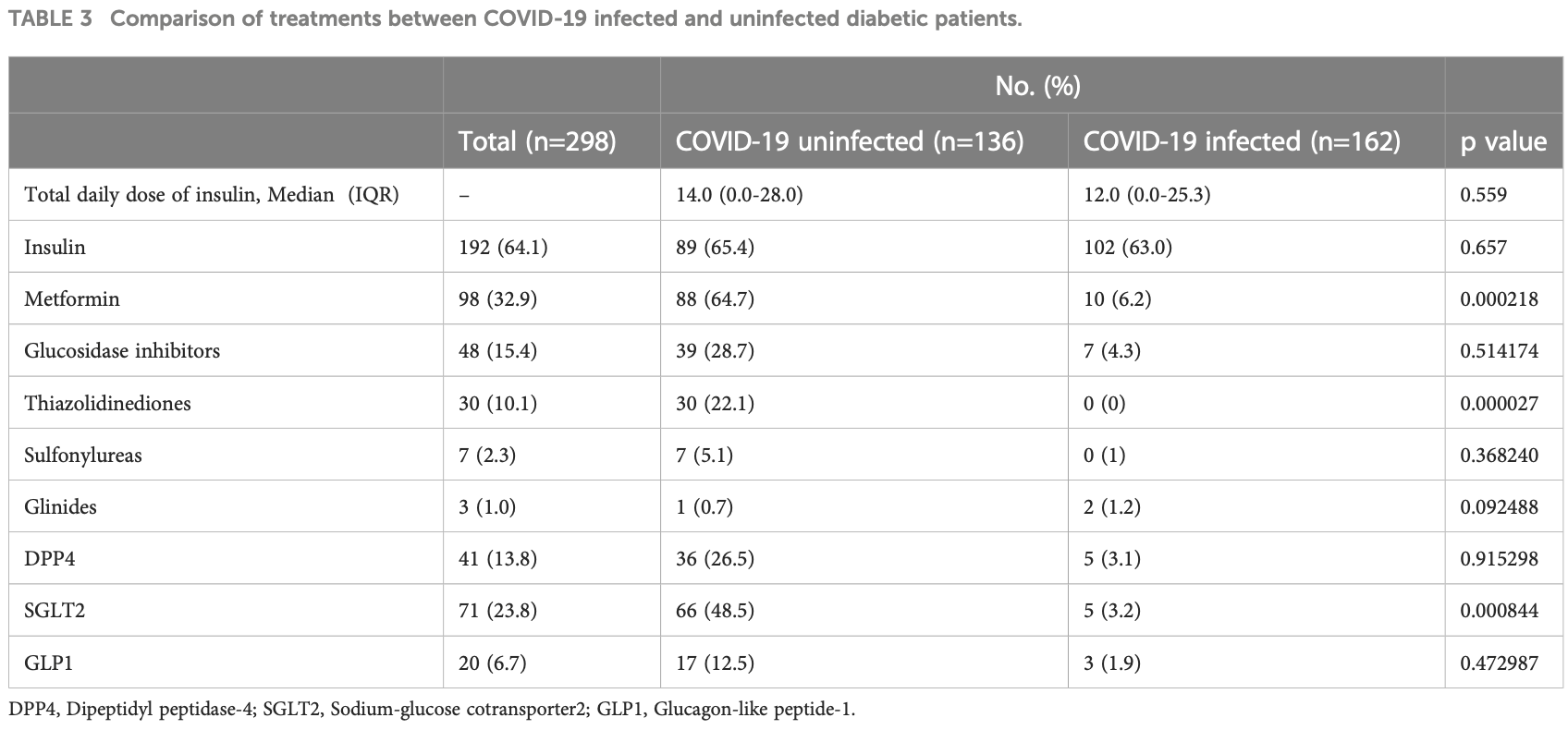 Zhou et al., 12 Aug 2023, retrospective, China, peer-reviewed, 14 authors, study period 1 December, 2022 - 1 February, 2023.
Clinical characteristics and acute complication of COVID-19 patients with diabetes: a multicenter, retrospective study in Southern China
Frontiers in Endocrinology, doi:10.3389/fendo.2023.1237832
This study aims to describe the clinical characteristics, laboratory data and complications of hospitalized COVID-19 patients with type 2 diabetes mellitus (T2DM) since epidemic prevention and control optimization was adjusted in December 2022 in China. Methods: This retrospective multicenter study included 298 patients with confirmed type 2 diabetes mellitus with or without COVID-19. We collected data from the first wave of the pandemic in The Fifth Affiliated
Ethics statement The studies involving humans were approved by the Fifth Affiliated of Guangzhou Medical University Research Ethics Committee (GYWY-L2023-64). The studies were conducted in accordance with the local legislation and institutional requirements. The participants provided their written informed consent to participate in this study. Author contributions C-pZ and W-pS performed the general development and design of the study and contributed to critical revisions. X-yZ is the first author who contributed to the design, statistical analysis and manuscript writing of the study. S-fH wrote sections of the manuscript. S-fH, J-xL, H-nZ, LX, X-zW, K-hG, LZ, TL, H-mY, M-rL, and X-yL contributed to data collection and helped perform the analysis with constructive discussion. All authors contributed to the article and approved the submitted version. Conflict of interest The authors declare that the research was conducted in the absence of any commercial or financial relationships that could be construed as a potential conflict of interest. Publisher's note All claims expressed in this article are solely those of the authors and do not necessarily represent those of their affiliated organizations, or those of the publisher, the editors and the reviewers. Any product that may be evaluated in this article, or claim that may be made by its manufacturer, is not guaranteed or endorsed by the publisher.
References
Agyeman, Chin, Landersdorfer, Liew, Ofori-Asenso, Smell and taste dysfunction in patients with COVID-19: A systematic review and meta-analysis
Bornstein, Rubino, Khunti, Mingrone, Hopkins et al., Practical recommendations for the management of diabetes in patients with