Retrospective 323 hospitalized patients, 153 treated with vitamin C, showing no significant differences. Patients in each group were in different time periods, with the vitamin C group first. Time based confounding is possible due to improvements in SOC.Although the 21% lower mortality is not statistically significant, it is consistent with the significant 20% lower mortality
[10‑29%]
from meta analysis of the
38 mortality results to date
.This is the
25th of 64 COVID-19 controlled studies
for vitamin C, which collectively show efficacy with
p=0.00000022
.
17 studies are RCTs
, which show efficacy with
p=0.00000014
. This study is excluded in the after exclusion results of meta analysis: substantial
confounding by time
likely due to declining usage over the early stages of the pandemic when overall treatment protocols improved dramatically.
risk of death,

21.3% lower

, RR 0.79, p = 0.52
, treatment 17 of 153 (11.1%), control 24 of 170 (14.1%), NNT 33.
risk of ICU admission,

1.9% higher

, RR 1.02, p = 1.00
, treatment 11 of 153 (7.2%), control 12 of 170 (7.1%).
Effect extraction follows pre-specified rules prioritizing more serious outcomes. Submit updates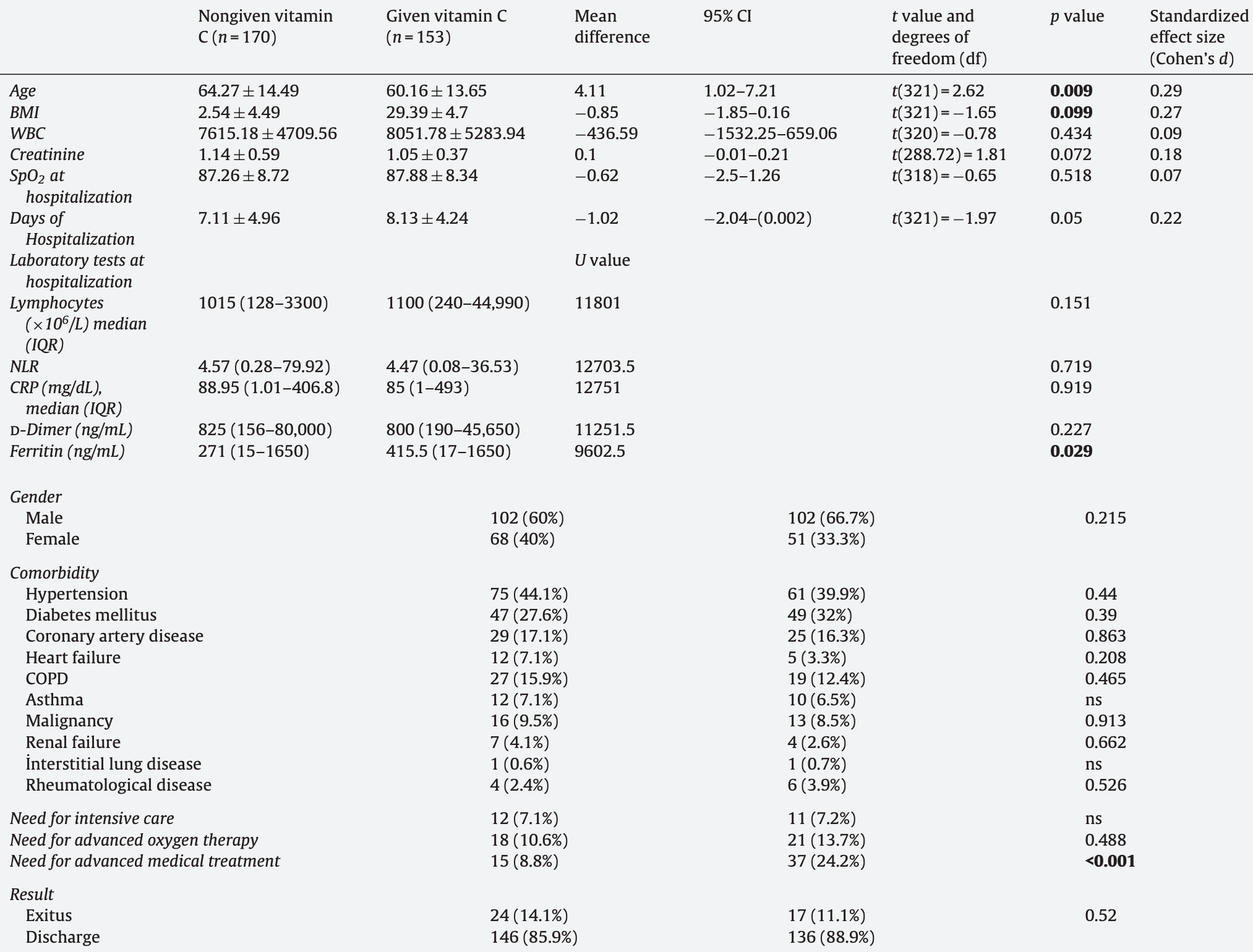 Suna et al., 11 May 2021, retrospective, Turkey, peer-reviewed, 5 authors.
Effect of high-dose intravenous vitamin C on prognosis in patients with SARS-CoV-2 pneumonia
Medicina Clínica, doi:10.1016/j.medcli.2021.04.010
Since January 2020 Elsevier has created a COVID-19 resource centre with free information in English and Mandarin on the novel coronavirus COVID-19. The COVID-19 resource centre is hosted on Elsevier Connect, the company's public news and information website. Elsevier hereby grants permission to make all its COVID-19-related research that is available on the COVID-19 resource centre -including this research content -immediately available in PubMed Central and other publicly funded repositories, such as the WHO COVID database with rights for unrestricted research re-use and analyses in any form or by any means with acknowledgement of the original source. These permissions are granted for free by Elsevier for as long as the COVID-19 resource centre remains active.
Conflict of interest The authors declare that they have no conflict of interest.
References
Medcli-, None
Suna, Melahat, Murat, None, Medicina Clínica xxx