RCT 72 patients in Iran, showing faster reduction of inflammation with treatment. There was no significant difference in mortality, ventilation, or ICU admission (few events).
risk of death,

no change

, RR 1.00, p = 1.00
, treatment 1 of 36 (2.8%), control 1 of 36 (2.8%).
risk of mechanical ventilation,

50.0% lower

, RR 0.50, p = 1.00
, treatment 1 of 36 (2.8%), control 2 of 36 (5.6%), NNT 36.
risk of ICU admission,

50.0% higher

, RR 1.50, p = 1.00
, treatment 3 of 36 (8.3%), control 2 of 36 (5.6%).
hospitalization time,

10.9% lower

, relative time 0.89, p = 0.13
, treatment 36, control 36.
Effect extraction follows pre-specified rules prioritizing more serious outcomes. Submit updates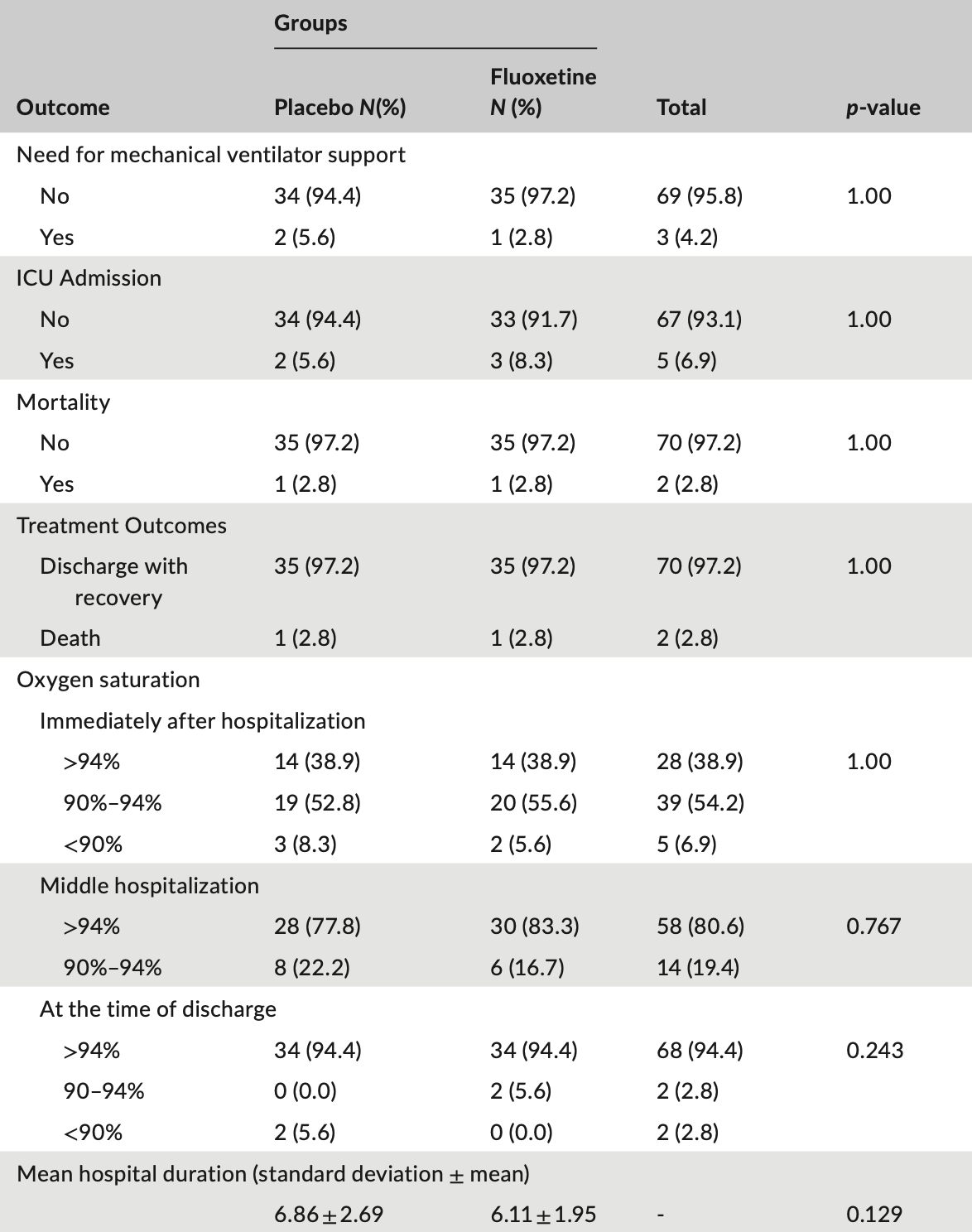 Sedighi et al., 20 Mar 2023, Double Blind Randomized Controlled Trial, placebo-controlled, Iran, peer-reviewed, 8 authors.
Contact: forouzan.elyasi@gmail.com, f.elyasi@mazums.ac.ir, lab2002b@yahoo.com.
Efficacy and safety of adding fluoxetine to the treatment regimen of hospitalized patients with non‐critical COVID ‐19 pneumonia: A double‐blind randomized, placebo‐controlled clinical trial
Neuropsychopharmacology Reports, doi:10.1002/npr2.12327
Introduction: Selective serotonin reuptake inhibitors are considered the drugs, whose effectiveness in viral pandemics has been studied. The aim of this study was to evaluate of adding fluoxetine to the treatment regimen of patients with COVID-19 pneumonia. Methods: This study was a double-blind randomized placebo controlled clinical trial .36 patients in the fluoxetine and 36 patients in the placebo group were enrolled. Patients in the intervention group were first treated with fluoxetine 10 mg for 4 days and then the dose of 20 mg was continued for 4 weeks. Data analysis was conducted using SPSS V. 22.0. Results: There was no statistically significant difference between the two groups in terms of clinical symptoms at the beginning of the study and also the score of anxiety and depression, oxygen saturation at the time of hospitalization, mid-hospitalization and discharge periods. The need for mechanical ventilator support (p = 1.00), the need for admission in the intensive care unit (ICU) (p = 1.00), rate for mortality (p = 1.00), and discharge with relative recovery (p = 1.00) were not significantly different between the two groups. The distribution of CRP within the study groups showed a significant decrease during different time periods (p = 0.001), and although there was no and at discharge (p = 0.585), mid-hospital CRP showed a significant decrease in the fluoxetine group (p = 0.032). Conclusion: Fluoxetine resulted in a faster reduction of patients' inflammation without association with depression and anxiety.
reported the side effects of fluoxetine and the evidence of reduced inflammatory processes was observed in the fluoxetine group. It is suggested that in future studies, the sample size would be calculated with the higher power to examine whether stronger findings can be achieved with larger sample size. Also the dose of the drug could be increased more rapidly and, if possible, increasing the dose to higher than 20 mg per day, can lead to greater efficacy of the drug. | CON CLUS ION ACK N OWLED G M ENTS The study was done with the financial support from the Vice Chancellor for Research of MAZUMS. We thank all those who helped us in this study. We also thank the patients for their cooperation in the fulfillment of this study and all hospital staff involved in patient treatment. FU N D I N G I N FO R M ATI O N This study was supported by the Mazandaran University of Medical Sciences. (Grant number = 8354). CO N FLI C T O F I NTER E S T S TATEM ENT The authors declare that they have no conflict of interest.
References
Azizi, Elyasi, Roodposhti, Bradycardia caused by interaction of venlafaxine and cyclosporine: a case report, Caspian J Intern Med
Boland, Verduin, Ruiz, Antidepressants
Fda, Flouxetine, None
Oskotsky, Marić, Tang, Oskotsky, Wong et al., Efficacy and safety of adding fluoxetine to the treatment regimen of hospitalized patients with non-critical COVID-19 pneumonia: A double-blind randomized, placebo-controlled clinical trial, Neuropsychopharmacol Rep