risk of symptomatic case,

92.9% lower

, HR 0.07, p = 0.04
, treatment 1 of 60 (1.7%), control 4 of 60 (6.7%), adjusted per study, inverted to make HR<1 favor treatment, Cox proportional risk.
Effect extraction follows pre-specified rules prioritizing more serious outcomes. Submit updates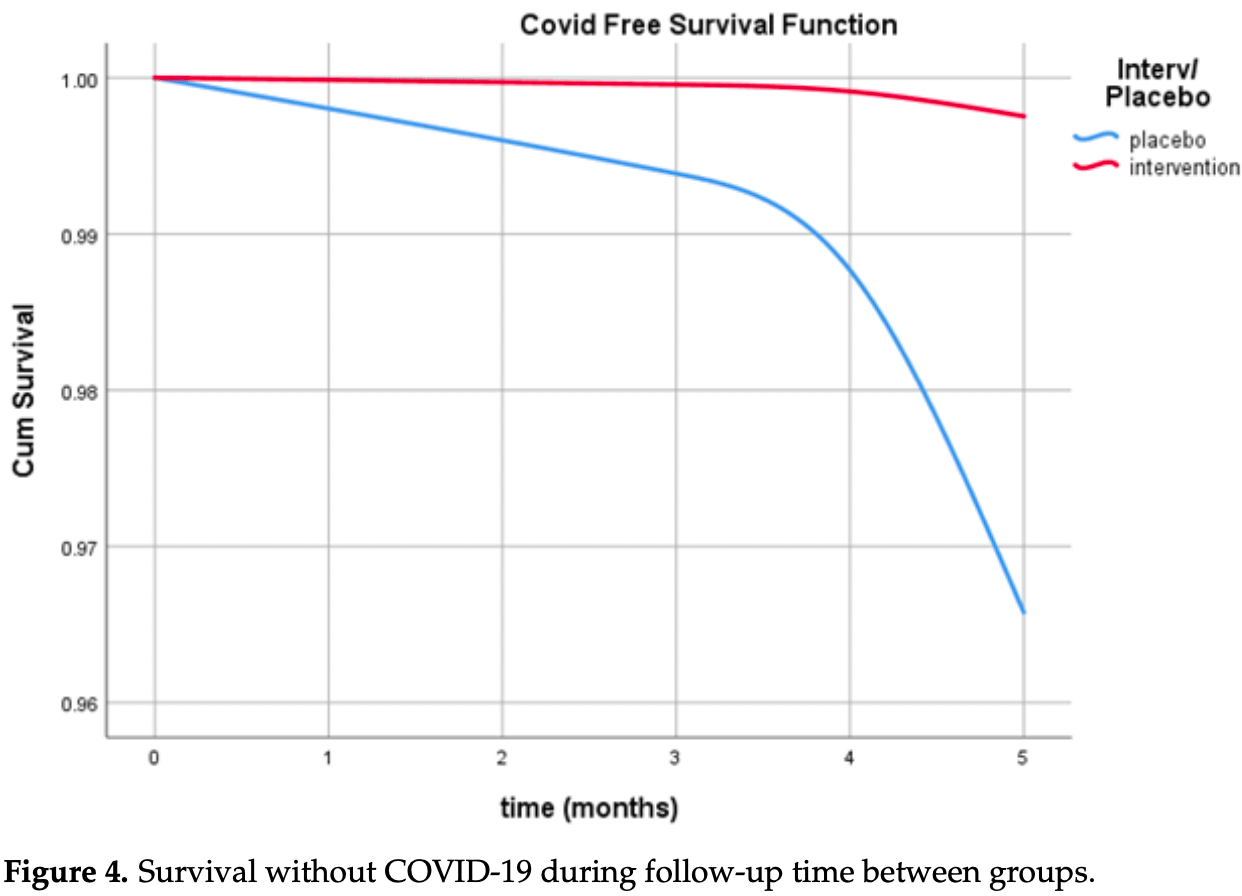 Rondanelli et al., 4 Jan 2022, Double Blind Randomized Controlled Trial, placebo-controlled, Italy, peer-reviewed, 12 authors, trial
NCT05037240
(history)
.
Promising Effects of 3-Month Period of Quercetin Phytosome® Supplementation in the Prevention of Symptomatic COVID-19 Disease in Healthcare Workers: A Pilot Study
Life, doi:10.3390/life12010066
Quercetin, for its crucial properties, fulfills the need for a multifactor action that is useful for the potential counterbalance of a COVID-19 infection. Given this background, the aim of the study was to evaluate the potential effect of 3 months' supplementation with Quercetin Phytosome ® (250 mg twice a day) as prevention against symptomatic COVID-19. In total, 120 subjects were enrolled (males, 63; females, 57; age 49 ± 12), with 60 in the supplementation group and 60 in the placebo group. No significant differences were detected between groups in terms of gender, smoking, and chronic disease. Subjects underwent rapid COVID-19 diagnostic tests every 3 weeks. During our study, 5 subjects had COVID-19, 1 out of 60 subjects in the quercetin group and 4 out of 60 in the control group. Complete clinical remission was recorded at 7 and 15 days in the quercetin and placebo groups, respectively. Analysis showed that, at 5 months, the COVID free survival function (risk of infection) was 99.8% in subjects under quercetin supplementation and 96.5% in control group. As shown by the value of EXP(B), those who had taken the supplement had a protection factor of 14% more to not contract the COVID-19 infection than that of those who had taken a placebo. Obtained results are encouraging, but further studies are required to add quercetin as regular prophylaxis.
Institutional Review Board Statement: The study was conducted according to the guidelines of the Declaration of Helsinki and approved by the Ethics Committee of the University (approval number: 1222/01022021). Informed Consent Statement: Informed consent was obtained from all subjects involved in the study.
References
Khaerunnisa, Kurniawan, Awaluddin, Suhartati, Soetjipto, Potential Inhibitor of COVID-19 Main Protease (Mpro) From Several Medicinal Plant Compounds by Molecular Docking Study, Preprints
Majumder, Minko, Recent Developments on Therapeutic and Diagnostic Approaches for COVID-19, AAPS J
Smith, Smith, Repurposing Therapeutics for COVID-19: Supercomputer-Based Docking to the SARS-CoV-2 Viral Spike Protein and Viral Spike Protein-Human ACE2 Interface