Retrospective 31,006 diabetic COVID-19 patients in Spain, showing lower mortality with metformin treatment, without statistical significance. Authors provide results for metformin compared with untreated patients rather than all non-metformin patients, which may increase confounding due to higher prevalence for treatment of patients with more severe disease.
risk of death,

9.9% lower

, OR 0.90, p = 0.19
, treatment 6,168, control 9,875, inverted to make OR<1 favor treatment, metformin monotherapy vs. untreated, RR approximated with OR.
risk of death/hospitalization,

8.3% lower

, OR 0.92, p = 0.12
, treatment 6,168, control 9,875, inverted to make OR<1 favor treatment, metformin monotherapy vs. untreated, RR approximated with OR.
Effect extraction follows pre-specified rules prioritizing more serious outcomes. Submit updates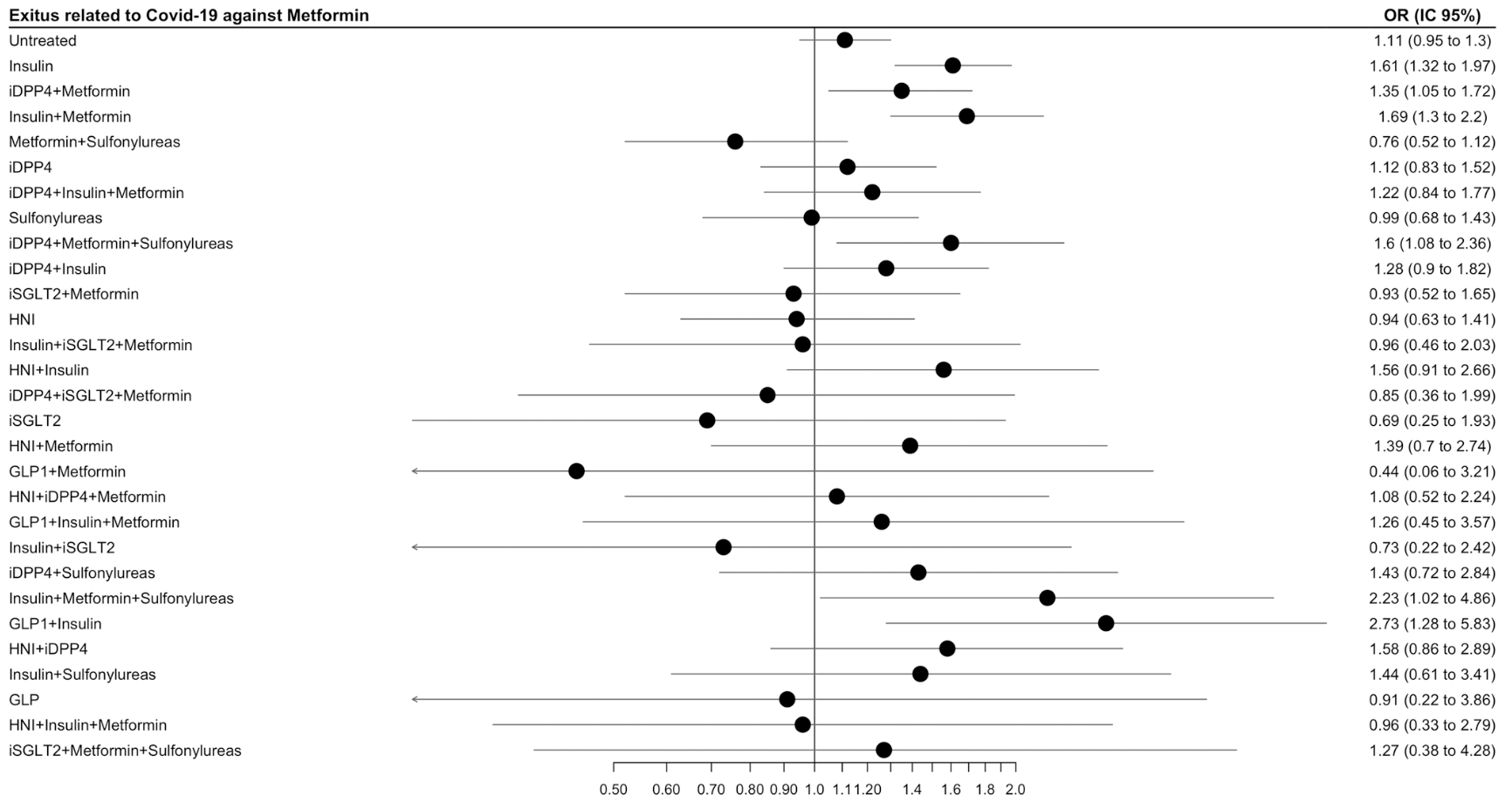 Ouchi et al., 4 Oct 2022, retrospective, Spain, peer-reviewed, mean age 71.5, 5 authors, study period March 2020 - June 2020.
Contact: mginer@idiapjgol.info.
Antidiabetic treatment and COVID-19 Outcomes: A population-based cohort study in primary health care in Catalonia during the first wave of the pandemic
Primary Care Diabetes, doi:10.1016/j.pcd.2022.10.001
To analyse if antidiabetic treatment was associated with better COVID-19 outcomes in type 2 diabetic patients, measured by hospital admission and mortality rates as severe outcomes. Methods: Cohort study including COVID-19 patients registered in the Primary Care electronic records, in March-June 2020, comparing exposed to metformin in monotherapy with exposed to any other antidiabetic. Data source: SIDIAP (Information System for Research in Primary Care), which captures clinical information of 5,8 million people from Catalonia, Spain. Results: We included 31,006 diabetic patients infected with COVID-19, 43.7% previously exposed to metformin, 45.5% of them in monotherapy. 16.4% were admitted to hospital and 15.1% died. Users of insulin in monotherapy (OR 1.29, 95% CI 1.11-1.50), combined with metformin (OR 1.38, 1.13-1.69) or IDPP4 alone (OR 1.29, 1.03-1.63) had higher risk of severe outcomes than those in metformin monotherapy. Users of any insulin (OR 1.61, 1.32-1.97) or combined with metformin (OR 1.69, 1.30-2.20) had a higher risk of mortality. Conclusions: Patients receiving metformin monotherapy in our study showed a lower risk of hospitalization and death in comparison to those treated with other frequent antidiabetic agents. We cannot distinguish if better outcomes are related with the antidiabetic therapy or with other factors, such as metabolic control or interventions applied during the hospital admission.
Conflict of interest The authors declare no conflict of interest.
References
Catsalut, Servei Català de la Salut, Conjunt mínim bàsic de dades
Recalde, Data resource profile: the information system for research in primary care (SIDIAP), Int. J. Epidemiol
Who, Int. Stat. Classif. Dis. Relat. Health Probl. 10th Revis