Retrospective 1,500 COVID+ patients in Bangladesh, showing lower risk of severe cases with regular exercise in unadjusted results. This study is excluded in the after exclusion results of meta analysis: unadjusted results with no group details.
This study includes
sleep
and exercise.
risk of severe case,

19.0% lower

, RR 0.81, p = 0.04
, high activity levels 86 of 258 (33.3%), low activity levels 224 of 544 (41.2%), NNT 13, exercise >30 minutes.
risk of severe case,

0.9% higher

, RR 1.01, p = 0.91
, high activity levels 290 of 698 (41.5%), low activity levels 224 of 544 (41.2%), exercise <30 minutes.
Effect extraction follows pre-specified rules prioritizing more serious outcomes. Submit updates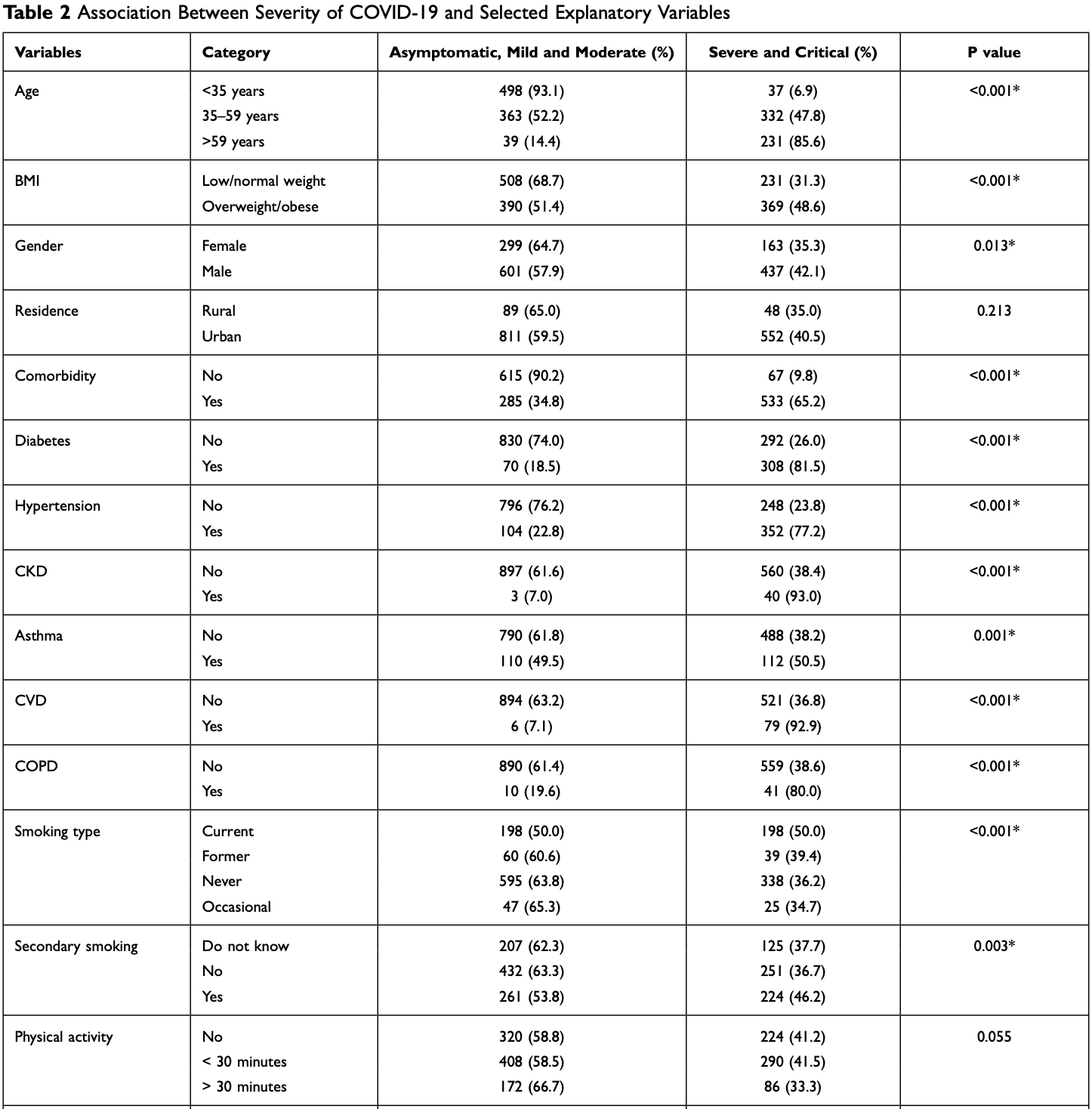 Mohsin et al., 30 Sep 2021, retrospective, Bangladesh, peer-reviewed, survey, 10 authors, study period November 2020 - April 2021.
Lifestyle and Comorbidity-Related Risk Factors of Severe and Critical COVID-19 Infection: A Comparative Study Among Survived COVID-19 Patients in Bangladesh
Infection and Drug Resistance, doi:10.2147/idr.s331470
Background: Severe COVID-19 infections have already taken more than 4 million lives worldwide. Factors, such as socio-demographics, comorbidities, lifestyles, environment, and so on, have been widely discussed to be associated with increased severity in many countries. The study aimed to determine the risk factors of severe-critical COVID-19 in Bangladesh. Methods: This was a comparative cross-sectional study among various types of COVID-19 patients (both hospitalized and non-hospitalized) confirmed by reverse transcription polymerase chain reaction (RT-PCR). We have selected 1500 COVID-19 positive patients using a convenient sampling technique and analyzed lifestyle and comorbidity-related data using IBM SPSS-23 statistical package software. Chi-square test and multinomial logistic regression were used to determine risk factors of life-threatening COVID-19 infection. Results: The mean age of the study participants was 43.23 (±15.48) years. The study identified several lifestyle-related factors and common commodities as risk factors for severe-critical COVID-19. The patient's age was one of the most important predictors, as people >59 years were at higher risk (AOR=18.223). Among other lifestyle factors, active smoking (AOR=1.482), exposure to secondary smoking (AOR=1.728), sleep disturbance (AOR=2.208) and attachment with SLT/alcohol/substance abuse (AOR=1.804) were identified as significant predictors for severe-critical COVID-19. Patients those were overweight/ obese (AOR=2.105), diabetic (AOR=4.286), hypertensive (AOR=3.363), CKD patients (AOR=8.317), asthma patients (AOR=2.152), CVD patients (AOR=7.747) were also at higher risk of severe-critical COVID-19 infection. Conclusion: This study has identified several vital lifestyles and comorbidity-related risk factors of severe-critical COVID-19. People who have these comorbidities should be under high protection, and risky lifestyles of the general population should modify through the proper educational campaign.
Disclosure The authors report no conflicts of interest in this work. Infection and Drug Resistance Dovepress
References
Cascella, Rajnik, Cuomo, Dulebohn, Napoli, Features, evaluation and treatment Coronavirus (COVID 19)
Cortis, On determining the age distribution of COVID 19 pandemic, Front Public Health
Ghebreyesus, WHO director-general's opening remarks at the media briefing on COVID 19-11
Harlem, Descriptive analysis of social determinant factors in urban communities affected by COVID 19, J Public Health
Li, Schoufour, Wang, Healthy lifestyle and life expectancy free of cancer, cardiovascular disease, and type 2 diabetes: prospective cohort study, BMJ
Pötschke-Langer, Schotte, Szilagyi, The WHO framework convention on tobacco control, Prog Respir Res
Simons, Shahab, Brown, Perski, The association of smoking status with SARS-CoV-2 infection, hospitalisation and mortality from COVID 19: a living rapid evidence review (version 6), Qeios