Retrospective 2,884 high-risk healthcare workers in France, Germany, Italy, Spain, UK, and the USA, showing shorter sleep duration associated with increased risk of COVID-19 cases and severity.
risk of moderate/severe case,

17.0% lower

, OR 0.83, p = 0.03
, per extra hour of sleep, RR approximated with OR.
risk of case,

11.0% lower

, OR 0.89, p = 0.003
, per extra hour of sleep, model 3, RR approximated with OR.
Effect extraction follows pre-specified rules prioritizing more serious outcomes. Submit updates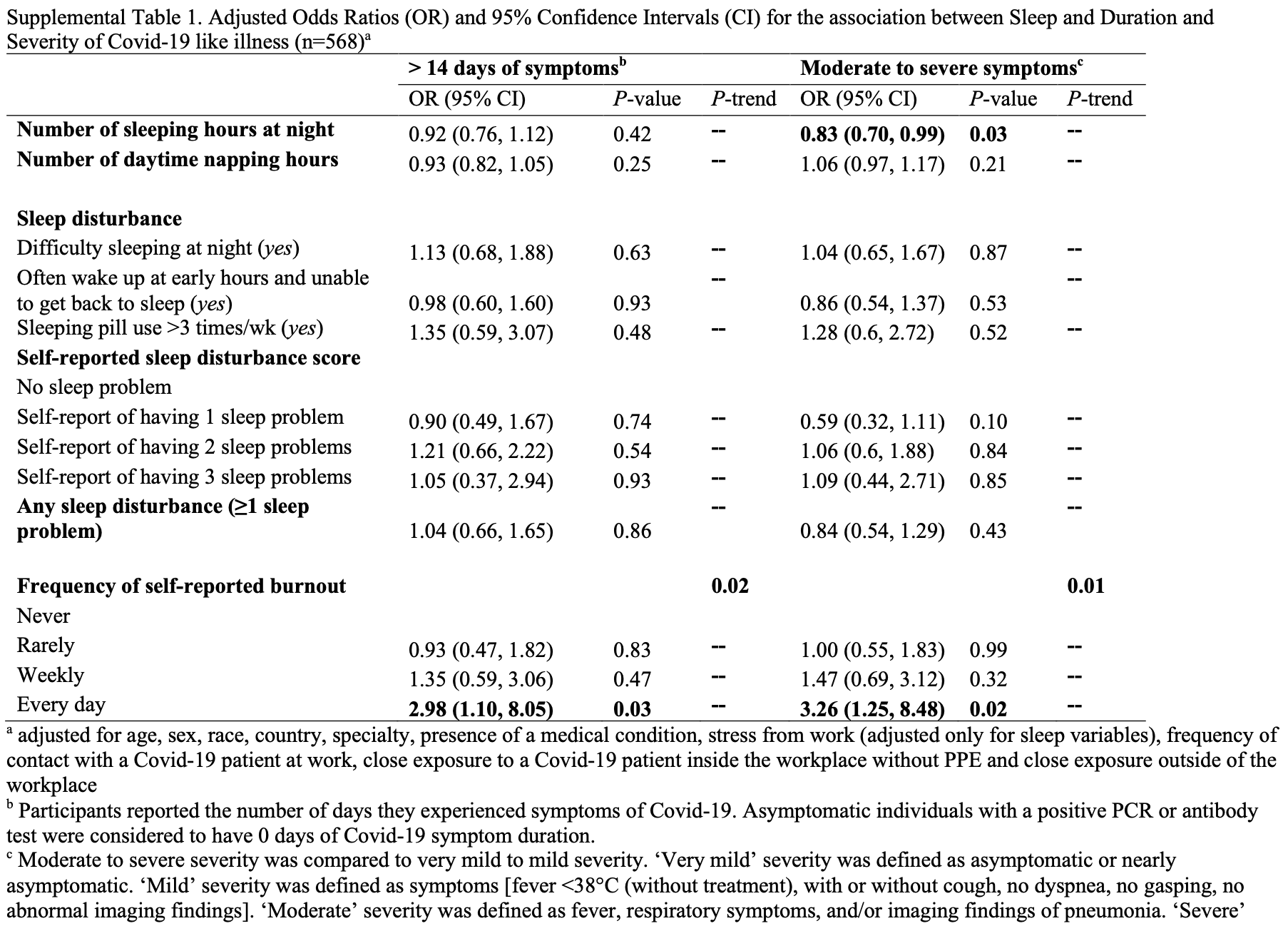 Kim et al., 22 Mar 2021, retrospective, multiple countries, peer-reviewed, survey, mean age 48.0, 8 authors, study period 17 July, 2020 - 25 September, 2020.
Contact: smb88@caa.columbia.edu.
COVID-19 illness in relation to sleep and burnout
BMJ Nutrition, Prevention & Health, doi:10.1136/bmjnph-2021-000228
Background Sleep habits and burnout have been shown to be associated with increase in infectious diseases, but it is unknown if these factors are associated with risk of COVID-19. We assessed whether sleep and self-reported burnout may be risk factors for COVID-19 among high-risk healthcare workers (HCWs). Methods From 17 July to 25 September 2020, a webbased survey was administered to HCWs in six countries (France, Germany, Italy, Spain, UK, USA) with a high frequency of workplace exposure. Participants provided information on demographics, sleep (number of sleep hours at night, daytime napping hours, sleep problems), burnout from work and COVID-19 exposures. We used multivariable linear and logistic regression models to evaluate the associations between sleep, burnout and COVID-19. Results Among 2884 exposed HCWs, there were 568 COVID-19 cases and 2316 controls. After adjusting for confounders, 1-hour longer sleep duration at night was associated with 12% lower odds of COVID-19 (p=0.003). Daytime napping hours was associated with 6% higher odds, but the association varied by countries, with a nonsignificant inverse association in Spain. Compared with having no sleep problems, having three sleep problems was associated with 88% greater odds of COVID-19. Reporting burnout 'every day' was associated with greater odds of COVID-19 (OR: 2.60, 95% CI 1.57 to 4.31, p trend across categories=0.001), longer duration (OR: 2.98, 95% CI 1.10 to 8.05, p trend=0.02) and severity (OR: 3.26, 95% CI 1.25 to 8.48, p trend=0.02) compared with reporting no burnout. These associations remained significant after adjusting for frequency of COVID-19 exposures. Conclusions In six countries, longer sleep duration was associated with lower odds of COVID-19, but the association with daytime nap may not be consistent across countries. Greater sleep problems and high level of burnout were robustly associated with greater odds of COVID-19. Sleep and burnout may be risk factors for COVID-19 in high-risk HCWs.
Competing interests None declared. Patient consent for publication Not required. Ethics approval The Western IRB at Stamford Hospital reviewed the study protocol and determined the study to be exempt. Provenance and peer review Not commissioned; externally peer reviewed. Data availability statement Data are not publicly available. Supplemental material This content has been supplied by the author(s). It has not been vetted by BMJ Publishing Group Limited (BMJ) and may not have been peer-reviewed. Any opinions or recommendations discussed are solely those of the author(s) and are not endorsed by BMJ. BMJ disclaims all liability and responsibility arising from any reliance placed on the content. Where the content includes any translated material, BMJ does not warrant the accuracy and reliability of the translations (including but not limited to local regulations, clinical guidelines, terminology, drug names and drug dosages), and is not responsible for any error and/or omissions arising from translation and adaptation or otherwise. To explore this further, they drew on the responses to an online survey for healthcare workers repeatedly exposed to patients with COVID-19 infection, such as those working in emergency or intensive care, and so at heightened risk of becoming infected themselves. The survey ran from 17 July to 25 September 2020, and was open to healthcare workers in France, Germany, Italy, Spain, the UK, and the USA. Respondents provided personal details on..
References
Worldometer, Coronavirus graphs: worldwide cases and deaths