Association of vitamin D levels with severity and outcome of COVID-19 infection among inward patients at a tertiary care unit in Sri Lanka
et al., Asian Journal of Internal Medicine, 2:2
Retrospective 141 hospitalized patients in Sri Lanka, showing lower mortality and severity with vitamin D deficiency, without statistical significance.Authors state that
"studies regarding the correlation between vitamin D and COVID-19 are scanty"
, however there were 183 studies analyzing vitamin D levels and COVID-19 outcomes at the time.This is the
184th COVID-19 sufficiency study
for vitamin D, which collectively show higher levels reduce risk with
p<0.0000000001 (1 in 712 vigintillion)
.
risk of death,

98.2% higher

, RR 1.98, p = 0.69
, high D levels (≥20ng/mL) 8 of 113 (7.1%), low D levels (<20ng/mL) 1 of 28 (3.6%).
risk of severe case,

67.3% higher

, RR 1.67, p = 0.32
, high D levels (≥20ng/mL) 27 of 113 (23.9%), low D levels (<20ng/mL) 4 of 28 (14.3%).
Effect extraction follows pre-specified rules prioritizing more serious outcomes. Submit updates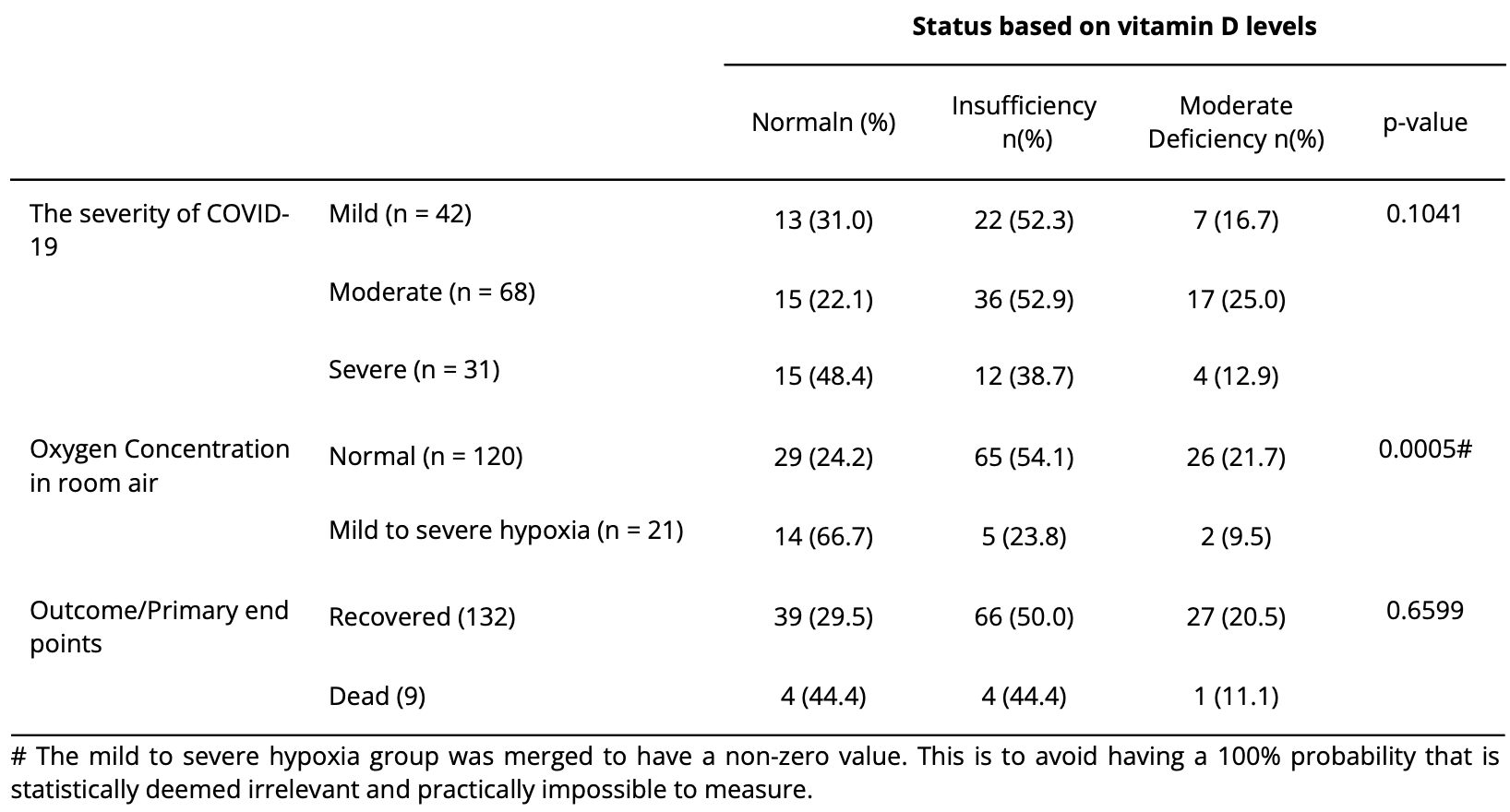 Mayurathan et al., 8 Aug 2023, retrospective, Sri Lanka, peer-reviewed, 11 authors.
Association of vitamin D levels with severity and outcome of COVID-19 infection among inward patients at a tertiary care unit in Sri Lanka
Asian Journal of Internal Medicine, doi:10.4038/ajim.v2i2.84
Introduction: A link between vitamin D and COVID-19 infection has been expressed by many experts. In this study, we aim to investigate the association of the prevalence of vitamin D deficiency with the severity and outcome of COVID-19 infection in patients who are admitted to Teaching Hospital Batticaloa, Sri Lanka. Methods: A retrospective cross-sectional study was conducted among COVID-19 patients over a period of one month in May 2021. All patients who tested positive for COVID-19 were included. Patients with chronic kidney disease, known vitamin D deficiency, and patients on vitamin D supplements were excluded from the study. The vitamin D deficiency was defined according to the Oxford Academic Endocrine Society guidelines. The severity of the COVID-19 was defined according to the Provisional Clinical Practice Guidelines on COVID-19 suspected and confirmed patients. Primary endpoints of this study were 'recovered from COVID-19' or 'death'. Data was analysed to report the proportion of patients with different vitamin D levels and disease severity. Chi-squared and Fisher's exact tests were used to analyse the results. A p-value of <0.05 was considered as statistically significant. Results: Out of 141, 58% were males. Mild, moderate, and severe COVID-19 were observed in 29.8%, 48.2%, and 22.0% of patients respectively. Only 30.5% of the population had normal vitamin D levels while the rest had some degree of vitamin D insufficiency. None of the patient population had severe vitamin D deficiency status. A 52.9% in the moderate category of COVID-19 severity had insufficient levels of vitamin D levels. Those that recovered from COVID-19 were 93.6%. No significant association was observed between the severity of COVID-19 and vitamin D deficiency (p=.1041). Interestingly hypoxia was significantly prevalent among those with normal vitamin D levels (p=.0005). vitamin D deficiency does not impact the mortality rate among COVID-19 patients (p=.6559). Conclusions: The association of vitamin D levels with COVID-19 severity and mortality was not statistically significant.
References
Francis, Sooriyaarachchi, Jayawardena, Usage of nutritional supplements to improve immunity during the COVID-19 pandemic: An online survey, Clin Nutr Open Sci
Gibson, Qin, Puah, COVID-19 acute respiratory distress syndrome (ARDS): clinical features and differences from typical pre-COVID-19 ARDS, Med. J. Aust
Maghbooli, Sahraian, Ebrahimi, vitamin D sufficiency, a serum 25-hydroxyvitamin D at least 30 ng/mL reduced risk for adverse clinical outcomes in patients with COVID-19 infection, PloS one
Ranathunga, Naveenkumar, Sumanatilleke, vitamin D deficiency, associated factors & possible adverse outcomes in a tertiary care institute in Sri Lanka, Sri Lanka Journal of Diabetes Endocrinology and Metabolism
References, None
Weir, Thenappan, Bhargava, Does vitamin D deficiency increase the severity of COVID-19? Clinical medicine