Retrospective 1,657,800 COVID-19 hospitalizations in the USA including 13,095 patients with cannabis use disorder, showing lower risk of mortality with cannabis use disorder. The text and Table S2 have conflicting results for mortality: 0.45 [0.36-0.57] versus 0.43 [0.34-0.55].
risk of death,

55.6% lower

, RR 0.44, p < 0.001
, treatment 380 of 13,095 (2.9%), control 1,430 of 26,190 (5.5%), NNT 39, odds ratio converted to relative risk.
risk of mechanical ventilation,

24.6% lower

, RR 0.75, p < 0.001
, treatment 925 of 13,095 (7.1%), control 2,455 of 26,190 (9.4%), NNT 43.
hospitalization time,

5.9% higher

, relative time 1.06, p < 0.001
, treatment mean 7.2 (±12.78) n=13,095, control mean 6.8 (±10.42) n=26,190.
Effect extraction follows pre-specified rules prioritizing more serious outcomes. Submit updates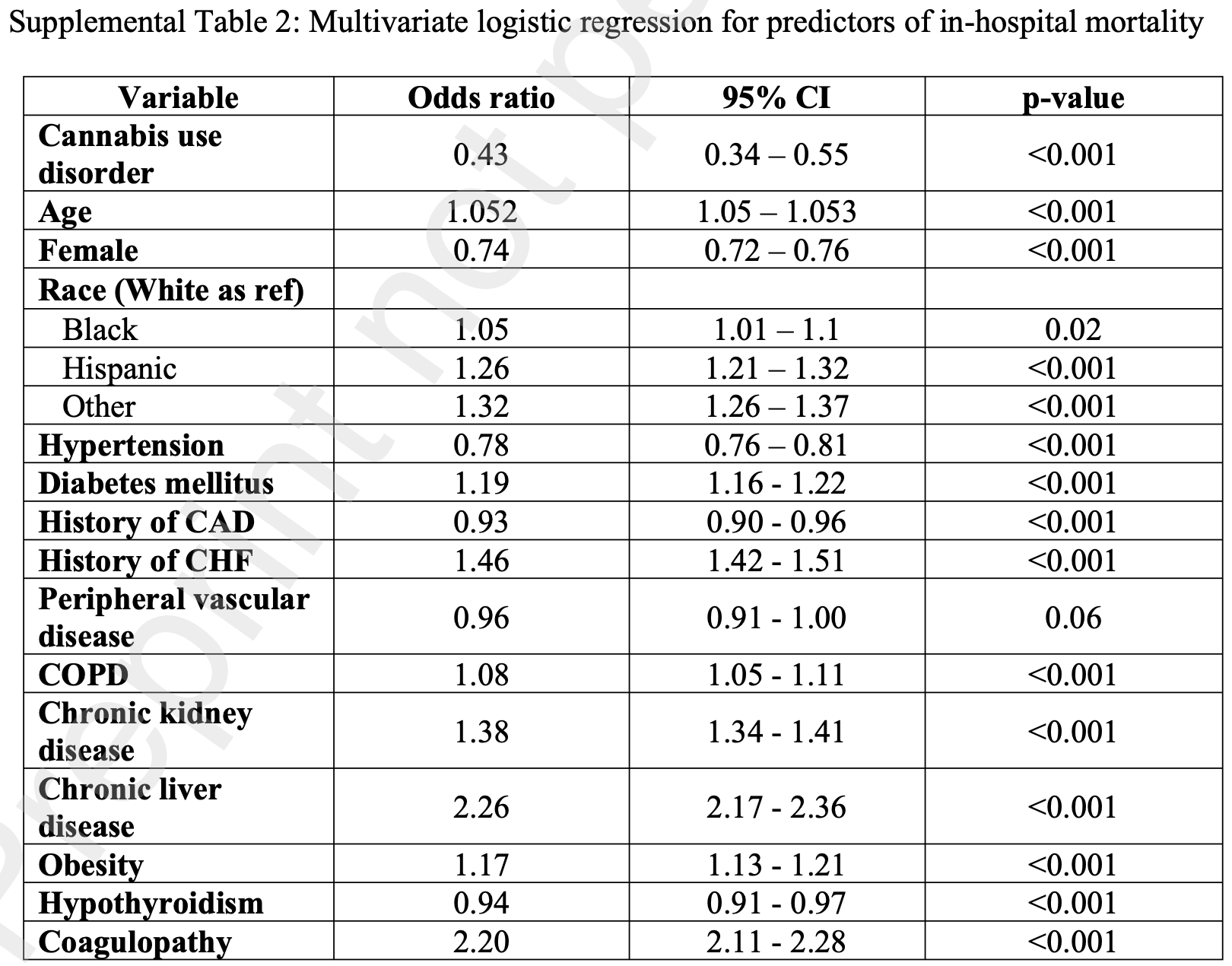 Mannumbeth Renjithlal et al., 28 Jan 2023, retrospective, propensity score matching, USA, preprint, 7 authors, study period 1 January, 2020 - 31 December, 2020.
Contact: mrlalsarath@gmail.com.
Background In vitro studies have shown cannabinoids blocking SARS-CoV-2 cellular entry and affecting replication. There is a paucity of data assessing the effect of cannabis on patients hospitalized with COVID in the USA. The aim of our study was to assess mortality and complication rates in patients hospitalized with COVID stratified by cannabis use. Methods We used the National Inpatient Sample, the largest all-payer inpatient database with 95% of US hospitalizations from 49 states, to identify all COVID hospitalizations from January 01, 2020, to December 31, 2020. We included all adult patients without missing mortality and gender information. The whole cohort was stratified by cannabis use into two groups (cannabis use disorder (CUD) vs. no CUD). We performed propensity score matching based on multiple patient and hospital characteristics to assess the outcome difference. Results A total of 1,657,800 hospitalizations were included. Of these, 13,095 (0.79%) were cannabis users and were likely to be male (65.6%) and Black (35%) compared to non-cannabis users. After propensity score matching, the CUD group had lower mortality (2.9% compared to 5.5%, OR 0.43 [CI 0.34 -0.55] p <0.001). They also had lower rates of non-invasive (2.9% vs. 3.9 p <0.014), invasive mechanical ventilation (9.4% vs. 7.1%, p<0.001) and ECMO use (0.1 vs. 0.3 p <0.014). They also had a lower rate of septic shock (3.1% vs. 4% p<0.03) and lesser GI bleeding (3.3% vs. 2.3% p<0.005) compared to no CUD. The cost of hospitalization in the CUD group was significantly lower. There was no significant difference between the other complications assessed. Conclusion We found lower mortality rates, lesser need for mechanical ventilation, and reduced hospitalization expenses among cannabis users hospitalized with
Vasopressor use (%) 195 (1.
References
-Austin, An Introduction to Propensity Score Methods for Reducing the Effects of Confounding in Observational Studies, Multivariate Behav Res
-Austin, Optimal caliper widths for propensity-score matching when estimating differences in means and differences in proportions in observational studies, Pharm Stat
-Dravet, Bureau, Oguni, Fukuyama, Cokar, Severe myoclonic epilepsy in infancy: Dravet syndrome, Adv Neurol
-Nguyen, Yang, Nicolaescu, Best, Gula et al., Cannabidiol inhibits SARS-CoV-2 replication through induction of the host ER stress and innate immune responses, Sci Adv
-Rom, Slava, Persidsky, Cannabinoid receptor 2: potential role in immunomodulation and neuroinflammation, Journal of Neuroimmune Pharmacology
-Zuardi, Waldo, Antipsychotic effect of cannabidiol, The Journal of clinical psychiatry
Shover, Yan, Jackson, Buhr, Fulcher et al., Cannabis consumption is associated with lower COVID-19 severity among hospitalized patients: a retrospective cohort analysis, Journal of Cannabis Research