Retrospective 825 immunocompromised individuals treated with tixagevimab-cilgavimab and 4229 untreated in Israel, showing significantly lower infection and hospitalization/death with treatment. Omicron was the dominant variant.
Efficacy is variant dependent. In Vitro research suggests a lack of efficacy for omicron BA.2.75.2, BA.4.6, and BQ.1.1 Planas.
risk of death/hospitalization,

91.9% lower

, RR 0.08, p = 0.01
, treatment 1 of 825 (0.1%), control 63 of 4,299 (1.5%), NNT 74, adjusted per study, odds ratio converted to relative risk, multivariable.
risk of case,

47.1% lower

, RR 0.53, p = 0.01
, treatment 29 of 825 (3.5%), control 308 of 4,299 (7.2%), NNT 27, adjusted per study, odds ratio converted to relative risk, multivariable.
Effect extraction follows pre-specified rules prioritizing more serious outcomes. Submit updates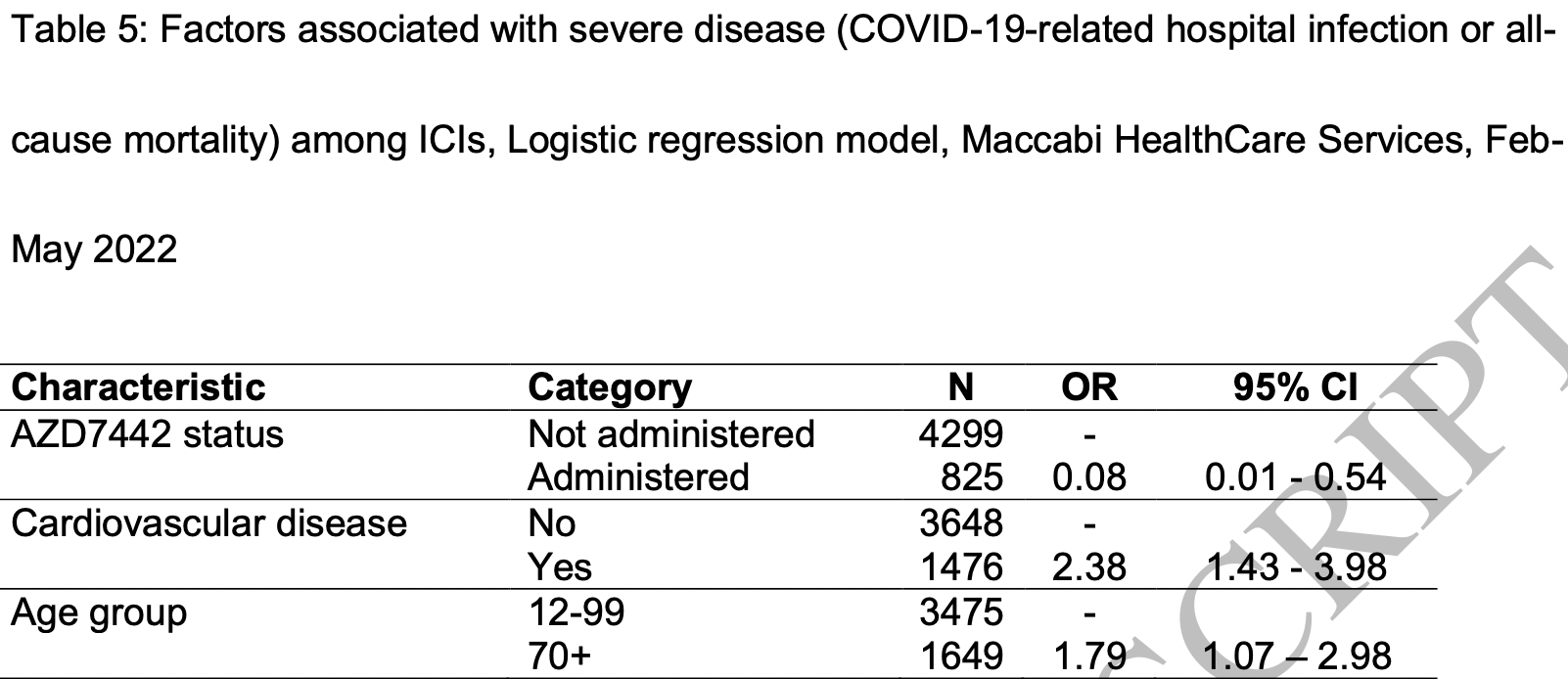 Kertes et al., 29 Jul 2022, retrospective, Israel, peer-reviewed, 10 authors.
Contact: dortal_j@mac.org.il, zeny@013.net.
Association between AZD7442 (tixagevimab-cilgavimab) administration and SARS-CoV-2 infection, hospitalization and mortality
doi:10.1093/cid/ciac625/6651663
by guest on 30 July 2022 Conclusions AZD7442 among ICI may protect against Omicron variant infection and severe disease, and should be considered for pre-exposure prophylactic AZD7442.
Study limitations: One of the major limitations of the present study is the potential for selection bias in the non-AZD7442 comparison group. It is unknown what proportion of this group never opened the SMS/email, what proportion did open the SMS/mail and decided not to receive AZD7442 and what proportion intended to receive AZD7442 but for whatever reasons, did not complete the process. Persons who refuse treatment and/or lack the motivation required to make/attend an appointment for treatment may be different regarding their healthcare practices from those presenting for treatment. While a large number of potential confounding factors were included in the study, data of this type are not available. It is also possible that those patients entering the study population for conditions requiring active treatment (eg. Anti-CD20) may have more regular contact with the healthcare setting and therefore, more opportunities to be offered AZD7442 (beyond the initial invitation to present). Another major study limitation is the assumption made that all those who were positive for Sars-CoV-2 presented to MHS/outsourced services for testing. Given that the majority of those infected with the Omicron variant experienced mild illness and the availability of antigen hometesting kits, it is likely that not all those infected would test in the HMO/IMOH-appointed services, despite MOH directives. This would explain why in the present study, infection rates were lower in lower socioeconomic..
References
Bar-On, Goldberg, Mandel, Protection by a fourth dose of BNT162b2 against Omicron in Israel, N Engl J Med
Benotmane, Velay, Vargas, Pre-exposure prophylaxis with 300 mg Evusheld elicits limited neutralizing activity against Omicron Variant, Kidney Int
Levin, Ustianowski, De Wit, Intramuscular AZD7442 (Ticagevimab-CIlgavimab) for prevention of Covid-19, N Engl J Med
Liu, Iketani, Guo, Striking antibody evasion manifested by the Omicron variant of SARS-CoV-2, Nature
Montgomery, Hobbs, Padilla, Efficacy and safety of intramuscular administration of tixagevimab-cilgavimab for early outpatient treatment of COVID-19
Schubert, Bertoglio, Steinke, Human serum from SARS-CoV-2-vaccinated and COVID-19 patients shows reduced binding to the RBD of SARS-CoV-2 Omicron variant, BMC Med
Tackle, ): a phase 3, randomized, double-blind, placebo-controlled trial, Lancet Respir Med