risk of ICU admission,

46.3% lower

, RR 0.54, p = 0.46
, treatment 3 of 38 (7.9%), control 5 of 34 (14.7%), NNT 15.
hospitalization time,

1.0% lower

, relative time 0.99, p = 0.82
, treatment 38, control 34.
Effect extraction follows pre-specified rules prioritizing more serious outcomes. Submit updates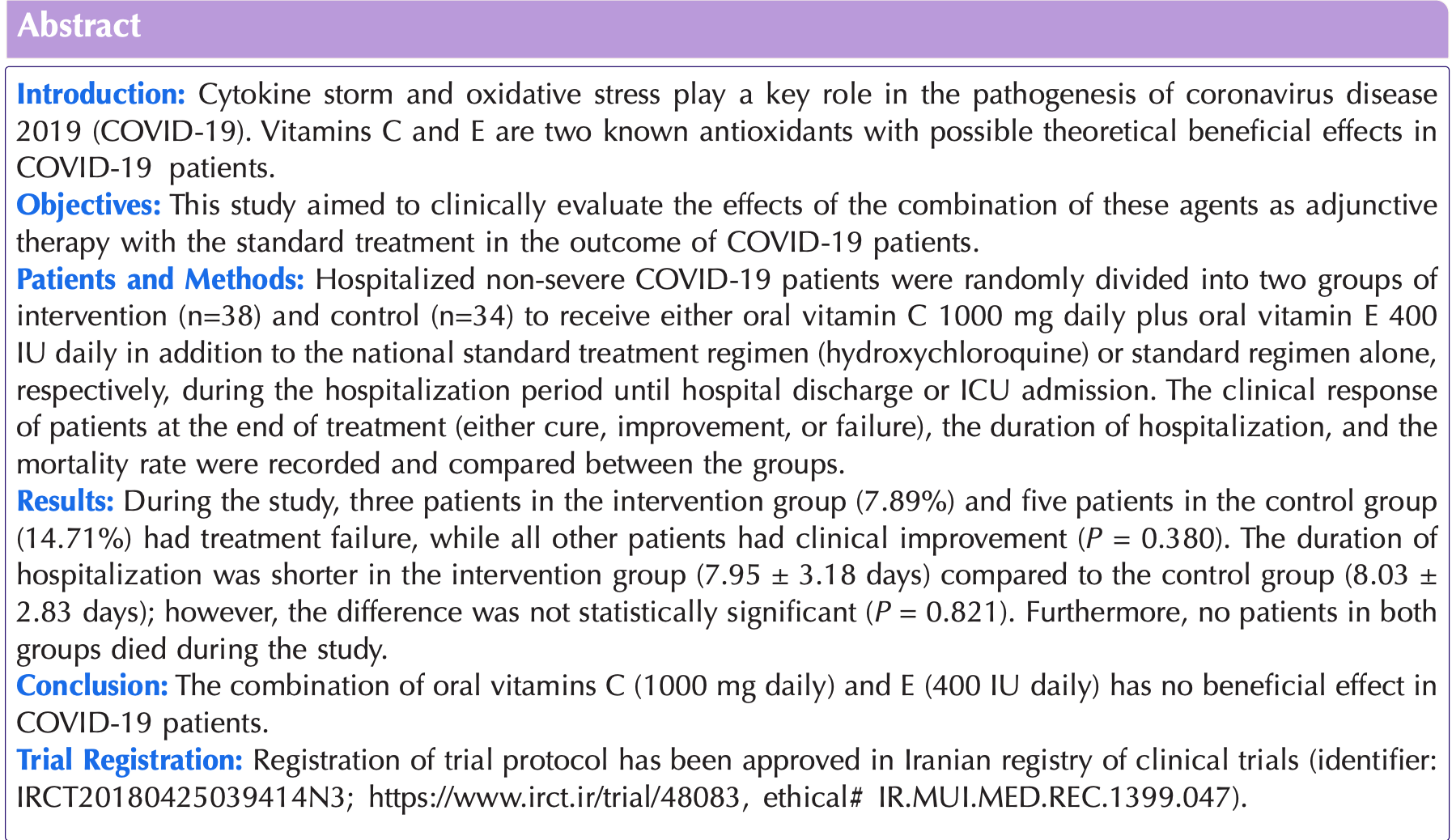 Hakamifard et al., 14 Apr 2021, Randomized Controlled Trial, Iran, peer-reviewed, 8 authors, study period March 2020 - April 2020, this trial uses multiple treatments in the treatment arm (combined with vitamin E) - results of individual treatments may vary.
The effect of vitamin E and vitamin C in patients with COVID-19 pneumonia; a randomized controlled clinical trial
doi:10.34172/ipp.2022.08
Introduction: Cytokine storm and oxidative stress play a key role in the pathogenesis of coronavirus disease 2019 . Vitamins C and E are two known antioxidants with possible theoretical beneficial effects in COVID-19 patients. Objectives: This study aimed to clinically evaluate the effects of the combination of these agents as adjunctive therapy with the standard treatment in the outcome of COVID-19 patients. Patients and Methods: Hospitalized non-severe COVID-19 patients were randomly divided into two groups of intervention (n=38) and control (n=34) to receive either oral vitamin C 1000 mg daily plus oral vitamin E 400 IU daily in addition to the national standard treatment regimen (hydroxychloroquine) or standard regimen alone, respectively, during the hospitalization period until hospital discharge or ICU admission. The clinical response of patients at the end of treatment (either cure, improvement, or failure), the duration of hospitalization, and the mortality rate were recorded and compared between the groups. Results: During the study, three patients in the intervention group (7.89%) and five patients in the control group (14.71%) had treatment failure, while all other patients had clinical improvement (P = 0.380). The duration of hospitalization was shorter in the intervention group (7.95 ± 3.18 days) compared to the control group (8.03 ± 2.83 days); however, the difference was not statistically significant (P = 0.821). Furthermore, no patients in both groups died during the study. Conclusion: The combination of oral vitamins C (1000 mg daily) and E (400 IU daily) has no beneficial effect in COVID-19 patients. Trial Registration: Registration of trial protocol has been approved in Iranian registry of clinical trials (identifier: IRCT20180425039414N3; https://www.irct.ir/trial/48083, ethical# IR.MUI.MED.REC.1399.047).
Authors' contribution AH, RS and ARM were the principal investigators of the study. AH and ARM were included in preparing the concept and design. AR and MA revised the manuscript and evaluated the intellectual contents. MJT, SM and KD gathered data. All authors have read and approved the content of the manuscript and confirmed the accuracy or integrity of any part of the work. Conflicts of interest The authors declare that they have no competing interests. Ethical issues The research followed the tenets of the Declaration of Helsinki. The study was registered at the Iranian Registry of Clinical Trials (identifier: IRCT20180425039414N3; https://www.irct. ir/trial/48083). The ethics committee of Isfahan University of Medical Science (IUMS) approved this study with the record number of IR.MUI.MED.REC.1399.047. Written informed consent was obtained from all included patients. Moreover, ethical issues (including plagiarism, data fabrication, double publication) have been completely observed by the authors.
References
Hemilä, Douglas, Vitamin C and acute respiratory infections, The International Journal of Tuberculosis and Lung Disease